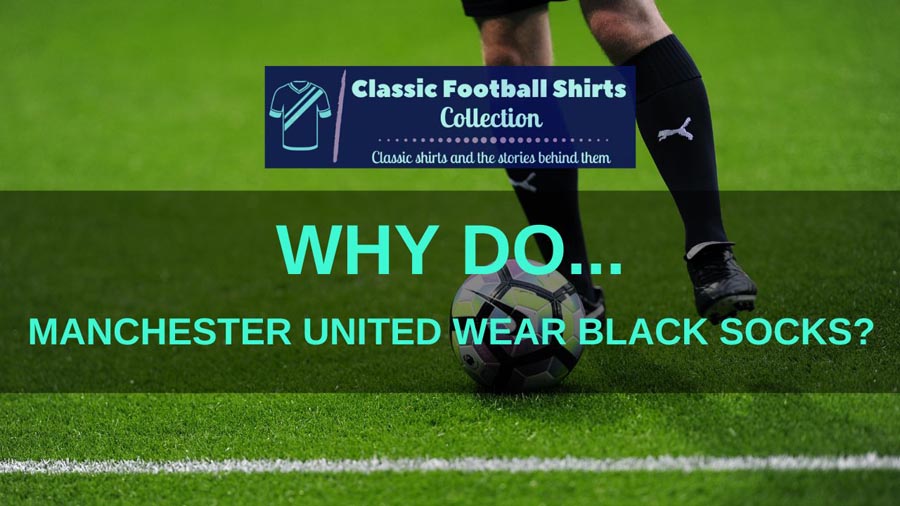 So you want to know why do Manchester United wear black socks?
United are quite unusual in that their kit makes use of separate colors for shirt, shorts and socks.
Red shirt, white shorts and black socks.
Not many teams in the football league, let alone the top flight follow suit.
Why aren't their socks red or white?
Let's find out.
Why Do Manchester United Wear Black Socks?
The reason Manchester United wear black socks is a purely historic one, it is not as a tribute to the Busby Babes. Since 1902 black socks have been part of United's league kit for all but 12 seasons, one in 1920-21 and then 11 from 1960 to 1971.

There is much debate over the reason Manchester United wear black socks, with some people saying it is as a mark of respect for the Busby Babes, but that simply isn't true.
In fact, the last lineup of the ill-fated Babes wore black socks in their game against Red Star Belgrade the day before the Munich air disaster.
The original reason United decided to wear black socks will never be fully known
The club have been wearing them almost continually since 1902, and unfortunately, there is no one around from then to ask why they started to wear them at that time!
There is no reason referred to in news reports at the time either.
So for lack of a better answer, we can only really say they wear black socks as it is part of their history and they have always done so.
RELATED ===> Why Do Manchester United Wear Black Shorts?
The Early Years of Football Kits
The history of football teams' kits is quite interesting and shows how much the game has developed over the past 170 years or so.
I think it is worth looking at this in more depth as it does provide some background to the question of why United wear black socks.
In the very early days of football, going back to the 1850s and 60s, teams didn't wear uniform kits.
As the excellent website Historical Kits explains, players would wear whatever they wanted, with each team distinguished by wearing an accessory of the same colour, usually a cap, scarf or sash.
The first reference to "colours" comes from the rules of Sheffield FC in 1857, which stated:
"Each player must provide himself with a red and dark blue flannel cap, one colour to be worn by each side."
It wasn't until around 1870 that the first uniform kits began to appear. By 1885 football became a professional sport in England and in 1888 the football league was founded and contested for the first time.
To aid the growing number of spectators, teams began to adopt simple kits in contrasting primary colors.
In the first few seasons, many teams' kits varied in colour from year to year. It wasn't until the early 20th century that many clubs adopted the colours that are now synonymous with them.
The colour of socks was not registered until the turn of the 20th century either, and then they were always dark, with pale colours not appearing until the early 1950s.
When Did Man United Start Wearing Black Socks?
Black socks have almost always been a part of United's kit. It seems they first wore them in 1881 before they became a permanent part of the kit in 1902.
Like many of their compatriots at the time, United's earliest kits are slightly shrouded in mystery.
That is mainly because you have to go way back to 1878 when they were founded as Lancashire & Yorkshire Railway Carriage & Wagon Works Cricket & Football Club, and based in Newton Heath in the North East of Manchester.
===> RELATED: View a Selection of Retro Manchester United Shirts
By 1880 they were known as Newton Heath, but all we know about them at that period is their club colours were "white with blue cord" according to the Sportsman's Yearbook of 1880.
As mentioned above sock color was not registered until the early 1900s, so for many clubs we don't know what colour their socks were in their first few seasons.
We can say for definite that United were wearing black socks in 1902.
A number of photos were taken of public trial matches at that time and they show trialists decked out in the team colours of a red shirt, white shorts and plain black socks.
Match reports in the Manchester Evening News at the time further confirm these colours.
How Frequently Have United Worn Black Socks?
From the start of the 20th century onwards it is much easier to chart the colours each team wore.
Football by then was widely covered in newspapers and photos and even early video footage is available to see.
Again if you visit the Historial Football Kits website it is evident that black socks have been a mainstay in the United kit.
In fact since 1902 these are the only occasions United league kit hasn't featured black socks:
1920-21: Red Socks
1960-63: White Socks
1964-71: Red Socks
So for 108 out of 120 years they have worn black socks.
This further emphasizes the fact that wearing black socks was not in tribute to the Busby Babes, as the decade after the Munich air crash was the only decade in the club's history that black socks did not feature as part of its kit.
It is suggested that the reason for switching to white socks in 1960 was as they were more visible in the increasing number of floodlit games that were taking place.
Either way, the socks soon changed back to black and have remained that way ever since, at least when it comes to United's league kit. In Europe, United wear white socks.
RELATED ===> Why Do Manchester United Wear White Socks In Europe?
Final Thoughts
United's wearing of black socks isn't as a tribute to the Busby Babes who died in the Munich air disaster in 1958.
We can say this for definite as they had worn black socks every season bar one for the previous 56 years prior to the crash.
Then for 11 of the 13 years after the crash they didn't wear black socks, reverting back to them in 1971 and remaining with them as part of their league kit ever since.
In the early days of the Football League up until around the 1950s, all teams work dark socks.
Pale colours began appearing in teams' kits from this point onwards, but United stayed with their black socks and have done ever since.
So the reason for them wearing black socks is purely historical.
---