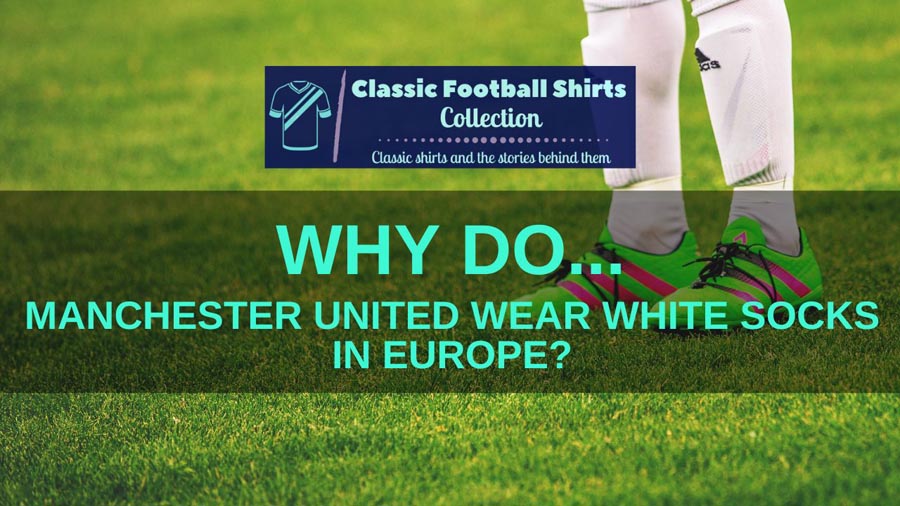 So you want to know why do Manchester United wear white socks in Europe?
You certainly aren't the only one asking that question, a number of United fans have raised it on forums over the years.
We have become used to the red shirt, white shorts and black socks domestically, so why the change for European games?
To some extent it is a mystery, but we are going to see if we can find out the answer.
So let's get started.
Why Do Manchester United Wear White Socks In Europe?
It isn't clear why United predominantly wear white socks in Europe and even Sir Alex Ferguson and David Gill have confessed they aren't sure of the reason. However, the most likely explanation is that in 1997 United introduced a new European kit consisting of white socks rather than black. The following year they won the Champions League to complete a historic treble and they have (largely) stuck with white socks in Europe ever since.

Theory #1: It Is All Down to the Floodlights
There is a suggestion that Sir Alex Ferguson started the tradition of United wearing white socks in the Champions League as a way of making it easier for players to pick each other out under floodlights.
The idea being that white socks are easier to spot with a quick glance than United's traditional black socks.
However, I am pretty certain this isn't the reason.
I say this largely because United often wear their black socks in floodlight Premier League games.
Also if this was then I am certain we would see more clubs wearing white socks.
RELATED ===> Revealed: The Best Retro Manchester United Shirts
Theory #2: It is a Tribute to the Busby Babes
I also saw it suggested that United wear white socks in Europe as a tribute to the Busby Babes, who tragically lost their lives flying back from a European game in 1958.
The suggestion is that the colour white is associated with life, so it is remembering the lives of the players who sadly died in the Munich air disaster.
Again I don't buy this, mainly because we all know black is used as a sign of respect when someone dies.
We are all used to seeing teams wear black, not white, armbands for instance after a footballing legend dies.
Also if you watch YouTube footage of United's first foray back into European football after the Munich air disaster, the 1963/64 European Cup Winners' Cup, you can see they weren't wearing white socks.
Take a look at this footage from the second leg of their quarter-final against Sporting. Even though it is black and white, you can clearly see United socks are not white.
Theory #3: It Is Down to UEFA Rules
Some think that UEFA rules differ from Premier League rules, and that is the reason Manchester United wear white socks in Europe.
To some extent that is true, there is a slight disparity between Premier League kit rules and UEFA kit rules.
However the disparity is to do with the colour of the club's shorts.
RELATED ===> Why Do Manchester United Wear Black Shorts?
UEFA competitions do not allow teams to wear the same colour shorts, whereas teams are allowed to have the same colour shorts in Premier League games.
However, both UEFA and the Premier League insist teams cannot have the same colour socks (and shirts obviously).
So this doesn't explain why United would wear white socks more frequently in Europe, but generally wear black socks in the Premier League.
Theory #4: It Has Become Tradition
In 1997 Manchester United introduced a special kit for European matches.
The collar was different to that of the normal home kit, but the most notable difference was the introduction of white socks instead of black socks.
Hence the whole point of this post!
The first season United wore the kit in Europe they reached the Champions League Quarter-Final but got knocked out on away goals to Monaco.
The following season they wore it, the 1998-99 season, I think we all know what happened.
An amazing finale saw them snatch victory from the jaws of defeat against Bayern Munich, to take home the club's first-ever Champions League title.
Just for good measure they also won the Premier League and FA Cup that year as well.
Is it a mere coincidence United has largely carried on the tradition of wearing white socks in Europe since that day?
Maybe not…
Theory #5: No One Knows Why?
There has been so much discussion and theory about this subject across the internet, but the truth is no one seems to know the real reason Manchester United wear white socks in Europe.
And if you need any evidence of this, even Sir Alex Ferguson and former United Chief Executive David Gill were apparently none the wiser on the matter according to one particular user on the popular United forum 'RedCafe':
User Mr.MUJAC posted on the forum saying he had asked them the question and he got this response:
"Funnily enough I asked both Ferguson and David Gill about this when I was at a function…neither of them knew why."
So if they don't know the reason why, who would?!
RELATED ===> Why Do Manchester United Wear Red?
Final Thoughts
It genuinely seems no one is 100% certain why United has taken to wearing white socks in Europe.
To add further intrigue, there is definite inconsistency as to when United do wear white socks in Europe.
Someone pulled up the example of playing Sporting Lisbon in the 2007/08 Champions League.
United wore black socks away and white socks at home, despite Sporting wearing the same kit both times.
There are other examples too.
That said United wear white socks far more often in Europe than in any other competition.
The most likely reason for this is the fact they wore them for their historic Champions League winning campaign in 1999 and have maintained that tradition ever since (largely).
But if you have a better suggestion please leave it in the comment section below!
---