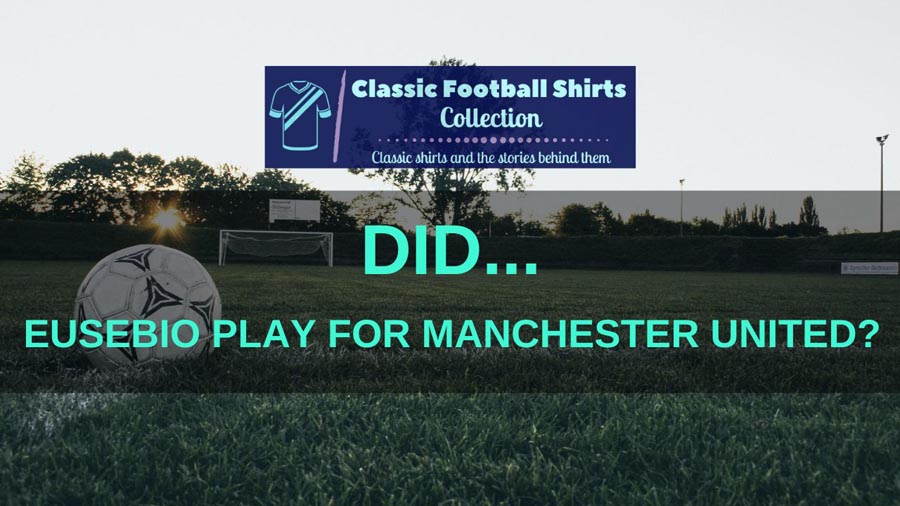 We all know the likes of Charlton, Law, Best, Rooney, Scholes and Giggs will go down as Manchester United legends, but did Eusebio play for Manchester United?
Not just Eusebio, what about Maradona, Gullit, Gascoigne and Weah?
Some of these names were heavily linked with the club, but who has played for United and who was just paper talk.
Let's take a closer look.
Did Eusebio Play For Manchester United?
Eusebio da Silva Ferreira, more commonly known as Eusebio, never played for Manchester United. He was part of the Benfica team that lost to United in the 1968 European Cup Final as United became the first English team to win the prestigious trophy.

In fact, Eusebio played almost his entire career for Benfica, scoring 473 goals in 440 games for the Portuguese club after joining from Mozambique team Maxaquene where he scored 77 goals in 42 games.

He was known as a footballing gentleman and in the dying minutes of the 1968 European Cup Final he had a chance to win the match brilliantly saved by United's goalkeeper Alex Stepney. Eusebio openly applauded Stepney for his match-changing save as he threw the ball back into play.

So we have established that Eusebio didn't play for Manchester United, but what about some other famous names?
Did Bobby Moore Play For Manchester United?
England's legendary World Cup-winning skipper Bobby Moore never played for Manchester United.
Moore spent all of his English playing career in London racking up 544 appearances for West Ham, and a further 124 games for Fulham.
He ended his career with brief stints in both USA and Denmark.
Moore did in fact make his league debut for West Ham on 8 September 1958 against Manchester United
Did Bill Shankly Play For Manchester United?
Former Liverpool manager Bill Shankly never played for Manchester United.
Shankly was part of a famous footballing dynasty, all four of his brothers also played professional football, with Shankly once declaring they could have beaten any five brothers in the world at their peak.
He had one season for Carlisle United before being transferred to Preston North End in 1933, for whom he played for the rest of his career, which ended in 1949.
Shankly is most well known for his time as manager at Liverpool, taking them from a Second Division team to one of the best sides in Europe.
After stepping down as Liverpool manager in 1974 Shankly was disappointed by the club's attitude to him, saying he was more warmly welcome by both Everton and Manchester United than Liverpool.
Did Gareth Southgate Play For Manchester United?
England manager Gareth Southgate never played for Manchester United.
His 500+ appearances were spread across three clubs, Crystal Palace, Aston Villa and Middlesbrough. He also played 57 times for England.
Southgate did support United as a schoolboy and revealed that when he was young it had been his dream to play for them.
Did Gordon Strachan Play For Manchester United?
Edinburgh-born Gordon Strachan did play for Manchester United, making 172 appearances for them over five seasons.
Strachan arrived at United from Aberdeen with a reputation as a goalscoring midfielder, having scored 20, 20 and 18 goals in the previous three seasons.
RELATED ===> Revealed: The Best Retro Manchester United Shirts
He kept this record up, scoring 19 goals in his first season for Manchester United, before adapting his role to play slightly deeper.
He left United in 1989 at the age of 32 to go to Leeds United, where he captained them to both the Second Division title and the First Division title. He went on to join Coventry and played on until the age of 40.
Did Ruud Gullit Play For Manchester United?
Dutch international Ruud Gullit never played for Manchester United.
Gullit started his long and illustrious career when he made his debut for Dutch side HFC Haarlem at the age of 16, making him the youngest ever player to play in the Eredivisie at the time.
Gullit was scouted by both Ipswich and Arsenal but ended up signing for Feyenoord where he played alongside Johan Cruyff.
He moved to PSV Eindhoven before joining AC Milan in 1987 for a then-world-record transfer fee of £6million.
Moves to Sampdoria and Chelsea followed before he retired from playing in 1998 at the age of 36.
Did George Graham Play For Manchester United?
Yes, Scottish international George Graham did play for Manchester United. He made 46 appearances for the team in a two-year spell.
Graham moved to United for a fee of £120,000 in December 1972 after eight years at Arsenal.
Unfortunately, he was part of the United team that was relegated from the First Division in 1974, to spend a season in the Second Division in 1974-75.
This is the only time United has been outside the top flight of English football since 1938.
Did George Weah Play For Manchester United?
Legendary Liberia striker George Weah never played for Manchester United, however he did have a short spell at their rivals Manchester City.
After starting his career in the Liberian domestic league Weah was signed by Arsene Wenger to play for Monaco in 1988, with the fee being £12,000.
This was the beginning of an illustrious career that saw him also play for Paris St-Germain, AC Milan, Chelsea and Marseille.
His brief spell in Manchester came in 2000 when he signed for Manchester City. He scored four goals in 11 appearances.
Weah is still revered in his native Liberia and is now the president of the country.
Did Gary Lineker Play For Manchester United?
Gary Lineker never played for Manchester United. He did have the opportunity to move there upon leaving Barcelona in 1989 but joined Tottenham instead.
Lineker made his name at Leicester scoring 17, 26, 22 and 24 league goals before joining champions Everton where he scored 30 goals in 41 games.
His three-season spell at Barcelona saw him score 42 goals in 102 La Liga appearances, which was a record for a British player until it was surpassed by Gareth Bale.
His last season in English football before he saw out his career with two years in Japan, was his most prolific. He scored 28 goals in 35 league games.
Did Jack Charlton Play For Manchester United?
Jack Charlton, brother of Manchester United legend Bobby Charlton, never played for the club.
He spent his entire career at Leeds United, making his debut in 1952 and playing his last game in 1973.
There were rumours that Sir Matt Busby was interested in signing Jack Charlton in 1962 but this never came to fruition.
Did Maradona Play For Manchester United?
Argentina genius Diego Maradona never played for Manchester United or any other English club.
Maradona's 21-year playing career was spent in Argentina, Spain and Italy and encompassed two world record transfers.
The first was from Boca Juniors to Barcelona for £5million in 1982 and the second was from Barcelona to Napoli in 1984 for £6.9million.
Maradona did however listed United winger George Best as one of his inspirations when he was growing up.
Did Nick Pope Play For Manchester United?
Nick Pope has never played for Manchester United.
Pope's career kicked on in a short space of time. He was signed in 2011 by Charlton from non-league Bury town, but he didn't make his first start for them until 2014, when he was 22.
RELATED ===> How Many German Players Have Played For Manchester United?
This same period at Charlton saw him take in loans spells in the Conference and League Two at Cambridge United, Aldershot Town, York City and Bury.
He switched to Burnley in 2016 and made his Premier League debut in September 2017. He made his England debut less than a year later and signed for Newcastle United for £10million in 2022.
Did Gerard Pique Play For Manchester United?
Yes Barcelona and Spain legend Gerard Pique started his career at Manchester United, making 12 appearances in four years.
However in 2008 he joined Barcelona and would go on to play over 600 games for Barca in the next 14 years.
He also made 102 appearances for Spain, winning the 2010 World Cup in the process.
Did Paul Gascoigne Play For Manchester United?
Paul Gascoigne came very close to playing for Manchester United, but he never did.
He almost moved to Old Trafford in 1988 when he left Newcastle.
In fact, the story goes that he promised Sir Alex Ferguson he was going to sign for United, so Ferguson went on holiday to Malta.
On his return, he found out that Gascoigne had signed for Tottenham for a record British fee of £2.2million.
Ferguson says he believes Gascoigne signed for Spurs as they promised to buy a house for his mum and dad.
Did Robbie Savage Play For Manchester United?
Robbie Savage never pulled on the famous red and white for Manchester United's first team, but he made many appearances for their youth and reserve teams.
Savage joined United upon finishing school and was given a first-team contract by United in 1993 but never played a first-team game before leaving to join Crewe in 1994.
An eye-catching spell at Crewe led to him having a successful international and top-flight career, making over 500 appearances for, amongst others, Leicester City, Birmingham City, Blackburn Rovers and Derby County.
Did Sir Alex Ferguson Play For Manchester United?
United's most successful ever manager never played for the club, but did have a fruitful playing career in Scotland.
Ferguson notched 171 goals in 317 games for Queen's Park, St Johnstone, Dunfermline, Rangers, Falkirk and Ayr and a further 3 in 4 appearances for Scotland.
He won 38 trophies in his 26 years as Manchester United manager.
Did Sunil Chhetri Play For Manchester United?
Sunil Chhetri is widely regarded as the greatest Indian player of his generation, but he never played for Manchester United.
Chhetri spent most of his career in India, although he did sign for Major League Soccer team Kansas City Wizards in 2010 and Portugal's Sporting Lisbon in 2012.
Chhetri is still playing for the Indian National Team and (as of July 2022), his 84 international goals make him the third-highest active international goalscorer of all time. Only Lionel Messi and Ronaldo are ahead of him.
RELATED ===> How To Be A Mascot For Manchester United?
Did Tobin Heath Play For Manchester United?
The United States Tobin Heath has played for Manchester United, spending a season at the club from 2020-21.
An ankle and knee injury restricted her to just 11 starts and 4 goals before she moved to Arsenal.
Tobin Heath has currently gained 181 caps for the United States National Team and is still playing both international and domestically in America.
Did Usain Bolt Play For Manchester United?
The 100m world record holder has never played for Manchester United but has revealed he is a huge fan of the club.
In 2017 Bolt was due to play for Manchester United legends in a game against Barcelona legends, but had to pull out due to a hamstring injury.
Bolt did attempt a career in the game after his retirement from athletics, and played for the Australian A-League team Central Coast Mariners for eight weeks.
In January 2019 Bolt announced he was no longer pursuing a career in football.
Did Marco Van Basten Play For Manchester United?
Goal machine Marco Van Basten never played for Manchester United in his injury-curtailed career.
Van Basten's career saw him take in just two clubs, Ajax and AC Milan, but played his last match in 1993 at the age of 28 due to a persistent ankle injury.
Sir Alex Ferguson revealed he asked Manchester United player Jesper Olsen to use his contacts to see if Van Basten would be interested in a move to United.
As it was he had already signed a pre-contract agreement with AC Milan.
Van Basten scored 282 goals in 379 games in his career.
Did Wesley Sneijder Play For Manchester United?
Despite much speculation linking him with a move to the club, Wesley Sneijder never played for Manchester United.
In his prime, Sneijder was recognised as one of the best midfielders in the world and commanded huge transfer fees when he moved from Ajax to Real Madrid and then Real Madrid to Inter Milan.
He was regularly linked with United, but Sir Alex Ferguson later said:
"Well, you mention the boy Sneijder, that's come up a lot of times but we were never interested in Sneijder. I don't know where that came from but you get a lot of them."
Did Lev Yashin Play For Manchester United?
Lev Yashin, regarded as one of the greatest goalkeepers in the history of football, never played for Manchester United.
Yashin played his entire career, from 1950 to 1970, for Dynamo Moscow. He also represented the Soviet Union in four World Cups from 1958 to 1970.
Yashin was known as the 'Black Panther' on account of the fact he dressed head to toe in very dark blue (which looked black).
He also was the first sweeper-keeper, acting as an extra defender and starting attacks with his quick distribution.
Did Zinedine Zidane Play For Manchester United?
Sir Alex Ferguson passed up on the chance to sign Zinedine Zidane, so the Frenchman never played for Manchester United.
Former United chairman Martin Edwards said both United's chief scout and Eric Cantona recommended Zidane to Ferguson when he was at Bordeaux.
Ferguson thought Zidane was too similar to Cantona and so didn't take his interest any further.
Rather than joining United Zidane signed for Juventus and then went to Real Madrid for £46.6million in 2001, smashing the world record transfer fee.
Did Mikel John Obi Play For Manchester United?
Mikel John Obi never played for Manchester United, but on 29 April 2005 it seemed only a matter of time before he did.
On that day the 18-year-old Norwegian was unveiled in a United shirt at a press conference, but at the 11th hour he changed his mind and signed for Chelsea.
Mikel went on to play over 370 games for Chelsea and won two Premier League titles, four FA Cups and two League Cups.
Did Victor Valdes Play For Manchester United?
Although you may not remember it, Spanish goalkeeper Victor Valdes did play for Manchester United.
In 2014, whilst recovering from an anterior cruciate ligament injury, Valdes joined United on an 18-month deal.
Valdes made one start and one substitute appearance for United before moving to Standard Liege on loan in 2016 and then joining Middlesbrough on a free transfer in 2016.
Final Thoughts
So Strachan, Graham, Pique, Savage, Heath and Valdes all played for United.
A couple of the other names came close (Mikel came very close!), some names were paper speculation and some were never likely to play for United.
However, with a club like Manchester United, the world's greatest players will often be linked to a move to the Red Devils.
And what a treat it would have been to see the likes of Maradona, Gullit, Zidane, Gascoigne and Van Basten treading the hallowed turf of Old Trafford!
---