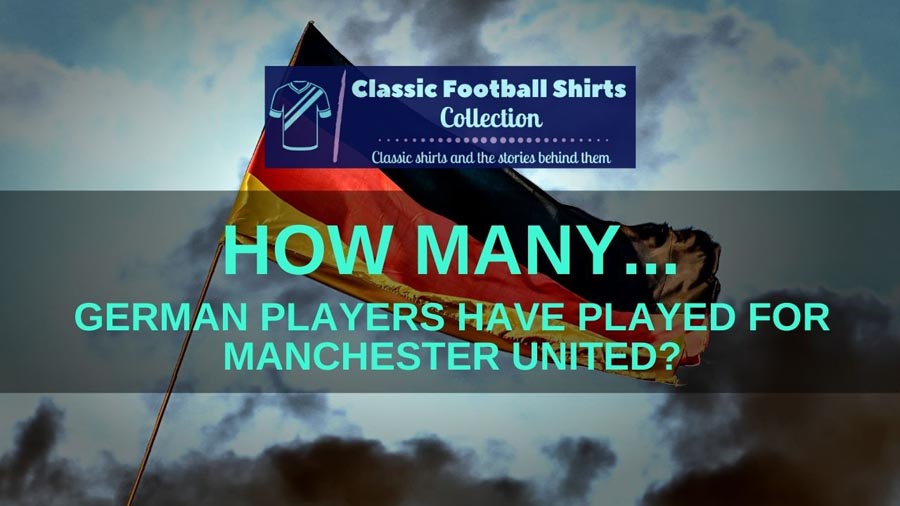 You might be surprised as I am to learn the answer to the question 'How many German players have played for Manchester United?'.
On one hand, we have one of the most successful clubs in world football.
On the other, we have one of the most successful nations in world football.
You would think at least a few Germans would have made the journey to England to play for Manchester United right?
Let's find out.
How Many German Players Have Played For Manchester United?
Only one German player has ever appeared for Manchester United's first team. Bastian Schweinsteiger signed for United in 2015 and went on to make 35 appearances in all competitions. Fellow Germans Ron-Robert Zieler and Markus Neumayr have both been involved with United's first-team on a match day without ever making it onto the pitch.

United's Only German Player: Bastian Schweinsteiger
I have to say I was shocked when I found out Bastian Schweinsteiger is the only German to have played for Manchester United.
Schweinsteiger signed for United in July 2015, joining from Bayern Munich for a fee of £6.5million.
He was perhaps joining in the twilight of his career. Schweinsteiger turned 31 a month after signing.
It is fair to say Schweinsteiger did not enjoy the best of times at United.
He played only 18 league games, all under Louis van Gaal, the manager that brought him to Old Trafford, and was frozen out of the team altogether when new manager Jose Mourinho came in.
Mourinho felt that Schweinsteiger didn't have the legs for top-level football anymore.
The stats in his last couple of seasons at Bayern perhaps back that up, as he was no longer a first-choice selection for club or country.
In fact, many said the fact Bayern were happy to sell Schweinsteiger to one of their big rivals for European trophies showed that they too thought his best days were behind him.
Just 18 months into a lucrative £140,000 a week, three-year contract at United Schweinsteiger left to join MLS side Chicago Fire – perhaps another sign that he was past his best.
In all Schweinsteiger made 18 appearances in the league for United and a further 17 appearances in cup competitions.
He played for a further three seasons in America before retiring in 2019 at the age of 35.
Despite having a less than successful time at Manchester United, Schweinsteiger does hold the distinction of being the first, and as of July 2022, only German to pull on the famous red and white of United for the first team.
RELATED ===> Revealed: The Best Retro Manchester United Shirts
Two That Came Close(ish)
Ron-Robert Zieler
Although he is far from a household name Zieler actually enjoyed a very decent career, good enough in fact to make six appearances for the German national team.
However, that must have seemed a long way away during his time at United, when he couldn't even get in the Northampton team during a spell on loan there!
Zieler joined United in 2005 at the age of 16, joining the Old Trafford academy from FC Koln.
The 6'2 keeper quickly established himself as the first choice in United's under-18 side and began to be involved in the reserve team as the backup keeper.
In 2007 made his debut for the reserves and at the start of the 2007-08 season, he was given a first-team squad number for the first time.
In fact, on 23 September 2008, he was on the bench as United won a League Cup game 3-1 against Middlesbrough.
But that was as good as it got for him at Old Trafford.
Two months later he went on loan to Northampton Town in League One but made just two appearances before returning to Manchester United.
Just a month after returning he broke his arm in a reserve team match and after that was never able to regain his position as the reserve team goalkeeper.
In April 2010, at the age of 21, Zieler joined Hannover 96 in Germany.
He worked his way up from Hannover's reserve side and made his Bundesliga debut in January 2011.
Such was his form in 2011 that towards the end of the year, in November, he made his debut for Germany.
Unfortunately for Zieler he conceded three goals in the first-half before he had even made a save!
RELATED ===> Did Eusebio Play For Manchester United?
Zieler went on to make six appearances for Germany between 2011 and 2015 and was the third-choice goalkeeper for both the 2012 Euros and the 2014 World Cup.
And if his name seems vaguely familiar to you it might be because in 2016 he returned for another spell in England.
The champions at the time, Leicester City, brought Zieler in as backup to Kasper Schmeichel.
Zieler made just 11 appearances before returning to Germany to play for VfB Stuttgart.
As of 2022, Zieler is still playing in the Bundesliga, on loan for his former youth club FC Koln.
Markus Neumayr
When United made Markus Neumayr their first-ever German signing in 2003, it was considered quite a coup.
At the time the 17-year-old also had offers on the table from Barcelona, Chelsea and Arsenal.
He admits it was the lure of playing alongside the likes of David Beckham, Paul Scholes and Ryan Giggs that tipped the balance in United's favour.
In an interview with FIFA, Neumayr later recounted the story, saying:
"I'd already had offers from Chelsea, Arsenal and Middlesbrough, and other German clubs too. But at the time, Manchester United were the club for me.
"I was in awe of their players: David Beckham, Paul Scholes, Ryan Giggs, and the list goes on. So, I went ahead with the trial with Manchester United, which turned out to be mutually satisfactory. Shortly afterward, I got an offer and there was no doubt in my mind: I wanted to play for them."
With his blonde hair, boyish good looks and tendency to favour a role on the right-hand side of midfield Neumayr drew early comparisons with David Beckham.
But Neumayr never made the breakthrough to the first team. The closest he came was being part of a squad that travelled to Upton Park for a Premier League game against West Ham in March 2006.
After leaving United at the end of the 2005-06 season Neumayr became something of a footballing journeyman.
As of July 2022, the 36-year-old is still playing, with the intervening 16 years taking him to 12 different clubs and six countries.
He is currently assistant player-manager for FC Linth 04 in the 4th tier of Swiss football.
Who Was The First Foreign Player To Play For Manchester United?
Officially the first non-British or Irish player to pull on the red and white of United was Carlo Sartori.
Sartori was born in the Northern Italian town of Caderzone and made 55 appearances for United between 1965 and 1973.
He then returned to his native Italy to play for Bologna, Lecce, SPAL 1907, Rimini and Trentino, before retiring in 1984 at the age of 36.
However, this only tells part of the story.
Because despite a thoroughly Italian name and the fact he was born in Italy, Sartori was probably as close as you could come to being a dyed-in-the-wool Mancunian.
RELATED ===> What Is The Manchester United Flag?
Sartori's parents moved to Manchester when he was just 10 months old, and he lived his entire childhood in the Collyhurst area of the city.
And despite playing the majority of his career in Italy, Sartori returned to the area to retire and live in Rochdale.
The first foreign player United paid a fee for (Sartori came through the youth team), was the Yugoslavian international Nikola Jovanovic.
He signed in January 1980 for £300,000, a sizeable amount at the time.
Jovanovic made an impact on his teammates who all recognized him as an exceptional player.
Unfortunately, his spell at Old Trafford lasted just two years, enough for 21 appearances and 4 goals, before he returned to his native Yugoslavia to play for Budućnost Podgorica.
Final Thoughts
So if you are asking who was the first German to play for Manchester United the answer is pretty straightforward…
Bastian Schweinsteiger is currently the first and only German to have ever played for Manchester United.
Although a couple have come close to adding to that number, there currently is only one German player who has ever played for Manchester United's first-team.
If you are reading this article at some point in the future when another German has played for Manchester United, remind me to update it!
---