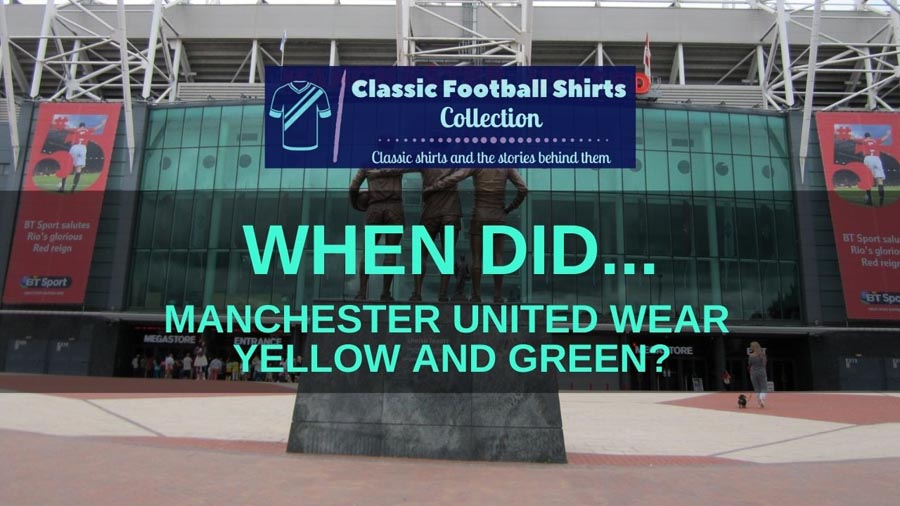 If you are reading this it is because you know that Manchester United haven't always worn red and white.
There are a couple more colours that have played a big part in their history and are still associated with the club today.
So when did Manchester United wear yellow and green?
We have to go back a long way to find out.
So let's get started…
When Did Manchester United Wear Yellow And Green?
The first time we can say for definite Manchester United wore yellow and green was in 1893, when the club was known as Newton Heath. There is speculation they wore the colours from 1881 to 1887 also, but there is no firm evidence to substantiate this. In 1902 Newton Heath became Manchester United and began wearing red and white, the colours now synonymous with the club.

Did Manchester United Used to Wear Green and Yellow?
In the strictest sense of the word, Manchester United have never worn green and yellow, well not as a home kit.
But green and yellow is very much associated with Newton Heath, the original name of Manchester United.
United were effectively formed in 1878, initially as Lancashire & Yorkshire Railway Carriage & Wagon Works Cricket & Football Club, but they soon changed their name to Newton Heath, the area in Manchester they were based in.
There is much debate over when Newton Heath adopted yellow and green (or some call it gold and green) as their permanent colours.
Some football historians claim they wore the colours right from their inception in 1878, but there is no concrete evidence they began wearing it as a regular kit until 1892.
Newton Heath's Colours
Let's quickly look at the very early years of Manchester United and go right back to the start.
In the first couple of years of their history, it is unlikely Newton Heath had a uniform playing kit. Most players provided their own kit with each team distinguished by wearing the same colour cap.
The first published reference to the club's colors comes in the Sportsman's Yearbook of 1880, which records them as wearing 'white with a blue cord'.
The following year it is said the club purchased a set of green and gold cashmere jerseys, and that this remained their kit from 1881 to 1887.
RELATED ===> Manchester United's Yellow and Green Kit of 1992
It is very difficult to find any evidence from the time to substantiate this. It is also possible they wore red and white, the colours of the Lancashire and Yorkshire railway company that founded them.
We know for definite that In 1887-88 Newton Heath's colours were listed as red and white in the Manchester and District Football Association rule book.
A match report in 1889 makes reference to "Powell and his men in their familiar red and white costumes". John Powell was captain of Newton Heath at the time.
In 1892/93 the Athletic News Football Annual confirms Newton Heath registered their colours as red and white quartered shirts and blue shorts with the Football League for that season.
The same source again listed Newton Heath's colors as red and white for the 1893/94 season.
But it seems at some point before the start of the season they discarded the red and white jersey for green and gold ones.
This is confirmed in both the Cricket and Football Field publication and an article in The Clarion, both in September 1893.
To reinforce this a series of prints from a game against Wolves were published in the Illustrated Sporting and Dramatic News in November 1893 and confirmed green and gold striped shirts.
So it seems we can say Manchester United (or Newton Heath as they were known) began wearing green and gold/green and yellow for definite in 1893.
The 1894/95 annual of the Association of Football Statisticians, carries Newton Heath's colours as green and gold, and a team photograph shows a solid green shirt with gold trim.
In 1896 Newton Heath changed colours once again.
This time they wore white shirts, which was thought to be due to the club's dire financial situation (white shirts were the cheapest to buy).
White remained Newton Heath's colours right up until 1902 and this is confirmed by several publications.
RELATED ===> Which Team Has Beaten Manchester United The Most?
Newton Heath Become Manchester United
In 1902 Newton Heath reformed and became Manchester United.
A new kit was introduced under the new name and the white shirts were replaced by a red shirt with white collars and plain black socks.
Apart from two brief spells, one in the 1920s for four years and one for a matter of months in 1934, red and white would remain the club's first-choice colours.
In 1992 United introduced a commemorative green and gold third shirt as a tribute to the centenary of Newton Heath adopting the colours (although they were actually one year out, because as we found out above Newton Heath actually started wearing the colours in 1893).
This remained the club's third shirt for two seasons, and the squad and backroom staff even had a team photo taken with false moustaches and 1890s jackets and hats to hark back to the era.
So a quick recap on shirt colours:
1878: Newton Heath Founded
1878/79: No uniform kit likely
1879-1881: White kit with blue cord.
1881-1887: Either gold/yellow and green or red and white
1887-1893: Red and white
1893-1896: Gold/yellow and green
1896-1902: White
1902: Name changed to Manchester United. Adopted red and white shirts.
1992-94: Gold/yellow and green commemorative third shirt introduced.
For a full rundown on United's kit across their entire history I recommend visiting the excellent United Kits or Historical Kits websites, they are a wealth of useful information.
The gold/yellow and green colours have gone on to take greater significance though in recent years.
Why Does Green and Yellow Mean Glazers Out?
The colours are now used as a sign of opposition to the reign of the Glazers, the American owners of Manchester United who bought a majority stake of the club in 2005.
Fans are vehemently opposed to the regime of the Glazers, which immediately saddled United with hundreds of millions of pounds worth of debt when they purchased it.
The Glazers paid little or no money of their own to purchase Manchester United, instead using borrowed money to complete the purchase.
RELATED ===> What Is The Manchester United Foundation?
A report at the end of 2020 put United's debt at £455.5million, and further reports said the Glazer family had "drained United of more than £1billion in interests, costs, fees and dividends".
Add to this the fact the Glazers have only spoken directly to the fans three times since 2005, and the club has a dilapidated stadium that needs repairs, and it is easy to see why there is so much bitterness towards them.
The yellow/gold and green protest began in earnest in 2010, following the publication of the club accounts for 2008/09.
They revealed that the club's huge interest payments on the loans taken out by the Glazers meant that only the sale of Cristiano Ronaldo to Real Madrid for £81m prevented the club from recording a net loss for the season.
And all this following a season in which they had one the Premier League and reached the Champions League Final!
At the time the popular Manchester United fanzine RedIssue suggested fans should adopt the colours of the club's founding fathers, Newton Heath, as a sign of rebellion against the Glazers.
The movement quickly gained momentum and now thousands of United fans regularly don green and gold scarves as a protest against the Glazers and as a reminder of the club's original heritage.
Final Thoughts
Whilst Manchester United might never have worn yellow and green home shirts in their current guise the colours do play a big role in their history and in their original incarnation as Newton Heath.
In fact, the colours are so ingrained with the club that fans now use them as a way to protest against the current ownership, believing they demonstrate the true values of Manchester United.
The very first time we can say with certainty the club wore yellow and green was in 1893, when they were known as Newton Heath.
Once they became Manchester United in 1902 they adopted the colours that are now synonymous with them – red and white.
However yellow and green will always remain a big part of Manchester United's history.
---