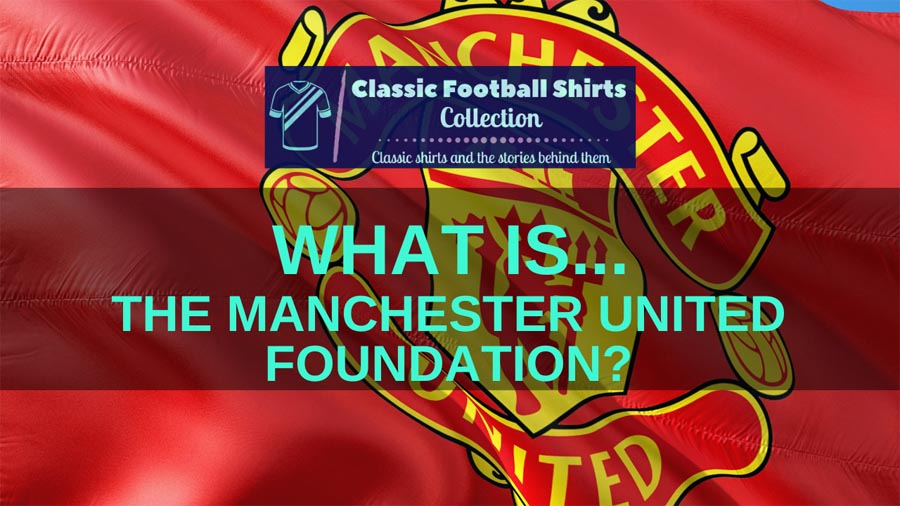 Maybe it is something you might have heard mentioned in passing or you have seen a reference to it in a news report.
But do you really know what is the Manchester United Foundation?
It actually illustrates quite well how Premier League football clubs have taken increased responsibility for their local communities over the past couple of decades.
And it shows that whilst sometimes the Premier League gets a bad rap for big wages and overinflated egos, there is actually a lot going on to be proud of.
So let's take a closer look.
What Is The Manchester United Foundation?
The Manchester United Foundation is a charity set up by Manchester United that operates independently from the club. It runs a variety of community outreach programmes that are focussed on giving young people the best possible chance to build successful lives for themselves. To do this it works with over 20 local schools, runs a variety of projects covering all aspects of life and raises money with charity partners.

The Manchester United Foundation: An Overview
In the mid-2000s, money began to flood into Premier League football more than ever before.
An industry that had been affluent since the creation of the Premier League in 1992, was becoming even more so as TV and sponsorship deals rocketed.
Recognising this the Government told professional football clubs that they had to take more responsibility in their local community.
It was these circumstances that lead to the establishment of the Manchester United Foundation in 2007.
It was launched with a UEFA celebration match pitting a best of Europe XI against Manchester United at Old Trafford. It was the Foundation's first fundraising event.
Over the ensuing years, the Foundation has gone from strength to strength.
In a nutshell, it delivers education and community outreach programmes in the local area, to help young people build better lives for themselves and the communities in which they live.
The Foundation focuses on both physical and mental health and giving young people a sense of purpose and a sense of connection. Much of its work is also focused on improving educational and employment outcomes in later life too.
The Foundation is completely separate from the football club, and run as a charity.
RELATED ===> Revealed: The Best Retro Manchester United Shirts
The Chief Executive of the Manchester United Foundation, John Shiels, recently explained the importance of the role to those in need in the area:
"One of the big things that comes back from the children is that they don't feel a part of anything." he said. "Some haven't got families. In days gone by, it might have been your church. It might have been your football club. But these kids can't afford to go and play football. It's 25-30 quid a month. If your mum and dad are struggling to put food on the table, you can't play organised football. The youth clubs are gone. And that feeling of belonging is really important."
Taking a look at the core principles of the Foundation, helps us understand it better:
MISSION: Using the power of football and Manchester United to help young people make positive choices in their lives.
VISION: A future where all young people are empowered to achieve their goals.
OUTCOME: Improved communities.
The Foundation also has a series of U.N.I.T.E.D. values it is committed to:
UNITED: Recognising the power of football across the world.
NURTURE: Growing the potential of every young person.
INVEST: Sustained financial investment aligning to its charitable objectives.
TOGETHER: Working as a team with our stakeholders.
EXCELLENCE: Delivering programmes to the highest standard.
DIVERSITY: What makes us different, makes us stronger.
To celebrate the Foundation's 15th anniversary in 2022, it released a video and some statistics detailing what it had achieved:
Total unique participants: 75,500+
Project growth: 2,325% Total income: £50m
Total donations and sponsorship income: £12m (including £8m from the club)
Total income from legends matches: £8m
Total income from matchday lottery: £5m (522k tickets sold)
21,000 items provided to support external charities (including health, education, grassroots football and animal charities, plus the British Armed Forces and international organisations)
What Do The Manchester United Foundation Do?
So we have touched on the main ethos of the Manchester United Foundation, but it is always helpful to have specific examples of their work.
Work with Local Schools
One of the best ways to connect with young people in the community and to have a positive effect on their lives is to put yourself in the same places they are.
And where do young people spend the biggest proportion of their time (hopefully…)? In schools
The Foundation has full-time coaches based in more than 20 local schools in the area.
RELATED ===> Why Do the Irish Love Manchester United?
The job of these coaches isn't just to run football-based sessions, but also to lead employment and enterprise programmes for pupils on the verge of leaving school, to provide a host of after-school clubs, to mentor pupils on issues such as their behavior and attendance and much more.
Improve Opportunities for Young People
Outside of the partner schools, the Foundation runs a range of projects targeted at young people in the local area.
These projects have a wide range of outcomes, promoting everything from improving confidence to teaching young people essential life skills.
16+ Education and Employability Programme
This programme offers traineeships, scholarships, career development opportunities and much more.
BTEC Sport
The Foundation works on this with Eccles Sixth Form College, and students who study on the BTEC Sport programme get a multitude of benefits such as visits to Old Trafford, coaching from former players and access to match-day work at United.
Disability and Inclusion
This program is all about giving disabled people equal opportunities when it comes to sport and physical activity. The Foundation is partnered with a number of special schools and trusts to bring sport to people with all ranges of disabilities.
Girls' Football Development
The Foundation works with after-school clubs and holiday clubs by running football sessions to encourage more girls to play the game.
FA Girls' Regional Talent Club – Tier 1 Plus
This takes the commitment to getting girls playing football to the next stage. It is specifically aimed at those girls who show real talent. It has the remit of giving these girls the training and support they need to play at the very highest level.
Street Reds
The Street Reds project is spread across a selection of academies, schools and leisure centers in and around Manchester. It offers free football and alternative sessions for young people.
Primary Reds
As the name suggests this project is aimed at Primary School children, aged 5 to 11. It supports the delivery of PE sessions alongside a range of extra-curricular clubs, and motivational sessions and also touches on other subjects such as English and Maths.
Charity Work
The Foundation organises events to raise funds for a range of charity partners. This takes on a variety of facets.
It offers 'Dream Days' to grant wishes to seriously ill children and adults, the Sir Bobby Charlton Foundation works in areas prone to conflict to make communities safer and more sustainable and the United for UNICEF partnership has raised over £5million to help children across the globe.
Wellbeing
The concept of well-being fits into many strands of the Foundation's activities.
Additionally, during the pandemic, the Foundation distributed over 5,000 books and footballs to give children access to things they love during the lockdown.
A whole host of well-being advice and resources are provided on the Foundation website.
RELATED ===> Can You Scatter Ashes At Manchester United?
Final Thoughts
If you have been wondering what is the Manchester United Foundation? Then hopefully this goes some way to explain.
It is a charity set up by Manchester United to operate independently and to make a positive difference to young people living in the surrounding areas.
This takes a variety of forms and includes working with schools and colleges and running specific projects to increase the opportunities available to all young people and to give them the best chance in life.
All Premier League clubs have similar community outreach programmes. The team I support, Everton, is very active in the local community and its 'Everton in the Community' scheme was founded in 1988.
I am sure if you live in Manchester you will have heard of the Manchester United Foundation, if you don't then hopefully this has helped you understand what it is all about.
---