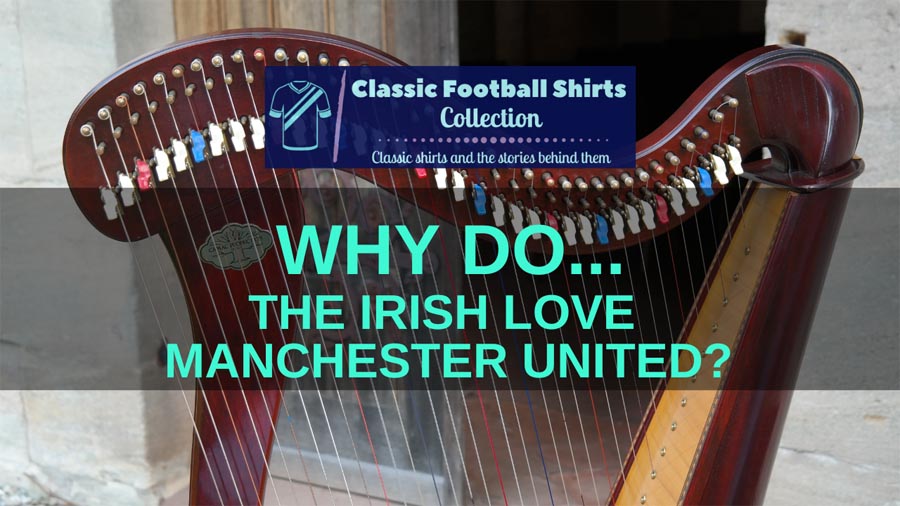 In 2020 a survey conducted as part of a book that was about to be published revealed an interesting statistic about Irish football fans.
Two-thirds of them support either Manchester United or Liverpool.
And of the two, Manchester United were the most popular.
33% of Irish fans supported United, compared to 29% supporting Liverpool. The most popular Irish team was Cork City, with 7% of Irish football followers backing Cork.
So why do the Irish love Manchester United so much?
Let's take a closer look.
Why Do the Irish Love Manchester United?
Manchester United's close bond with Ireland goes right back to the late 1800s when thousands of Irish families made the relatively short move to Manchester to take advantage of its flourishing industries. There was also a strong bond due to Ireland being overwhelmingly Catholic and United having a reputation as a Catholic club. The strong affection for United was cemented by the tragedy of the Munich Air Disaster which killed arguably the biggest Irish sporting star at the time, Billy Whelan.

Reason #1: Irish Migration to Manchester
Perhaps it shouldn't be a surprise that United and Liverpool are the teams of choice for most Irish football supporters.
It takes under 8 hours to get from Dublin to Liverpool on a ferry, or just 55 minutes on a plane.
Then it is a little over 30 miles from Liverpool to Manchester.
In the mid to late 1800s the industrial revolution was in full swing, and Manchester was at the centre of the world's cotton industry.
Due to its relative proximity to Ireland, and the offer of well-paid and regular work there was mass migration from Ireland to the North-West of England during this period.
When the Manchester Ship Canal was being built in the 1890s, many Irish labourers worked on the project.
It was also at this time that organised football was taking shape in England.
Manchester United was founded in 1878 (as Newton Heath) and the Football League followed a decade later.
Sport was being formalised to provide a balance between work and life for the many men working in factories and mills.
It was in fact a group of railway workers that formed Newton Heath.
Of course, the many Irish men in Liverpool and Manchester began supporting teams from these cities.
That support has been passed down across generations, and many Irish people support United because their parents do.
Many of these parents most probably support Manchester United because of direct links to family members that migrated to Manchester.
RELATED ===> Revealed: The Best Retro Manchester United Shirts
Reason #2: Religion
In the early part of its history, Manchester United had a reputation as a Catholic club.
Many of the railway workers who formed the club as Newton Heath were Irish Catholics
In fact, when the club was looking for a new name in 1902, Manchester Celtic was even mooted before the name Manchester United was settled on.
Louis Rocca, who was a massive figure in the early years of Newton Heath/Manchester United, was also an Irish immigrant and a devout Catholic.
He even used a network of Catholic priests to scout for the club.
Then of course in 1945, Matt Busby, himself a devout Catholic, became Manchester United manager.
Ireland is overwhelmingly Catholic, so it was natural for many to support Manchester United.
Of course now very few, if any, supporters choose their club based on religion, but back in the late 1800s and early 1900s it was an important factor.
Reason #3: They Were the First English Team to Play a Competitive Game in Ireland
By the 1950s Manchester United were already massively popular in Ireland for the reasons mentioned above.
Add to that the fact it was the era of the Busby Babes and they had won three league titles in six seasons.
Then one night in September 1957 truly cemented their place as the team of choice in the country.
In the preliminary round of the European Cup, United were drawn to face Irish champions Shamrock Rovers.
RELATED ===> Is Manchester United A Catholic Club?
It was the first time an English side had played an Irish one in a competitive game.
More than 45,000 fans packed into Dalymount Park to see a scintillating United performance as they beat Shamrock 6-0.
"How could you support anyone else after being at Dalymount that night?" said Pete Mahon, who was there as a young boy and who would go on to have his own considerable success as a player and manager in the League of Ireland.
Reason #4: The Munich Air Disaster
Less than six months after United became the first English side to play an Irish team in a competitive game their team was decimated by the Munich Air Disaster.
It wasn't only the fact that many of the players who had turned in such a devastating display at Dalymount Park just a few months ago had died, it was the fact that one of them was one of their own.
Dublin-born Billy Whelan was just 22 years old and had already scored 43 goals in 79 games for United.
Pete Mahon recounted finding out that Whelan had died: "You have to remember, Ireland had very few superstars then. Billy Whelan was a genuine star. And he'd been taken away from us. The sympathy for the team and the Whelan family was massive."
Whelan's coffin came home to Dublin a week later, streets were lined with people paying their respects. Men stood silently, caps taken off and heads bowed, and women cried.
"From that moment on, Manchester United became an Irish team," Mahon said.
Reason #5: United Have A Strong Presence in Irish Youth Football
Manchester United are very active in Ireland and recruits for their academy from both Northern Ireland and the Republic of Ireland.
This was something we alluded to when we told the sad story of Belfast-born Adrian Doherty, United's lost star.
United's presence in Ireland means many young people grow up dreaming of playing for them.
Reason #6: United Has a Rich History of Irish Players
This strong presence in Ireland has borne fruit as United have an unparalleled catalogue of Irish players across their history.
The first genuine Irish superstar to sign for United was Johnny Carey.
The Dublin-born full-back joined in 1937 and went on to become captain and play over 300 league games despite his time at the club being punctuated by the Second World War.
He was followed in the 1950s by Jackie Blanchflower, Liam Whelan, Johnny Giles, Noel Cantwell and more.
RELATED ===> Did Eusebio Play For Manchester United?
Of course, George Best followed in the 1960s, along with Tony Dunne and Shay Brennan. In the 1970s it was the turn of Sammy McIlroy, Jimmy Nichol, Paddy Roche and Kevin Moran.
The 1980s brought Frank Stapleton, Paul McGrath and Norman Whiteside, whilst in the Premier League era Denis Irwin, Keith Gillespie, Roy Keane, Johnny Evans and John O'Shea are just a few Irish players to pull on the famous red shirt of United.
In effect, there has been an almost unbroken chain of Irish players at United for nearly a century.
Final Thoughts
If you have wondered why do the Irish love Manchester United, then hopefully you can see there are at least six reasons why.
It is bounded in history, due to the migration of thousands from Ireland to Manchester in the 1800s.
Their close proximity and flourishing industries meant Manchester or Liverpool were the cities of choice for Irishmen seeking more opportunities for their families.
This tied in with United's reputation at the time as a Catholic club and was cemented by the tragedy of the Munich Air Disaster that left one of Ireland's biggest stars, Billy Whelan, dead.
Through their illustrious history, Manchester United has always been well represented by Irish players, which adds even more allure for fans from the Emerald Isle.
---