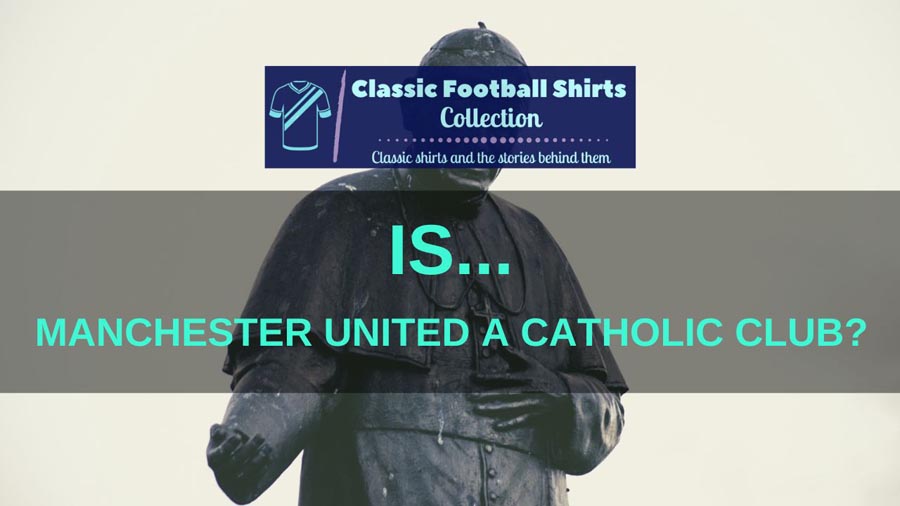 Many decades ago football and religion seemed to go hand in hand, but that is not so much the case now.
Still, you might be wondering, is Manchester United a Catholic club?
The question actually reveals some interesting details about United's past, as well as the influence of some of the big names in the club's history.
So even if religion isn't your thing (and I will be honest here, it isn't mine), you still might learn a thing or two.
So let's get started.
Is Manchester United A Catholic Club?
Manchester United is a club with a strong Catholic tradition than can be traced back to the early 20th century and the decades that followed when Matt Busby, a devout Catholic, was appointed manager. However, they have never been an exclusively Catholic club and have always signed both Catholic and Protestant players.
Manchester United's Catholic roots go back a long way.
In fact, they go right back to the 19th century when United was formed by railway workers as the Lancashire & Yorkshire Railway Carriage & Wagon Works Cricket & Football Club in 1878.
This name soon changed to Newton Heath, the area of Manchester where the club was based.
At the time Manchester, along with Liverpool, had a large Irish immigrant population.
Many of the railway workers who formed the club were Irish Catholics.
RELATED ===> Revealed: The Best Retro Manchester United Shirts
In fact, the link was so strong, that there was even talk of renaming the club from Newton Heath to Manchester Celtic before the name Manchester United was settled on at a club meeting on 26 April 1902.
United's reputation as a Catholic club sits mainly with a man who was present at that meeting in 1902.
In fact, the man in question claimed that he suggested the name Manchester United after his original suggestion of Manchester Celtic was rejected for sounding "too Scottish" and "too industrial".
That man was Louis Rocca, an Irish immigrant, and a devout Catholic.
The Story of Louis Rocca
Rocca was born in 1882 and began his association with Newton Heath, as they were then known, in the 1890s when he got a job as a tea boy at the club.
He even played for the club's reserve team on a couple of occasions.
Rocca was heavily involved with United for many years, but it wasn't until 1931 that he was given an official position.
He jumped straight to becoming assistant manager!
However a couple of years later he was moved to the position of chief scout, and it was here he extended Manchester United's association with Catholicism.
RELATED ===> Why Do the Irish Love Manchester United?
Rocca employed a network of catholic priests to work for him, scouting potential new players for United.
One of the first names spotted by Rocca's scouting system was Johnny Carey, who signed for United as a 16-year-old and would go on to play over 400 games for them in a 17-year-career.
Carey was also a devout Catholic and would become United's captain.
A Catholic Hierarchy
In 1945 came a masterstroke by Rocca. Something that would cement United's position as a Catholic club at the time, and change the trajectory it was headed on.
He persuaded another devout Catholic, a certain Matt Busby, to become manager of the club.
By the 1950s, the backbone of Manchester United was Catholic.
Alongside Rocca and Busby, United's assistant manager Jimmy Murphy went to Mass daily.
In fact, when United signed Catholic players, like Billy Whelan or Johnny Carey, their parents were assured they would still go to Mass every Sunday.
Whilst United's hierarchy was predominantly Catholic, the club wasn't exclusively so.
They would sign both Catholic and Protestant players. The most famous of all being George Best.
When Busby stepped down as manager in 1969, the Catholic link gradually began to die out.
And in 1986 a manager came along who would usurp even Busby's achievements.
A manager born into a Protestant family, who grew up playing for and supporting the most overtly Protestant club in the UK – Glasgow Rangers.
Alex Ferguson.
RELATED ===> When Did Man Utd Wear Yellow And Green?
Final Thoughts
So if you are asking is Manchester United Catholic or Protestant?
Then traditionally United is known as a Catholic club, but the reality is that the club is not associated with any religion.
Religion is far less important in today's society than it was back in the early 20th century and this is reflected in the falling number of churchgoers in recent decades.
I'd hazard a guess that more United supporters class themselves as atheist or agnostic than Catholic these days.
Even back at the time the club had such a strong Catholic influence they still signed Protestant players
And as Sir Matt Busby himself once said: "The only man in my team who has to hold a cross is the goalkeeper."
---