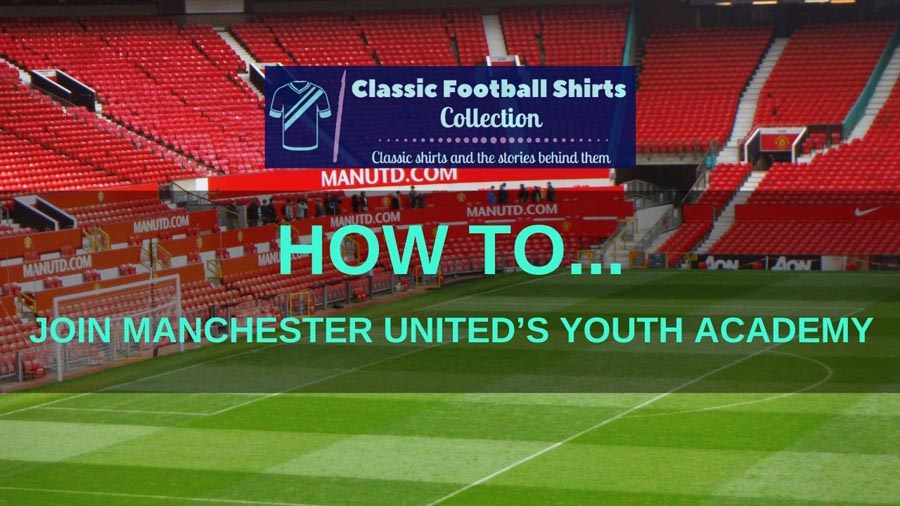 Finding out how to join Manchester United's Youth Academy is a priority for thousands of youngsters worldwide.
It is the first step on the ladder to achieving a dream of playing for one of the most renowned and well-respected (despite the past few years!) football clubs in the world.
Most Premier League teams' academies start accepting players at the age of 9, although many teams have development groups catering to even younger players.
But how do you become part of such an illustrious academy?
Let's find out…
How To Join Manchester United's Youth Academy?
To join Manchester United's youth academy, you must be selected by one of the club's scouts or coaches. To give yourself the greatest chance of this happening you want to play for the best possible team in your local area. Also, keep an eye out for any trials or open days of any professional team local to you and see if Manchester United are running any of their summer soccer schools in your vicinity.

You Must Be Selected to Join the Academy
First things first, Manchester United must select you to join their academy.
I know that might sound obvious, and you can contact the club as much as you want, but at the end of the day the decision rests with them.
That said, there are several things you can do to increase your chances of bringing yourself to the club's attention.
Play For the Best Team in Your Area
United has a network of scouts throughout the country.
So if you are serious about joining Manchester United's Youth Academy, your first step should be to play for the best possible team in your area to give yourself the greatest chance of getting the attention of their scouts.
Because let's face it, if you are going to join an academy as illustrious as Manchester United, you will need to be capable of playing for the best team in your local area.
If you can't even manage that, the likelihood is that you aren't good enough to play for Manchester United.
RELATED ===> The Best Retro Manchester United Shirts Revealed
If you are playing for a notable team in your area there is more likelihood of scouts being at their matches.
Years ago when I was playing junior football, we used to travel up to London frequently to play teams that had a number of players on the books of professional clubs. Ten-Em-Bee and Epsom Eagles are just two I remember.
There would always be a few scouts at their games.
Think About Who You Know
So if you have managed to get yourself playing for a very good local team in your area, think about the connections that should open up.
If the team really is one of the best in the area then there will be more eyes on them and they are likely to have a player or two on the books of a professional club.
Maybe one of the parents can put a good word in for you. Or maybe you know someone involved in football, even if it is a friend of a friend and at a lower level than Manchester United, try and utilise any possible connections you may now have.
Get Your Foot on the Ladder
Let's be honest, getting into the academy of any team is difficult, but getting into the Manchester United academy is one of the most difficult of all.
For that reason, don't make it the be-all and end-all.
Think of other professional or semi-professional teams local to you.
For instance, in the Manchester area alone there is a plethora of league and non-league teams: Stockport, Oldham, Rochdale, Salford, Bolton, etc.
If you win a place in one of their academies and are good enough, then Manchester United may come calling further down the line.
The most important thing is to get your foot on the ladder rather than to jump onto the top rung.
Make Your Own Video Reel
One of the great benefits of the world we live in today is how easy it is to capture things in photos and on film.
If you decide to take the proactive approach and contact Manchester United directly, then having a video highlights reel showing you in action will add more weight to your case.
Ideally, you will want something short and snappy showing the different facets of your game.
If you can get hold of the details of someone who works at the club and contact them, even better.
But also remember that United will receive hundreds of these types of inquiries each week, so if you don't get a reply don't take it personally.
RELATED ===> How Much Do Manchester United Academy Players Get Paid?
Be Aware of Trial Sessions, Open Days and Soccer Schools Being Held
These don't necessarily have to be events run specifically by Manchester United, they could be for any professional or semi-professional club.
However Manchester United does run Manchester United Soccer Schools throughout the school holidays.
The club's soccer schools cater for the following ages:
Junior 8-11 yrs
Senior 12-14 yrs
Youth 15-17 yrs
Girls 8-17 yrs
Anyone can go to a Manchester United Soccer School, so if you are a very good footballer, and you are looking to get scouted, then attending one of these schools will put you in front of coaches with links to Manchester United.
United has also started an Emerging Talent Programme with over 50 local schools and grassroots clubs across Manchester and the North West.
This is another way to be spotted by a United scout, with the remit of the program being:
"To identify talented footballers across the region and support them further by offering them the opportunity to potentially attend a structured development programme at the club's Emerging Talent Centre, based at the Aon Training Complex."
Be Realistic
You have to remember that it is almost every child's dream to play for a team like Manchester United.
It is a tough task in itself to get into an academy of a professional team, but then add into that the fact the percentage of players that make it out of an academy and go on to play professionally is less than 1%.
That goes to show just how the odds are stacked against you.
I always remember the chapter from the excellent book Fever Pitch by Nick Hornby on Gus Caesar.
Caesar played over 50 games for Arsenal and three times for England U21 but essentially drifted into football obscurity after that, at the age of 25.
Hornby muses how Caesar must have been far and away better than anyone else at his school, so he gets picked for a representative side.
Even then he was still miles better than anyone else, to the point he got offered an apprenticeship. Not with Brentford, or Fulham, or Leyton Orient but with Arsenal.
And that is only part one done, because if you look at everyone else in the same youth team as Gus Caesar around that time, only David Hillier made it to the first-team.
But Gus Caesar makes it out of the youth-team and plays for the reserves.
Then just before Christmas in 1985, Viv Anderson is suspended and Gus Caesar makes his first-team debut at the age of 19, away to Manchester United.
Not only does he make his debut, he has a good game and Arsenal win 1-0.
George Graham comes in as manager and likes him, and he is getting regular game time and gets called up to England U21s. He has been recognised as one of the best 20 or so players in the entire country.
But by 1987, things start to go wrong for Gus Caesar. Maybe opposing teams have had a chance to work out his weaknesses, but all of a sudden he starts getting exposed in one-on-one situations.
By the start of the 1987-88 season he is very much the last choice centre-back for Arsenal. But at the end of the season injuries and suspension meant he played in the 1988 League Cup Final. It doesn't go well for him.
By the end of the 1990-91 season, he has played just a handful of games in the past three years and is released.
He signs for Cambridge, but then they release him, as do Bristol City. Both Airdrie and Colchester do as well. By the time he is 30, he is playing non-league football. As Nick Hornby summarises:
"To get where he did, Gus Caesar clearly had more talent than nearly everyone of his generation (the rest of us can only dream about having his kind of skill) and it still wasn't quite enough."
RELATED ===> Better Than Giggs, Scholes and Beckham, United's Greatest Lost Talent
But Don't Give Up!
But I don't want to end on a negative note, so let's remember Ian Wright who didn't come into professional football until he was 21.
Before that, he had had unsuccessful trials at Southend United and Brighton and Hove Albion.
He even spent two weeks in Chelmsford Prison for failure to pay fines.
He was spotted playing for his local Sunday team by non-league Greenwich Borough and joined them, being paid £30 a week.
Just seven games later an opposing manager was so impressed by Wright he tipped off Crystal Palace.
Wright was invited for a trial and in August 1985, just before he turned 22, he signed a professional contract for Crystal Palace. In his first season, he was Palace's second-highest scorer.
If you are good enough, you will get an opportunity.
How to Join Manchester United from Overseas
Manchester United's website carries details of the regulations for trials for players born outside of England.
In summary:
A player cannot attend the academy until he is 15 on the recommendation of a scout or coach.
They cannot register for the academy unless they lives within 90 minutes of it.
They cannot move specifically to the area for football reasons. However moving for family reasons is permitted – ie if a parent gets a job in the area.
EU/EEA citizens can sign as a scholar at the age of 16.
Non EU/EEA citizens can sign as a scholar at the age of 18, but only if eligible for a work permit.
How To Join Manchester United's Academy From India?
To join Manchester United's academy if you are from India, you will need to be recommended by an official Manchester United or scout.
You will then need to fulfill the criteria mentioned above.
How To Join Manchester United's Academy From Kenya?
To join Manchester United's academy if you are from Kenya, you will need to be recommended by an official Manchester United or scout.
You will then need to fulfill the criteria mentioned above.
How To Join Manchester United's Academy From Nigeria?
To join Manchester United's academy if you are from Nigeria, you will need to be recommended by an official Manchester United or scout.
You will then need to fulfill the criteria mentioned above.
Final Thoughts
To join Manchester United's academy you must be recommended by a Manchester United coach or scout.
To achieve this you will need to raise your profile as much as possible, and the best way of doing this is by playing for the best local team in the area.
There will be more likelihood of scouts attending their matches, and it could also lead to being selected to play for your district or country.
Try and utilise any connections you may have to professional or semi-professional clubs and keep an eye out to see if Manchester United are holding any of their soccer schools near you in the summer.
The most important thing is to get your foot on the ladder.
Your dream might be to play for Manchester United, but if you get selected to play for another professional team's academy, even at a lower level, it could lead to greater things.
Finally, and most importantly, you must have talent and dedication.
---