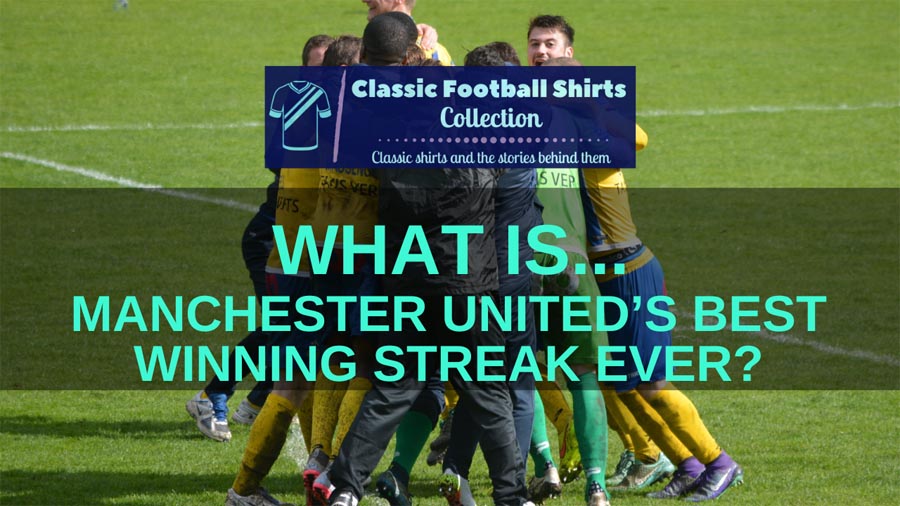 Manchester United has had huge success over the years.
From their first title-winning team at the start of the 20th century to Busby's Babes of the 1950s and 60s to the all-conquering team built by Sir Alex Ferguson in the 1990s and 2000s.
There are very few periods of the club's history where they haven't taken a trophy home of one type or another.
But what is the best Manchester United winning streak in the league ever?
The answer might surprise you.
So let's find out.
Best Manchester United Winning Streak
Manchester United won 14 games in a row in the 1904/05 season, which remains a club record. United were in the Second Division at the time and didn't even get promoted that season as they finished third behind Liverpool and Bolton! The club's longest unbeaten run in all competitions stands at 45 matches and was set between 26 December 1998 and 3 October 1999.

14 Successive League Wins. 1904/1905 Season
With all the success the Red Devils have had in their history it comes as something of a surprise that the club's best winning run in the league wasn't achieved under the tutelage of Sir Matt Busby or Sir Alex Ferguson.
It actually came during the reign of Ernest Mangnall when United were in the second tier of English football.
Not only that, despite 14 successive wins, starting with a 2-0 win against Lincoln on 15 October 1904 and ending with a 4-2 win against Bolton Wanderers on 3 January 1905, United still didn't get promoted that season.
They actually finished 3rd on 53 points. They were three points behind 2nd placed Bolton and five points behind league winners Liverpool.
They were also a massive 11 points ahead of 4th place Bristol City, quite a gap considering it was only two points for a win at this time.
United actually won 24 of their 34 games that season, drawing five and losing five of the other ten.
Unfortunately, their bid to get promoted came unstuck in the last 13 games of the season.
Buoyed by seven new signings United mounted their first real promotion challenge for a decade (they had been in Division Two since 1894).
They opened the season with a 2-2 draw at Port Vale and followed it up with a 4-1 win at Bristol City.
Defeat at home to Bolton in the third game of the season was to be United's only home defeat all season. In fact, they wouldn't taste defeat of any kind for almost five months after that match.
United beat Glossop 2-1 and then drew with Bradford 1-1 before embarking on the run of 14 consecutive wins that would become a club record.
RELATED ===> Revealed: The Best Retro Manchester United Shirts
It included a 3-1 win against Liverpool and a 4-2 win against Bolton, both of whom would finish above them.
The run saw United score 43 goals and concede just 7.
A 1-1 draw away to Bristol City on 7 January 1905 put an end to the run, although United sprung back in the next game with a 4-1 win against Glossop.
It was the last 13 games where they stuttered and after just one defeat in their opening 21 games, United lost four of their last 13.
Crucially this included two defeats in their last three games, with a 4-0 defeat against Liverpool in the penultimate game of the season putting promotion out of reach.
United were indebted to strikers Tommy Arkesden, Jack Allan and Jack Peddie that season.
The trio scored 15, 16 and 17 goals respectively.
12 Successive League Wins. 1999/2000 to the 2000/2001 Season
Perhaps less surprisingly, the next entry in the list of best United winning streaks came during a three-season Premier League winning spell.
United won the 1999/2000 Premier League at a canter, adding to their title the previous year.
This was in no small part down to an 11-game-winning run at the end of the season, starting with a 3-1 win against Derby County on 11 March 2000 and culminating in a 1-0 away win at Aston Villa on the last day of the season (11 May 2000).
They recorded a 2-0 win against Newcastle on the opening day of the 2000/01 season to make it 12 wins in a row before the run was halted with a 1-1 draw away to Ipswich.
Nevertheless United would record a third successive league title in the 2000/01 season with Arsenal once again in 2nd place, ten points behind.
As with the winning run in 1904/05 three strikers provided the bulk of the goals in the league that season.
Andy Cole rattled in 19 in just 23 starts, Dwight Yorke 20 in 29 and Ole Gunnar Solskjaer 12 in 15.
The highlight of the end-of-season run was a 7-1 win at home against West Ham, during which Paul Scholes claimed a hattrick.
Scholes was one of four different United players to score league hat-tricks that season.
Andy Cole scored four against his old team Newcastle, Ole Gunnar Solksjaer scored four against Everton and Dwight Yorke three against Derby.
The 1999/2000 season was also the season where United controversially didn't defend their FA Cup crown.
At the FA's request, they competed in the first-ever FIFA Club World Championships in Brazil instead.
RELATED ===> How Many Times Have Manchester United Been Relegated?
10 Successive League Wins. 1985/86 Season
Searching for their first league title since 1967, a Ron Atkinson lead Manchester United opened the 1985/86 season with 10 victories on the bounce.
In fact, if it hadn't been for a 5-1 defeat to Watford on the last day of the 1984/85 season this figure would have been 14 wins in a row as they won three of their last four games the previous season.
United actually won 13 of their first 15 games of the season, drawing the other two to make them the runaway league leaders at the start of November 1985.
The Red Devils were top of the league from their 4-0 win against Aston Villa on the opening day of the season right up until they lost 2-1 against West Ham on 2 February 1986.
However, prior to this defeat, the rot seemed to have already set in, with only their excellent form at the opening of the season keeping them top of the table.
After that opening 15-game run, United lost six of their next 13 games as both Liverpool, Everton and West Ham ate away at their points advantage.
After the defeat to West Ham, United were knocked off of the top of the table. They won just five of their last 15 games and finished 4th.
With two months of the season remaining United also agreed a deal to sell top scorer and exciting young striker Mark Hughes to Barcelona for a club-record £2.6million fee.
It was the following season, 1986/87, that was to be pivotal in United's future.
The pressure was already on manager Ron Atkinson following the failed title challenge the previous season.
The start to the 1986/87 season put him under even more pressure, United lost six, drew one and won one of their first eight games.
Atkinson was sacked on 6 November 1986, following a 4-1 league cup defeat to Southampton.
Alex Ferguson was quickly appointed as his successor, and the rest is history…
What Is Manchester United's Longest Unbeaten Run?
United's longest unbeaten run in all major competitions is 45 matches, running from 26 December 1998 to 3 October 1999.
This also includes their longest unbeaten run in the league, 29 games from 26 December 1998 to 25 September 1999.
United had a couple of close calls in this period.
In the FA Cup against Liverpool they were 1-0 down with just two minutes to go but came back to win 2-1
RELATED ===> Why Do People Hate Manchester United So Much?
They had a few even closer calls in the Champions League.
In the quarter-final second leg, they were 1-0 down to Inter Milan until Paul Scholes equalised with two minutes to go.
Then in the semi-final first leg, they were saved from defeat against Juventus by an injury-time equaliser from Ryan Giggs.
And of course we all know what happened in the Champions League Final against Bayern Munich in 1999…
The undefeated run was ended in emphatic fashion though. On 3 October 1999 Chelsea thrashed United 5-0 at Stamford Bridge!
What is the Longest Winning Streak in the Premier League?
The longest winning streak in Premier League history is shared by Liverpool and Manchester City, at 18.
Manchester City achieved their winning run in a period going from 26 August 2017 to 27 December 2017.
Liverpool's started on 27 October 2019 and went through to 24 February 2020.
Liverpool's run is probably slightly more impressive as from 10 March 2019 through to 24 February 2020 their record read:
P36, W35, D1, L0.
Pretty amazing!
Final Thoughts
The short answer is Manchester United's best winning streak ever in the league is 14 games.
And it was achieved well over a century ago, which is quite surprising considering the success the Red Devils have had since.
Also despite winning 14 successive games, United didn't even win the league that season, they came third.
They have had plenty of good winning runs since just never one quite as good in the league as that one way back in the 1904/05 season.
---