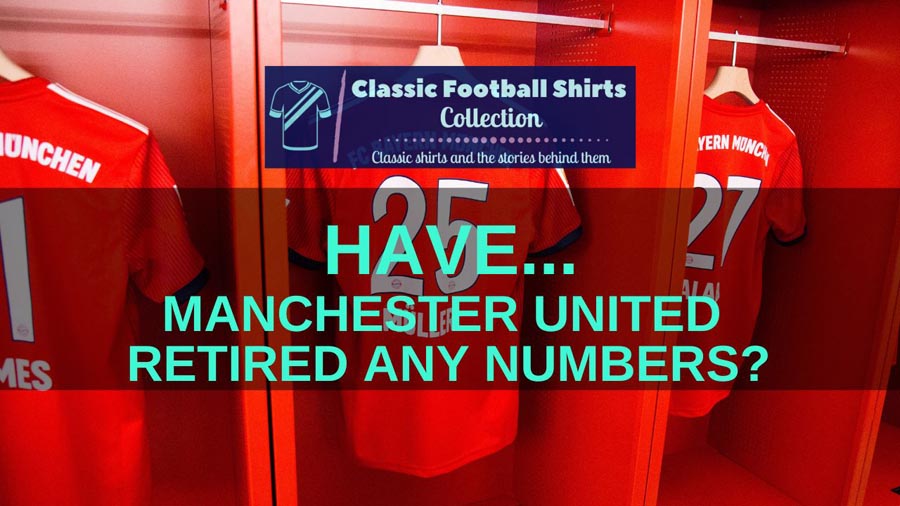 Retiring numbers was once just the domain of American sports, but it has gradually crept into football over the past couple of decades.
But have Manchester United retired any numbers?
After all, they have probably had more legendary players than any other English team since the turn of the millennium.
So we will take a closer look at retired numbers in football and find out if United are responsible for any of their own.
Without further ado, let's get started.
Have Manchester United Retired Any Numbers?
No Manchester United has never retired any shirt numbers. There was talk of retiring Ryan Giggs' number 11 shirt when his 23-year, 1,000-game spell at Old Trafford came to an end but Giggs himself said he didn't think the number should be retired.

Why Do Numbers Get Retired in Sport?
Numbers tend to be retired for two reasons:
As a mark of respect to a club legend who has served the team for a number of years
As a tribute to a player who has died or suffered a serious illness.
It is thought the first example of this happening in football unsurprisingly occurred in America in 1977.
This was when the New York Cosmos retired Pele's number 10 jersey.
Numbers haven't always been used on shirts in English football, it was a practice first introduced in 1928 in a game between Sheffield Wednesday and Arsenal.
By the early 1930s, it was commonplace in the domestic league and in 1933 numbers were worn for the first time in the FA Cup Final.
The game was between Everton and Manchester City and saw Everton players allocated the numbers 1 to 11 and Manchester City players numbers 12 to 22.
It wasn't until 1954 that numbered shirts made an appearance in the World Cup.
In the early years, numbers were obviously of less importance to players and teams.
For instance, when Brazil submitted their squad for the 1958 World Cup they forgot to assign each player a number.
FIFA administrators did the job for them, which explains why the goalkeeper, Gilmar, wore number 3!
In the 1974, 1978 and 1982 World Cups Argentina numbered their players alphabetically.
Squad numbers were introduced at the beginning of the second Premier League season in 1993/94.
RELATED ===> Revealed: The Best Retro Manchester United Shirts
Which Teams Have Retired Numbers?
The list of clubs that have retired numbers has grown slowly over the past decade or two, but Manchester United does not feature.
The Red Devils have not retired any numbers.
When Ryan Giggs retired, there was talk of retiring the number 11 shirt he had worn for over 20 years, but Giggs himself was against that.
When asked his opinion by MUTV, he said: "No [the number 11 shirt shouldn't be retired]. There are obviously special cases but it just depends on the club really. I don't think it's [right] for United where they constantly churn over great players."
Numbers Retired Posthumously or Due to Serious Illness
A selection of numbers retired as a result of players dying or becoming seriously ill include:
Number 9 for JS Kabylie – Albert Ebosse Bodjongo
Bodjongo was considered one of Cameroon's brightest young prospects, having scored 41 goals in 67 games in his professional career and having already appeared for the Cameroon U20 team.
He died after he was attacked leaving the field at the end of a game between JS Kabylie and USM Alger. Initially, it was thought he had been struck by an object, but a post-mortem later revealed he may have died as the result of a severe beating.
Number 26 for FC Nordsjælland – Jonathan Richter
Richter was struck by lightning whilst playing for FC Nordsjælland in a friendly match against Hvidovre in July 2009.
The incident resulted in Richter having a cardiac arrest, he recovered slowly but had his lower left leg amputated.
FC Nordsjælland retired his number 26 shirt as a result.
Number 17 for Lens – Marc-Vivien Foé
Perhaps one of the most high-profile shirt retirements, Foe was a veteran Cameroon international who had played for West Ham, Manchester City and Lens.
He collapsed and died on the pitch in a 2003 Confederations Cup game between Cameroon and Colombia. Medics spent 45 minutes trying to restart his heart but to no avail.
RELATED ===> Did Eusebio Play For Manchester United?
Number 33 for Persis Solo – Diego Mendieta
Mendieta's death in 2012 at the age of 32 caused outrage, with the International Federation of Professional Footballers dubbing it a "disgrace for football".
Mendieta was a Paraguayan playing in the Indonesian league for Persis Solo when he developed an easily treatable virus called cytomegalovirus.
However Persis Solo refused to pay his hospital fees and it was also found the club owed Mendieta $12,500 in salaries which had prevented him from returning to Paraguay. Mendieta died alone in a hospital in Indonesia.
Number 10 for Dempo SC – Christiano Junior
Brazilian Cristiano Junior was the highest-paid player in India when he sadly died following an incident in a game as he played for Dempo.
Junior collided with the opposition goalkeeper as he scored his second goal in a game against Mohun Bagan in 2004. He managed to stagger away before collapsing on the field.
No doctors were present at the game and Junior had died by the time he arrived at the local hospital.
Numbers Retired For Club Legends
Clubs often retired numbers associated with a legendary player. They include:
Number 01 for Sao Paulo – Rogerio Ceni
Note the number retired here is 01, not the normal 1 a goalkeeper might wear. But then again Rogerio Ceni was not a normal goalkeeper.
Ceni played for Sao Paulo in over 1200 games between making his debut in 1993 at the age of 20 and retiring in 2015 at the age of 42.
In what is surely one of the most remarkable statistics in football, Ceni scored an amazing 131 goals in his career! He was a dead ball specialist and was the official taker of free kicks and penalties for Sao Paulo from 1997 until he retired.
In three seasons alone from 2005 to 2008, Ceni scored 47 goals!
He also was an exceptional goalkeeper and earned 16 caps for the Brazil national side.
Numbers 3 and 6 for AC Milan – Paolo Maldini and Franco Baresi
In a 32-year spell between 1977 and 2009, there was barely a game where either Maldini or Baresi didn't feature for AC Milan.
The defensive lynchpins both spent their entire careers at Milan and made over 1600 appearances between them.
The two legends also made over 200 Italy appearances in total.
Number 14 for Ajax – Johan Cryuff
Cruyff spent a total of 21 years at Ajax as a player and manager, scoring over 200 goals in a little over 300 games.
Cruyff started wearing the number 14 in 1970 when he offered his traditional number 7 Jersey to teammate Gerrie Muhren. Cruyff randomly picked the number 14 shirt and wore it from then on for Ajax and Holland when permitted.
RELATED ===> Why Can't You Call Manchester United Man U?
Number 6 for West Ham – Bobby Moore
In August 2008 West Ham officially retired the number 6 shirt as a mark of respect to Bobby Moore, both their greatest ever captain and England's greatest ever captain.
Moore made his debut in the shirt for the Hammers in 1958 when he was just 17 and would pull it on a further 646 times for West Ham before leaving to join Fulham in 1974.
Number 10 for Napoli – Diego Maradona
Maradona spent longer at Napoli than any other club, seven years from 1984 to 1991.
He joined a team that had been fighting against relegation in the 1983-84 season, yet almost single-handedly he transformed their fortunes. In 1987 they won their first ever Serie A title and in 1990 they won it again. In between, they were twice runners up.
Not only was his shirt number retired by Napoli, but the Argentinian was also so revered that in 2020 just over a week after his death, Napoli's home stadium was renamed Stadio Diego Armando Maradona.
Final Thoughts
In short, no Manchester United haven't retired any shirt numbers.
Perhaps the reason for this lies in what Ryan Giggs said after it was mooted his number 11 shirt be retired.
For a team that has produced as many iconic players as Manchester United, if you start retiring shirts for each one, soon there will be none left for current players.
If you were to retire Gigg's number 11, whose to say you shouldn't retire Paul Scholes' number 18 or Bobby Charlton's number 9 or George Best's number 7…
You get the picture.
---