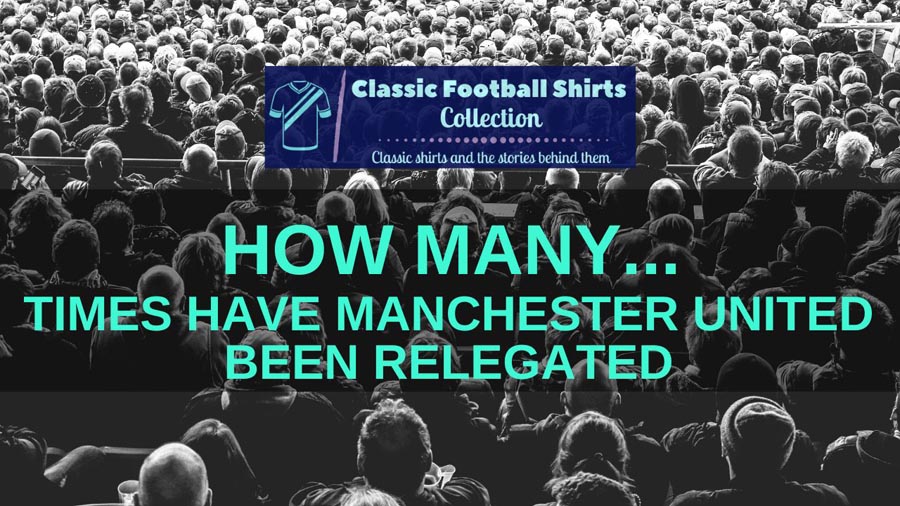 I know it seems inconceivable nowadays, but Old Trafford hasn't always played host to top-level football.
But how many times have Manchester United been relegated?
We are going to explore that in this article and find out a bit more about the club's seasons when they weren't in the top tier of the English league.
So let's get started…
How Many Times Have Manchester United Been Relegated?
Manchester United have been relegated a total of five times and spent 22 seasons outside of the top division of English football. They were relegated once in 1894 as Newton Heath, with the remaining four relegations coming as Manchester United. The first was in 1922, then again in 1931 and 1937. Their last relegation came in 1974. United immediately returned to the top flight in 1975 and have been there ever since.

Relegation #1: 1893/94 Season (As Newton Heath)
Manchester United's first relegation came in the 1893/94 season, when the club was still known as Newton Heath.
Newton Heath had only been admitted into the relatively new First Division the previous season and actually finished bottom of the league.
However, they won a won-off game against Second Division Champions Small Heath (later to become Birmingham City) and retained their top-flight status.
Unfortunately, the 1893/94 season didn't bring about an improvement in form.
Newton Heath again finished bottom of the First Division, with a record that read P30, W6, D2, L22, GF36, GA72, Pts 14.
Three of Newton Heath's 6 wins came in the first 7 games. Then they won just three and drew one of their next 23 games, losing the other 19.
A 'test match' on 28 April 1894 against future rivals and at the time, Second Division champions, Liverpool saw Newton Heath lose 2-0 and suffer relegation to the Second Division.
Newton Heath would go on to spend the next 12 seasons in the Second Division, the club's longest ever spell outside of the top division of English football.
During this period they also changed their name to Manchester United.
For most of the time, they were in contention for promotion back to the First Division, and finished 2nd once, 3rd three times and 4th three times, before eventually gaining promotion in the 1905/06 season.
RELATED ===> Revealed: The Best Retro Manchester United Shirts
Relegation #2: 1921-22 Season
After a successful spell in the top flight, which saw United win their first two league titles and their first FA Cup, they finished bottom in the 1921-22 season to return to Second Division football.
In all honesty, the club had struggled in the two seasons directly after the First World War.
United started the season with Jack Robson as manager, although poor health forced him to step down in October 1921. He died of pneumonia just a few months later in January 1922.
His replacement was John Chapman who had managed at Airdrieonians and apparently became one of the highest paid managers in the League on his appointment.
When he took over United were hardly flying, they were 15th in the League, but he certainly didn't have the desired 'new manager bounce'!
Of his first 14 games as manager United lost 11, drew 1 and won 2. This left them firmly at the bottom of the table.
A brief resurgence saw them go unbeaten in their next six games, but then six defeats in a row confirmed their relegation for the first time since 1906.
Relegation #3: 1930/31 Season
After relegation in 1922, United spent three seasons in the Second Division, returning to Division One in the 1925-26 season.
United's return to the First Division was not a happy one. After finishing 9th and reaching an FA Cup Semi-Final they struggled, placing 15th, 18th, 12th and 17th before once again finishing rock bottom and succumbing to relegation in the 1930/31 season.
The season was a poor one in every way possible. United started it with 12 successive defeats and ended it with 22 points, both club records.
The last game of the season, a 4-4 draw against Middlesbrough, drew just 3,969 spectators as the Great Depression and United's poor form made Old Trafford an unattractive place to visit.
United conceded 115 goals that season, including 7 against Newcastle and Aston Villa, 6 against Chelsea, Huddersfield Town and Derby and 5 against West Ham, Leicester, Leeds and Blackpool.
RELATED ===> Which Team Has Beaten Manchester United The Most?
It is a sign of how football has changed that despite this terrible season, United didn't sack their manager Herbert Bamlett until there were just six games remaining.
After his sacking United promptly went on their best run of the season, winning 2, drawing 2 and losing 2!
Another indicator of how the game has changed is the fact Bamlett was actually a referee until 1914 and refereed the 1914 FA Cup Final.
He then became a manager, albeit no a particularly successful one, prior to managing Manchester United he had also managed Middlesbrough and they also picked up just 22 points in one of the seasons he managed them!
Relegation #4: 1936/37 Season
In the 1920s and 1930s United were developing a reputation as somewhat of a yo-yo team and were relegated again in the 1936/37 season.
However, this was a dream in comparison to where United had been just a couple of seasons earlier.
On the last day of the 1933/34 season, United were second from bottom of the Second Division and relegation to the third tier of English possible looked not just a distinct possibility, but a strong likelihood.
Their last game of the season was away against Millwall who were one point ahead of them. United won 2-0, sending down Millwall at their expense.
By 1936 they were back in the First Division, but only for one season.
They struggled for most of the season, but a good run of two wins and three draws meant they went into the final game of the season with a chance of staying up.
Unfortunately, they lost to West Bromwich Albion to return to the Second Division.
The next season, the 1937/38 season, United were again promoted to the First Division, where they would stay for 36 years until…
Relegation #5: 1973/74 Season
By the 1973/74 season, Manchester United had played 29 consecutive seasons in the top division of English football.
This spell had brought in 5 league titles, 2 FA Cups and a European Cup.
The club had been on a downward spiral since Sir Matt Busby stepped down in 1969 and in the 1972/73 season had finished 18th, only just above the relegation zone.
The 1973/74 season proved to be even worse.
In fact, after 12 games the club's joint top scorer was goalkeeper Alex Stepney, who had unusually been appointed penalty taker!
RELATED ===> What is the Best Manchester United Winning Streak?
Manager Tommy Docherty, who was drawing criticism for his defensive tactics, finally acceded to pressure and began playing a more attacking playing style in the final two months of the season.
This followed a run in February and March which saw United score just 4 goals in 11 games.
The change paid dividends immediately, and a run of three wins and three draws in six games briefly gave fans hope.
However, a 1-0 defeat at Everton was followed by a 1-0 defeat at city rivals Manchester City. Denis Law's last kick in league football, an instinctive backheel, confirmed the win for City and saw United relegated.
The club also cancelled George Best's contract in January 1974, bringing to an end his decade-long spell at United.
United spent just a season back in Division Two. In fact, their average home attendance of 47,781 was the highest in the country despite them being outside of the top flight.
Final Thoughts
In total United have been relegated five times and spent 22 seasons outside of the top flight in their time as a league club.
As unlikely as it seems now, for a brief period in the 1920s and 1930s the club regularly fluctuated between the First and Second Division.
United's season in the Second Division in 1974-75 is their last to date, and with the way the game has changed over the decades, it seems unlikely they will be relegated in the foreseeable future, barring a disaster.
United's relegations:
As Newton Heath
1893-94 relegated to Division 2 (spent 12 seasons there)
As Manchester United
1921-22 relegated to Division 2 (spent 3 seasons there)
1930-31 relegated to Division 2 (spent 5 seasons there)
1936-37 relegated to Division 2 (spent 1 season there)
1973-74 relegated to Division 2 (spent 1 season there)
---