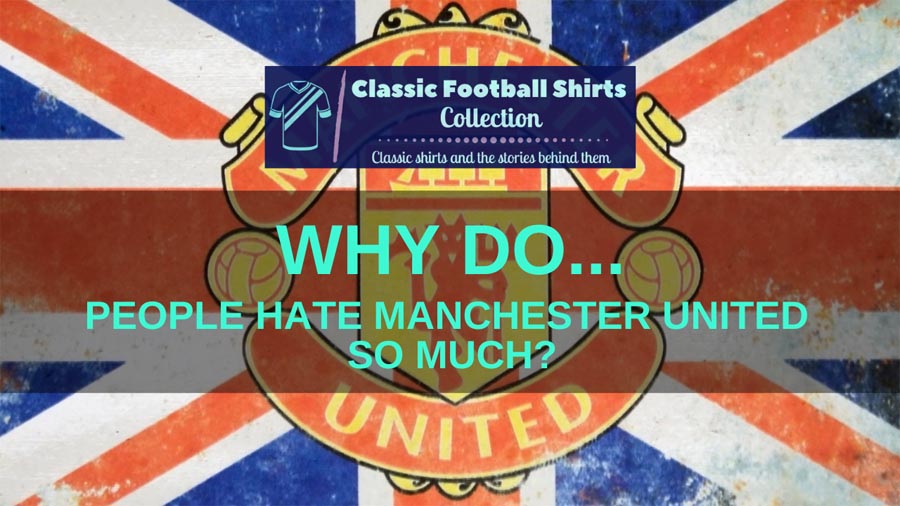 If I was hazarding a guess at the most disliked team in the history of the Premier League, I would without a doubt say it is Manchester United.
Arsenal, Manchester City, Chelsea and Liverpool have all had success in recent decades, but none of them are as universally loathed as Manchester United.
So why do people hate Manchester United so much?
Let's take a closer look.
Why Do People Hate Manchester United So Much?
Probably the main reason Manchester United is hated by so many opposing fans stems from their success in the 1990s, 2000s and early 2010s. This led to an influx of 'plastic' fans and some sizeable transfer fees and of course the now infamous idea of 'Fergie-time', when a referee would play as long as needed until United scored!

Reason #1: The Fans
When I did some research into this there was one reason that kept cropping up again and again, when it came to other teams dislikes of Manchester United.
Their fans.
Or more specifically not all fans, but the fans that suddenly started supporting Manchester United when they began winning things.
So in other words, the glory hunters.
In fact, someone wrote something that I thought was quite interesting:
"No club makes people hate them. It's the fans of that club that do the job for them."
A lot was made of the fickle nature of Manchester United's fans, the fact many claim to support the team and then lose interest as soon as they start struggling.
And of course, the fact that many have never been to Old Trafford.
United has always had a massive fanbase in India, which one supporter out there put down to the Indian culture being based on "an obsession of associating with success".
The poster on Quora said that in India it is subconsciously taught that people who fail are bad people, even though they actually might be really nice.
Whereas people who succeed are seen as good people, regardless of their personality and traits.
So in India, lots of the population support United as it is an association with success (ok not so much today, but certainly up until a decade ago).
That probably does extend further than India though, and many other football fans dislike this association with success.
Or as former Manchester United captain Roy Keane once put it himself:
"To be honest I never cared much for Manchester United fans. For the most part they're clueless glory hunters, trying to add a sense of accomplishment to their own pointless lives by jumping on the bandwagon of a successful sporting club, in many cases on the other side of the world."
RELATED ===> Revealed: The Best Retro Manchester United Shirts
#2: Refereeing Decisions
We all know that United seemed to benefit from some rather charitable refereeing decisions during Alex Ferguson's tenure at the club.
And that perception is not just limited to fans of opposing teams.
Earlier this year former Premier League referee Mark Clattenburg responded to an outburst by Jurgen Klopp about refereeing decisions favouring United by saying:
"But he [Klopp] is wrong to suggest there is an aura around United that sees them given favourable decisions. There used to be when Fergie was there, but that has eased massively since he left."
Former player Phil Neville said: "I'd say over my time in these games, I think we got the better decisions by the referees. And I think it was a big bugbear of the Arsenal players and Arsene Wenger, the way that probably referees tended to favour us."
Then of course there is the image of hordes of United players surrounding the referee to try and pressure him into changing his decision.
As Rio Ferdinand said: "The gaffer (Ferguson) used to say 'get around the referee, don't let him make an easy decision, he's got to think 'this is a big one. Pressure. The fans, the players are on me, Fergie's waiting in the tunnel".
Finally how many managers are seen to have been so influential with referees that they have a period of injury time sarcastically named after them.
RELATED ===> Which Team Has Beaten Manchester United The Most?
The idea of 'Fergie-time' goes right back to the very first Premier League season.
United were locked in a battle with Aston Villa for the title, and on 10 April 1993 it look as if they were about to hand Villa control of the title race.
With five minutes to go they were 1-0 down to Sheffield Wednesday at Old Trafford.
In the 86th minute, Steve Bruce equalized, then in the 7th minute of injury time he scored again, sparking the phrase 'Fergie-time'.
Opposing fans are quick to remember the dubious decisions they felt United got against their teams, and it is another reason Manchester United became unpopular.
#3: Money
Strangely United has probably spent more money since Alex Ferguson left and become less successful (my club Everton are a microcosm of that since David Moyes moved on).
And nowadays there are many clubs that spend heavily each transfer window to strengthen their squads, so United certainly aren't alone in this.
But…
Donny van de Beek: £35million
Harry Maguire £78million
Bruno Fernandes: £56million
Aaron Wan-Bissake: £50million
Fred: £53million
Romelu Lukaku: £76million
Nemanja Matic: £40mllion
Paul Pogba: £94million
These are just a handful of United's signings since 2016 (I haven't even mentioned Lindelof, Sanchez, Bailly, Dalot…).
There have been some serious signings, certainly enough to put the backs up of many football fans, who then have been equally pleased to see a great number of these signings fail…
#4: Tribal Rivalries
Football is tribal, and United has deeply established rivalries with more clubs than possibly any other team.
For instance:
Liverpool: Possibly United's strongest rivalry is with United. Traditionally England's two biggest teams, that have vied for many major honours.
Leeds: This rivalry goes back to the 1960s when Leeds became very successful and a real challenge to United's dominance. It was then reignited in the late 1980s as both teams competed for the league title.
Arsenal: This dates back to the mid to late 1990s, when Arsenal and United dominated the Premier League and Sir Alex Ferguson and Arsene Wenger seemed to not like each other at all!
Manchester City: Then of course there is the city rivalry that has only been intensified as City have eclipsed United in recent seasons.
RELATED ===> What is the Best Manchester United Winning Streak?
#5: Success
When anyone or anything is successful, there will always be haters as well as lovers.
In such a passionate sport as football, it is the nature of the game.
The thing is for years and years under Sir Alex Ferguson the hatred probably was like water off a duck's back for United fans.
They were winning leagues and cups every season, so it didn't bother them.
Now of course, that aura has faded, but they still attract the same amount of attention.
Think of it like the playground bully at school, who was always a foot taller than every other kid.
Suddenly he stops growing and some of the kids he used to bully, who were so much smaller, have a growth spurt and are all of a sudden the same size as him and even taller.
So now is the time for them to get their own back…
Final Thoughts
As an Everton fan I am probably well classified to talk about this from a neutral standpoint.
I do think the main reason some people hate Manchester United is down to their success.
I mean unless it is geographical rivalry, you wouldn't hate a team that hasn't won anything.
If United had spent the last 30 years languishing in the lower reaches of the Premier League they wouldn't be so loathed.
And their success ties in with some other reasons fans dislike United, it bought them money and 'gloryhunting' fans.
If they hadn't been so successful, no one would really be that bothered about them…
---