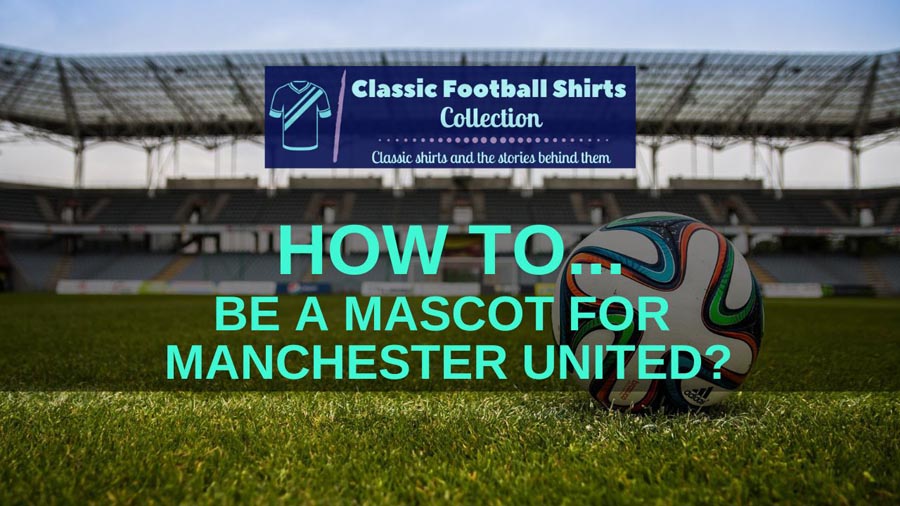 As a child, the thought of walking out alongside your heroes in front of tens of thousands of people is hugely exciting.
It was something I always dreamt about, but it never came to fruition for me.
So we are going to take a look at how to be a mascot for Manchester United in a bit more detail.
Without further ado, let's get started.
How To Be A Mascot For Manchester United?
Mascots for Manchester United home league games must be official Manchester United members and be aged between 7 and 14. Names of all supporters fulfilling these criteria are put into a prize draw, with 11 names selected to be mascots for each home league game. An added bonus is, aside from paying for a membership, there is no cost to be a mascot for Manchester United.

How Much Does It Cost To Be A Manchester United Mascot?
Let's start with the good news, it costs absolutely nothing to walk out onto the hallowed turf of Old Trafford as a mascot.
But there are a couple of requirements you need to fulfill if you want to be a Manchester United mascot:
You need to be aged between 7 and 14.
You need to be an official Manchester United member.
Membership for the club can be purchased via the official Manchester United website.
Membership gives a number of other benefits such as exclusive access to match tickets, discount in the club store and cafe, and priority access to season tickets.
So if you fulfill the criteria mentioned above, your name will automatically be put into a prize draw to be a mascot prior to each home league game.
For domestic cup games, Manchester United selects 'extremely or terminally ill' children to walk out with the players.
Matchday sponsors are also allowed to select a mascot for home games, however this is something that costs a lot of money!
I actually couldn't find the price, but whilst I was searching I did find out it is £900 to sponsor a match at FC United who are in the Northern Premier League, six divisions below Manchester United.
So I think it is safe to say the cost to sponsor a game at Old Trafford would be A LOT more!
RELATED ===> Revealed: The Best Retro Manchester United Shirts
How Much Does It Cost To Be A Mascot In The Premier League?
The cost of being a mascot at a Premier League club varies.
A few teams, like Manchester United, don't charge, but increasingly there is a cost to walk out with your heroes.
I've compiled the below list with help from articles on totalsportal.com and football-stadiums.co.uk:
Arsenal: Free
Aston Villa: £150 to £185
Bournemouth: £150 to £185
Brentford: Free
Brighton: £250 to £350
Chelsea: Free
Crystal Palace: £100 to £375
Everton: £718
Fulham: Free
Leeds: £255
Leicester: £600
Liverpool: Free
Man City: Free
Man Utd: Free
Newcastle: Free
Nottm Forest: £600 to £780
Southampton: Free
Tottenham: £255 to £405
West Ham: £700
Wolves: £290 to £395
What Is the Manchester United Mascot Called?
Fred the Red
United's mascot is called 'Fred the Red', and is described as an anthropomorphic "red devil".
He is now a familiar sight before each United game wearing the full kit, with the number 55 on his back.
He of course also represents the club's nickname of the Red Devils. The nickname was the brainchild of legendary United manager Sir Matt Busby, with the red devil becoming a permanent part of United's club crest in 1973.
Fred the Red has been the club mascot since 1994.
Michael the Bank Street Canary
Going back a century, however, many club's mascots were animals.
This indeed was the case with United.
RELATED ===> Why Do the Irish Love Manchester United?
Its first mascot was Michael the Bank Street Canary. This was way back in the 1890s when United was still known as Newton Heath.
United would probably be prosecuted under the Trades Description Act today though as Michael was not a canary, despite the name!
He was a goose!
Major the Saint Bernard Dog
United's next mascot was Major the Saint Bernard Dog, from 1900-1906.
Major was owned by United's club captain Harry Stafford and actually is an important part of the club's history.
In the early 1900s, when money was still at a premium for the club, Major was sent around the crowd prior to games wearing a collection box on his collar to raise extra funds.
His unwitting role in changing the club's fortunes came in 1901.
Major wandered off from a club fundraising event and was found by John Henry Davies, a wealthy brewery owner.
Davies returned Major to Harry Stafford and asked if he could buy him. In the end, he settled on making a donation to the club which was struggling with a £2,670 debt at the time.
As a goodwill gesture, Stafford let Davies keep the dog.
Stafford and Davies kept in touch and just over a year later, they announced that, along with three other businessmen, they were investing £200 each into United.
This was enough to stave off a winding-up order issued two months prior. Davies went on to become the club chairman and turned around the fortunes of the club.
Billy the Goat
Keeping the animal theme going, United's next mascot was Billy the Goat.
Billy was the club mascot from 1906 to 1909.
He too had a link to a player, his owner was United's half-back, Charlie Roberts.
However, unlike Major, fame went to Billy's head. In 1909 he celebrated United's FA Cup Final win over Bristol City with champagne and later died of alcohol poisoning.
The good news is, his head was preserved and is mounted on the wall of the Manchester United museum at Old Trafford for posterity!
William 'Hoppy' Thorne
Billy was obviously hard to replace, as United then went without a mascot until the late 1930s.
Then he was replaced by William 'Hoppy' Thorne, a British soldier who had lost a leg in First World War.
Billy initially swept up after home games and operated the scoreboard at reserve games before he was elevated to mascot status.
Apparently, he was well known before games for jumping the fence to the pitch and hopping around the turf…
He cut links with the club in 1948 after failing to receive tickets for the FA Cup Final.
RELATED ===> How To Join Manchester United Youth Academy?
Jack Irons
The last mascot before Fred the Red was Jack Irons. He was mascot from 1948 to 1963
Iron's would parade around the pitch before games in a red and white dinner suit, holding a red and white umbrella.
Iron's made a one-match come back for the 1968 European Cup Final.
The club then went without a mascot until Fred the Red's introduction in 1994.
Final Thoughts
To be a United mascot you need to be aged between 7 and 14, be an official Manchester United member and have a little bit of luck!
If you fulfill those criteria and your name is pulled out in the prize draw then you will be walking out alongside your heroes at Old Trafford.
The good news is, unlike some other Premier League clubs, it doesn't cost anything to be a Manchester United mascot.
And the best part of it all? You might even get to meet Fred the Red!
---