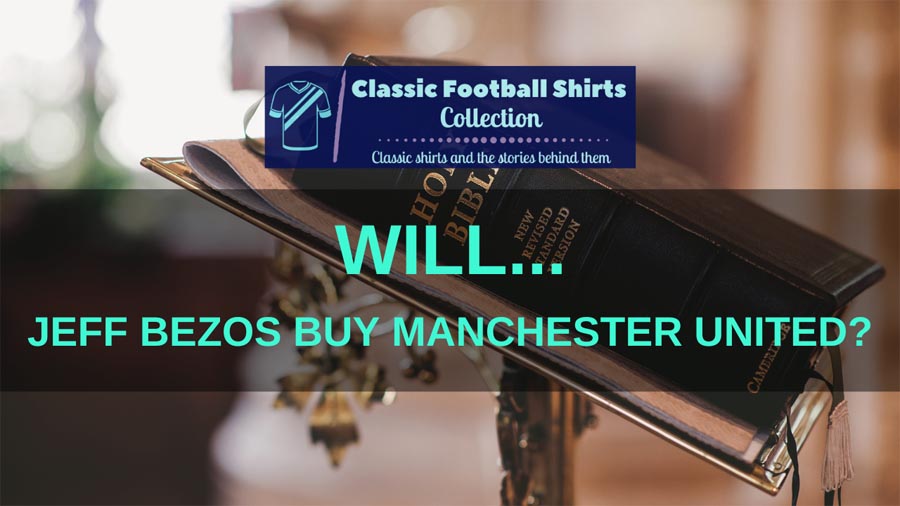 It is no surprise one of the world's richest men would get linked with one of the world's biggest sporting brands.
But will Jeff Bezos buy Manchester United?
Not many people have the financial clout to buy the Red Devils but he certainly would.
We look at that question here and delve into the Glazer's reign at Old Trafford.
So let's get started.
Will Jeff Bezos Buy Manchester United?
In short, no it is very unlikely Jeff Bezos will ever buy Manchester United. Rumours circulated in 2019 that he was preparing a bid for the club, but these proved to be just that – rumours. Bezos himself has never declared any interest in buying a Premier League club and it seems unlikely the Glazers would sell.

The link between Jeff Bezos and Manchester United has been circulating for many years.
It increased in intensity in April 2019 when many posts on social media platforms began circulating, saying that the New York Times was about to publish a story detailing how Bezos had submitted a £3.8billion ($4.5billion) bid to buy the club.
Of course, the fact Amazon had just entered into the football streaming business only added fuel to the fire.
A large media company would be a natural buyer for United with the lure of some lucrative broadcasting revenue.
As it was the aforementioned story was never published by the New York Times, and appeared to be generated by a social media frenzy.
In February 2021 the story resurfaced when Bezos revealed he would be stepping down as the CEO of Amazon.
This announcement lead to thousands of United fans again taking to social media urging him to buy their club.
But it has never happened and it looks unlikely it ever will.
RELATED ===> Revealed: The Best Retro Manchester United Shirts
Satirical news website, The Spoof, were quick to lampoon the situation and revealed Jeff Bezos and Elon Musk were combining forces to buy Manchester United and would be moving the club to Texas.
But perhaps the best quip came on social media, with one user saying:
"Manchester United don't need Bezos. The Glazers already deliver everything to the neighbours."
How Much is Jeff Bezos Worth?
According to Forbes, as of July 2022, Jeff Bezos has a personal fortune of £118.7billion ($141.9billion).
That makes him the world's third richest person, behind Elon Musk and Bernard Arnault & family.
The story of how Bezos made his fortune is an interesting one.
Jeff Bezos was born Jeffrey Preston Jørgensen on 12 January 1964.
His mother Jacklyn was a 17-year-old student and his father Theodore was just two years older.
Jeff took on the Bezos moniker in 1968 when he was just four years old and his mother married Cuban immigrant Mike Bezos after divorcing Theodore.
Bezos came up with the idea of setting up an online bookshop in 1993 when he read that the internet was growing at a rate of 2300% per year.
Amazon was founded on 5 July 1994, with a big helping hand from his parents who invested $250,000 into the business.
It officially opened for business on 16 July 1995, and by the end of its first month had shipped books to all 50 U.S states and to 45 countries.
Amazon went public in 1997, and in 1998 moved from selling just books to music and videos.
In December 1999 Bezos was named Time magazine's person of the year.
However, it wasn't until 2003 that Amazon posted its first full-year profit.
RELATED ===> When Did Man Utd Wear Yellow And Green?
Over the years the company went from strength to strength.
2007 saw the introduction of its Kindle e-reader and in 2011 the Kindle Fire was released.
By 2015 Amazon surpassed Walmart as the world's most valuable retailer.
In 2017 Bezos became the world's richest man for the first time. In 2021 he announced he was stepping down from his role as Amazon CEO and would become the Executive Chairman of the Amazon Board.
Bezos has long been a wealthy man. His net worth in 1997 after Amazon went public rose to $54million. In 1999 he appeared on the Forbes Billionaires list for the first time, with a net worth of $10.1billion.
How Much Could You Buy Manchester United For?
Manchester United is valued at around the £4billion mark.
Forbes places the value of the club at $4.7billion as of May 2022, which equates to £3.93billion.
Various newspaper reports in the summer of 2022 ruminated that a bid of £4billion would be enough to tempt the Glazers into selling the club.
Will the Glazers Ever Sell United?
There has been much speculation lately over whether the Glazers might sell Manchester United.
This has come about mainly due to the dwindling share price of the club.
It has fallen year-on-year since 2018, and fell by 23% across the 2021/22 season wiping almost £600million off of the club's value.
This was the biggest fall since the club joined the New York Stock Exchange in 2012.
However, in all likelihood, it would take a huge offer to convince the brothers into selling the club.
The Glazers were always a wealthy family, but their purchase of United took their wealth to new heights.
They make tens of millions of pounds in dividends each year from United and recently restructured the shareholding model to make sure they cannot be bought out by someone unless it is on their terms.
There are few who could afford to buy the club.
Back in 2020, Saudi Arabia crown prince Mohammad bin Salman was linked with a £4billion bid, but that came to nothing with the family buying Newcastle instead.
A consortium of City financiers, lawyers and wealthy supporters came to nothing.
Possibly the most optimistic option was that of Sir Jim Ratcliffe, Britain's richest man and a lifelong United supporter.
That too came to nothing, with Ratcliffe instead buying French club Nice.
With the Glazers recently revealing a long-term vision to grow the club's value to £7billion ($8.4billion), it seems unlikely they will sell.
RELATED ===> How To Be A Mascot For Manchester United?
Yes fans do have shares in Manchester United, but because the club is a PLC and traded on the New York Stock Exchange, it is difficult to give a precise answer of how much of the club is owned by the fans.
In Spring 2005 the Glazer family must have owned over 76% of the shares, as the club was delisted from the London Stock Exchange.
Later that year that figure must have risen to 98% because they implemented a mandatory buy-out and bought the entire club for around £800million.
This suggests that Manchester United Shareholders Trust (MUST) either sold out or was forced to sell.
Fast forward to March 2021 and it was announced Avram Glazer was selling over £70million worth of his shares.
At the time it was reported this reduced the family's stake in the club to 75%.
However, most of these shares would have been brought by hedge funds, traders or banks, rather than genuine United fans.
So fans do have shares in Manchester United, but the figure is very low and would certainly represent less than 10% of the club.
Final Thoughts
Will Jeff Bezos buy Manchester United?
Well nothing is ever impossible, but it is very, very, very unlikely.
He certainly has the money, but he has never once indicated himself he has an interest in buying a Premier League football club.
What is more, it is unlikely the Glazers would sell as United has been such a money-spinning investment for them.
So it looks like United will be stuck with the Glazers for a few more years yet…
---