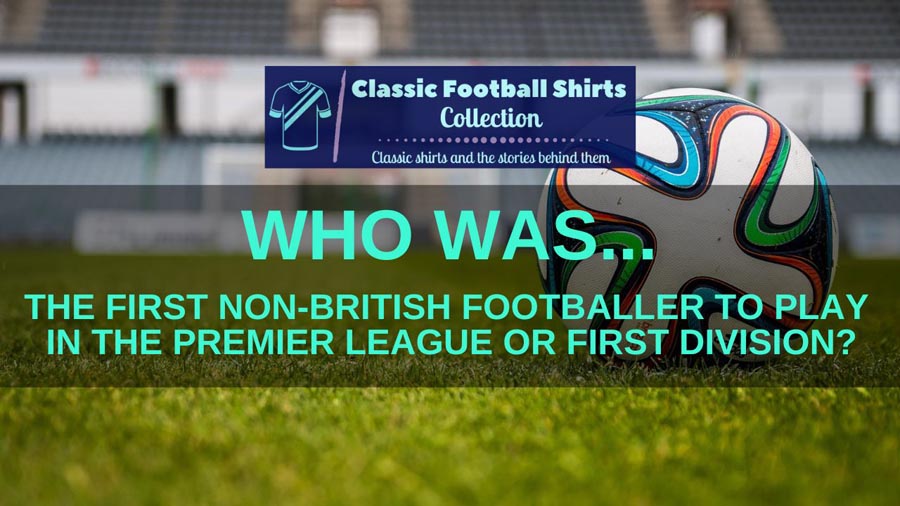 The Premier League is awash with foreign players these days.
And we certainly can't complain about that, as it is (arguably) the best league in the world.
But who was the first non-British footballer to play in the Premier League or First Division?
To find that out, we have to go back a long, long way…
So let's get started.
Who Was The First Non-British Footballer To Play In The Premier League Or First Division?
The first overseas player to play in the Football League was Canadian Walter Bowman in 1892 (as an amateur). The first to play as a professional was German Max Seeburg in 1908 and the first to play in a top-flight game was another German, Herbert Kain in 1910.

#1 Walter Bowman: Played for Accrington Stanley in 1892
Canadian Walter Bowman was the first overseas player to play for a Football League team when he ran out for Accrington Stanley on 23 January 1892.
Way back then football was very much an amateur sport, and Bowman got his first taste of football in England as an 18-year-old when he toured the country with the Canada national team.
The tour was so much of a success the country returned in 1891 for a second tour.
However, when everyone else went back to Canada, Bowman decided to stay in England.
He initially signed for Accrington Stanley, scoring 3 goals in 5 games, before leaving to join Ardwick.
Ardwick would eventually become Manchester City, however unlike Accrington Stanley, they were not in the Football League.
Still, Bowman played 54 times in eight seasons and scored 11 goals, before moving back across the Atlantic to Montana in 1899.
Bowman moved on to Seattle where he died in 1948 at the age of 77.
#2 Max Seeburg: Played for Tottenham in 1908
On 26 September 1908 Max Seeburg became the first foreign-born professional player in the football league when he turned out for Tottenham against Hull City.
It was to be Seeburg's only game for Spurs, although he did turn out a further 17 times for Burnley and 20 times for Grimsby before the First World War effectively ended his football career.
Whilst Seeburg was foreign-born, he was born in Leipzig in Germany in 1884, he had been living in London since he was two years old.
His family moved to the capital in 1886, where his father ran a fur shop near Tower Bridge.
RELATED ===> Could Gareth Bale Have Played For England?
Seeburg showed an aptitude for football from an early age and played for Park and Cheshunt locally before joining Chelsea.
Seeburg was at Chelsea for just over a year without playing a game before he moved to Spurs in May 1907.
He made a quick impression, scoring a hat-trick in his first game for the team against Union Saint Gilloise on a summer tour of Belgium.
Nonetheless he spent his first season at Spurs in the reserves, where he scored seven goals in 24 games.
It was early the following season when he got his sole league outing against Hull.
He did play once more for Tottenham, in a London Charity Cup win over QPR, before moving back into amateur football for a couple of years to play for Leyton in the Southern League.
In January 1910 he joined the professional ranks again, signing for Burnley. After a season and half there he joined Grimsby and then Reading.
In 1913 as he approached his 30th birthday Seeburg retired to run a pub.
When the First World War broke out raids on a series of addresses in Reading led to a number of German and Austrians being arrested.
Max Seeburg was one and he was held in custody for a number of weeks.
Despite that Seeburg stayed in the area and became a naturalized British subject in 1920.
He remained in and around Reading for the rest of his life and worked as a publican, club steward and cabinet maker.
He died in January 1972 at the age of 87.
#3 Herbert Kain: Played for Newcastle United in 1910
Herbert Kain can rightfully claim to be the first non-British footballer to play in the top tier of English football.
He played for Newcastle United from 1910 to 1913 when they were in the top flight. Max Seeburg's sole appearance for Spurs came when they were in the Second Division.
Unfortunately very little is known about Kain, except that he too was born in Germany but grew up in New Zealand.
Here he played football for Auckland City and Wellington College, and he returned to New Zealand after his spell at Newcastle to play football for a few years. He also had a successful cricket career.
#4 Hussein Hegazi: Played for Fulham in 1911
Whilst Hegazi's football league career was short, the stories around the Egyptian striker are big.
Hegazi's outing for Fulham against Stockport County on 11 November 1911, was his one and only game in the Football League.
He scored the opening goal in the 15th minute and Fulham desperately wanted to sign him, instead he returned to Dulwich Hamlet who he was playing for previously.
Hussein Hegazi was born on the Nile delta in Egypt in 1891. Born into an aristocratic family, he loved football from an early age.
When he moved to London in 1911 to study engineering, he had his pick of teams to play for such was the strength of the amateur game at that time.
He began to play for Dulwich Hamlet and immediately became a crowd favourite with his skilful, agile play, which was quite a contrast to the rough and tumble nature of the game in those days.
Averaging a goal a game it only took three months for football league clubs to take notice.
After his appearance for Fulham though Hegazi returned to Dulwich Hamlet where he remained until 1914 before heading home to Egypt as he sensed the turbulent times that lay ahead in Europe.
He continued his career in Egypt, flitting back and forth freely between the country's two biggest teams Al-Ahly and Zamalek. It was even said he once left Al-Ahly because their new stadium didn't have an area for him to play bar billiards in!
He represented Egypt as a player and coach of the football team in the 1920 and 1924 Olympics before retiring in 1932 when he was 40.
Hegazi died in Egypt in 1961, but his memory is preserved with a road named after him in Cairo.
RELATED ===> Who Was the First Black Player Capped For England?
#5 Nils Middelboe: Played for Chelsea in 1913
Nils Middelboe was that annoying kid you knew at school who was good at everything.
Standing 6'2 with swathes of black hair, Middleboe was a Danish triple jump, 800m and relay champion and one of the best tennis players in the Scandinavian nation.
He was also an extremely good footballer, more akin to a modern-day defender with excellent reading of the game and composure on the ball.
A year after winning a silver medal for the Danish football team in the 1912 Olympics he joined Chelsea.
In a career interrupted by the First World War, he played 175 times for Chelsea.
He would have played many more games, were it not for his other talent, he was a leading international banker.
So as not to interfere with his 'career' as a banker, Middelboe played all home games, but was not required to travel to away games!
He returned to Denmark in 1936 and died there in 1976 at the age of 88.
The Evolution of the Foreign Player
The ability of foreign players to ply their trade in England was made much harder in 1931.
It was then the FA introduced a rule that players had to have been a resident in the UK for two years before they could play for English teams.
That is why non-British players were so rare for almost half a century and why a figure like Bert Trautmann is so well known. Trautmann incidentally qualified on account of the time he spent in a prisoner-of-war camp in Lancashire.
RELATED ===> Which Footballers Have Never Been Booked?
In 1978 the European Commission ruled that the football associations of its member states could no longer deny access to players based on nationality.
It was then that we began to see a trickle of foreign players into the English league.
Still even 14 years later there were only 13 non-British or Irish players who took part in the opening weekend of the Premier League season in 1992-93.
They were: Anders Limpar, John Jensen, Robert Warzycha, Eric Cantona, Gunnar Halle, Ronnie Rosenthal, Michel Vonk, Peter Schmeichel, Andrei Kanchelskis, Craig Forrest, Roland Nilsson and Hans Seger.
And for an idea of how that number has changed?
Look at the table below detailing the number of English, Scottish, Welsh, Irish and Northern Irish players in the Premier League over time:
| | | | | | | |
| --- | --- | --- | --- | --- | --- | --- |
| | ENG | SCO | WAL | ROI | NI. | TOTAL |
| 1992/93 | 363 | 39 | 29 | 32 | 11 | 474 |
| 1994/95 | 350 | 29 | 30 | 25 | 15 | 449 |
| 1999/00 | 254 | 31 | 18 | 33 | 11 | 347 |
| 2004/05 | 197 | 20 | 13 | 28 | 9 | 267 |
| 2009/10 | 181 | 23 | 16 | 36 | 9 | 265 |
| 2014/15 | 224 | 19 | 24 | 31 | 10 | 308 |
| 2019/20 | 236 | 17 | 12 | 29 | 6 | 300 |
| 2021/22 | 273 | 27 | 16 | 24 | 7 | 347 |
As you can see the number of players from the home nations dipped considerably at the start of the 21st century, but does seem to be on the way back up now.
Full details can be found on the excellent FBRef.com website.
Final Thoughts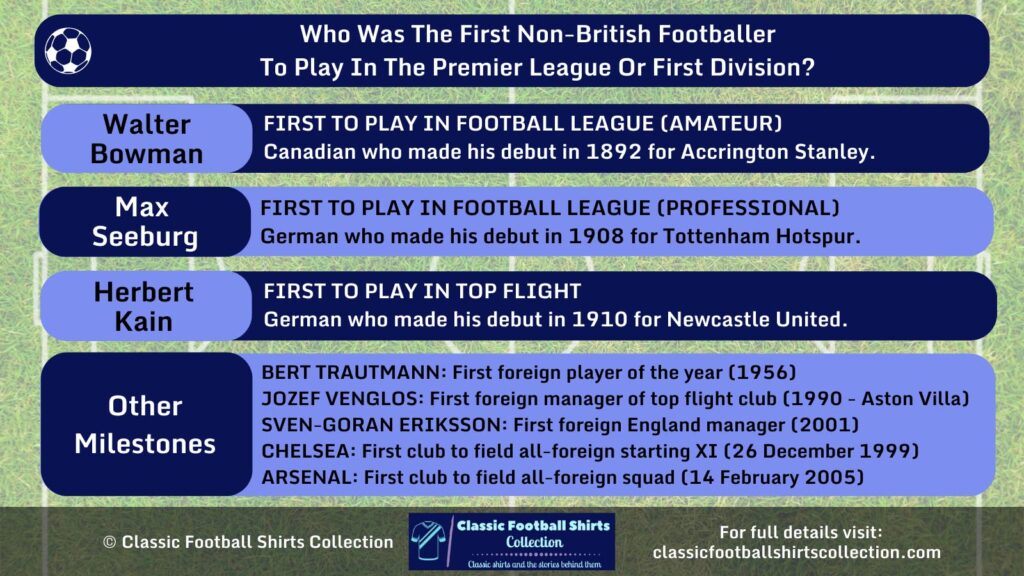 The infographic above gives details, but in short:
Walter Bowman – the first overseas player to play in the Football League (as an amateur) in 1892.
Max Seeburg – the first overseas player to play in the Football League (as a professional) in 1908.
Herbert Kain – the first overseas player to play the top flight of English football in 1910.
There was then a long period when foreign players in English football were rare due to changing regulations that meant anyone from overseas had to have been a resident in the UK for two years before they could play for an English team.
That ruling was removed in 1978, but even then foreign players were still somewhat unusual until the mid to late 1990s.
Now we are fortunate to have some of the world's greatest players gracing our shores.
---