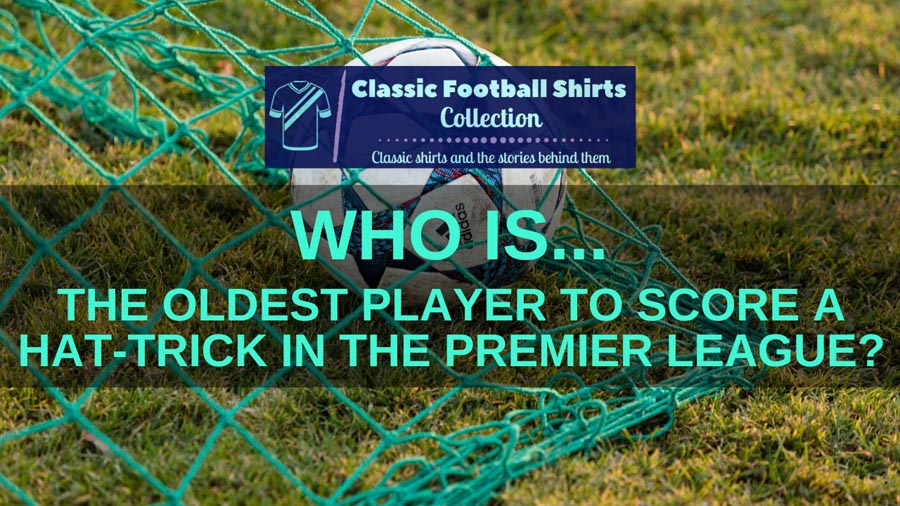 There have been some notable players who have carried on playing well into their 30s in the Premier League.
But just who is the oldest player to score a hat-trick in the Premier League?
There are a few obvious contenders.
But who takes, the title?
Let's find out…
Who Is The Oldest Player To Score A Hat-Trick In The Premier League?
The oldest player to score a hat-trick in the Premier League is Teddy Sheringham. He was 37 years and 146 days old when he scored three for Portsmouth against Bolton Wanderers in 2003. He is also the oldest player to score in the Premier League at 40 years and 268 days old.
#1: Teddy Sheringham – 37 years and 146 days.
Portsmouth v Bolton Wanderers. 26 August 2003.
Teddy Sheringham is the ultimate example of longevity in the Premier League, alongside being the oldest hat-trick scorer, he is also the oldest outfield player to appear in a Premier League match (40 years and 272 days), and the oldest Premier League scorer (40 years and 268 days).
Sheringham made his debut in 1983 when he was 17 and his last appearance in 2008 when he was 42.
In between he made over 900 club appearances, scoring 361 goals and turned out 51 times for England scoring 11 goals.
Sheringham had already scored two hat-tricks for Tottenham and one for Manchester United before his historic fourth and final hat-trick for Portsmouth against Bolton in August 2003.
Steve Stone had already given Portsmouth a 1-0 lead before Sheringham took centre stage.
His first goal was a typical Sheringham header, breaking into the box to powerfully convert a Stefanovic cross, then he turned in a Steve Stone pullback and completed his hat-trick with a penalty after Ivan Campo fouled Yakubu.
Only 24 outfield players have made more professional appearances in England than Sheringham.
#2: Cristiano Ronaldo – 37 years and 80 days.
Manchester United v Norwich City. 16 April 2022.
Cristiano Ronaldo's hat-trick for Manchester United against Tottenham on 12 March 2022 came more than 14 years after his previous hat-trick for the club when he scored three in a 6-0 thrashing of Newcastle on 12 Jaunary 2008.
The hat-trick against Spurs made him the second oldest player to score a hat-trick in the Premier League, but he then extended his record further when he scored another hat-trick the following month.
This one came in a 3-2 win against Norwich. It was his 60th club hat-trick.
His first was a simple tap in following good work by Anthony Elanga, next was a towering header from a corner before he saved the best for last with a piledriving free-kick.
As I write this (September 2022), Ronaldo has now exceeded Teddy Sheringham's age, so if he were to score another Premier League hat-trick he would take Sheringham's record.
And I don't think many of us would bet against him adding another record to his long list of achievements.
#3: Gordon Strachan – 36 years and 60 days
Leeds v Blackburn. 10 April 1993.
Gordon Strachan's hat-trick against Blackburn was only the 7th in the Premier League at the time (incidentally Teddy Sheringham's 1st ever Premier League hat-trick with the 6th).
His first two goals were penalties, but then a jinxing run and an exchange of passes with David Kerslake gave him a brilliant third.
Sheringham took both Strachan's record of being the oldest player to score a hat-trick in the Premier League and the oldest outfield player to appear in the Premier League as Gordon Strachan also played until he was 40.
One record Strachan will hold forever though is the fact he is only player born before 1960 to score a Premier League hat-trick. The fiery Scot was born in 1957!
Records Elsewhere in Europe
But how does this compare against other top-level leagues in Europe:
SPAIN: Jorge Molina – 39 years and 241 days
On 19 December 2021 Jorge Molina scored a hat-trick as Granada beat RCD Mallorca 4-1. It was his first hat-trick in the Spanish top tier
It was a just reward for the patience of a striker who didn't play professionally until he was 25 in 2007 and didn't play in the top division of Spain until 2011 when he was 29.
He took the record for being the oldest player to score a hat-trick in La Liga from Joaquin, who scored three for Real Betis against Athletic Bilbao in 2019 aged 38 years and 138 days.
Both are still playing in La Liga, and with Molina now 40 and Joaquin 41 who is to say the record won't be broken again?
ITALY: Rodrigo Palacio – 39 years and 86 days
Rodrigo Palacio had a very short-lived spell as being the oldest hat-trick scorer in Europe's top leagues when he struck his hat-trick for Bologna against Fiorentina on 2 May 2021.
At the age of 39 years and 86 days he might have expected his record to stand for longer, but it was broken just 7 months later by Molina.
The Argentinian striker scored 230 goals in his career, including a prolific three-season spell earlier in his career where he scored 48 goals in 95 Serie A games.
GERMANY: Claudio Pizzaro – 37 years 151 days
Peruvian striker Claudio Pizzaro holds a host of records, one of which is being the oldest player to score a hat-trick in the Bundesliga.
His treble in a 4-1 win against Bayer Leverkusen in 2016 smashed a 31-year-old record. He is also the oldest player to score in the Bundesliga after he scored against RB Leipzig in 2019 aged 40 years and 227 days.
Pizzaro is also the highest-scoring player from Latin America in the Bundesliga, Werder Bremen's all time leading goalscorer and the sixth highest-scoring player ever in the Bundesliga.
FRANCE: Tony Cascarino, 37 years and 31 days
To say Tony Cascarino enjoy an Indian Summer in his footballing career when he moved to France in 1994 would be somewhat of an understatement.
He left the UK having spent four injury-plagued years rarely troubling the scoresheet.
He joined Marseille at the age of 32 in 1994 with the club having been relegated to Ligue 2 due to financial irregularities.
In his first season he scored 31 goals, and in his next he scored 30. So prolific was he he became nicknamed 'Tony Goal'.
In 1996, at the age of 34, he joined Nancy and scored a hat-trick in his second appearance. His next hat-trick for Nancy came on 2 October 1999 in a game against Rennes when he was 37 years and 31 days old.
He retired in 2000 having scored 105 goals in 193 appearances in France.
Final Thoughts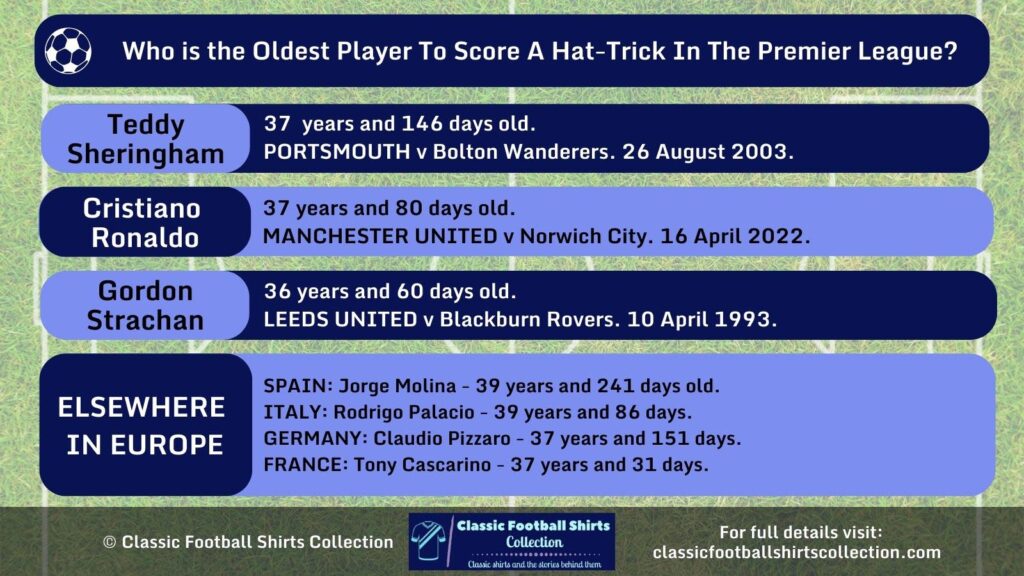 So there are a number of examples here of players scoring hat-tricks well into their late 30s.
Teddy Sheringham is currently the oldest score of a hat-trick in the Premier League, but how long will that record last with Ronaldo around?
And with players in Spain and Italy scoring goals into their 39th year, just how long can players keep finding the back of the next like this for?
How long will it be before a player in his 40s scores a hat-trick in one of Europe's major leagues?
Surely it is only a matter of time…
---