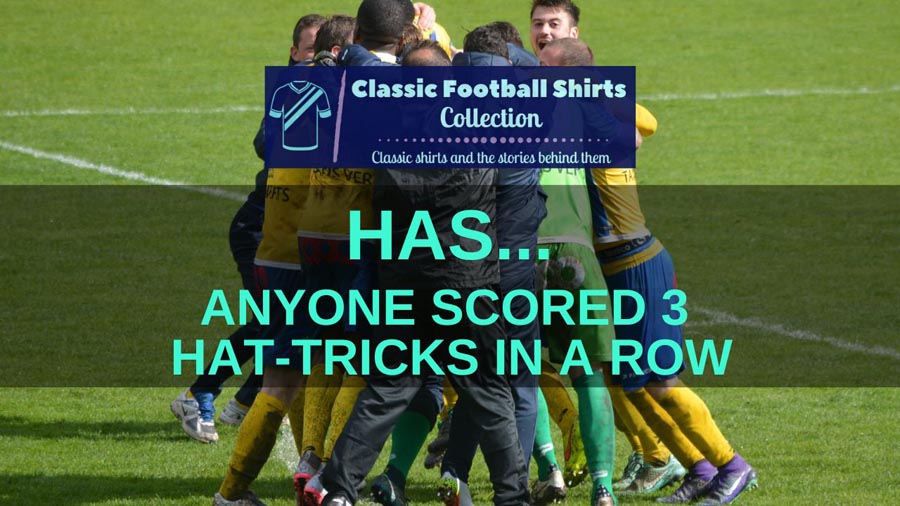 Scoring a hat-trick at any level is an achievement, doing it twice in a row is amazing, but three times?
Has anyone scored three hat-tricks in a row?
Well yes they have actually!
So let's take a look more closely at the elite band of players to have bagged three trebles in three successive games…
Has Anyone Scored 3 Hat Tricks In A Row?
Seven players have scored three consecutive hat-tricks in professional football in England, but never in the Premier League and, in fact, the feat has not been achieved since 1946. Worldwide the record for most successive hat-trick stands at five, which has happened on three occasions at various levels of the game.

Forget Three Hat-Tricks in a Row – Try Five in a Row!
Masashi Nakayama: 4 hat-tricks in a row, 15 to 29 April 1998.
You have to feel a bit sorry here for the legendary Japanese striker Masashi Nakayama.
Between 15 April and 29 April 1998, the Jubilo Iwata forward scored four hat-tricks in a row, bagging a total of 16 goals in four games in the top-level of Japanese football.
It is one of a host of records the player holds.
With 157 goals he is the third-highest scorer in the J League ever. The 36 goals he scored that season is a record, the five goals he scored against Cerezo Osaka in the first game of his record-breaking run is also a J League record and the five hat-tricks he scored in total that season is another record.
He also scored Japan's first-ever goal in a World Cup, netting in France 1998 against Jamaica, and holds the World Record for the fastest-ever international hat-trick. He scored three goals in three minutes and three seconds in an Asian Cup qualification match against Brunei in 2000.
For many years Nakayama's feat was thought to be the record until statistics were unearthed about another player…
Jozef Bican: 5 hat-tricks in a row, 17 November 1939 to 19 March 1940.
There is slight controversy over whether Jozef Bican's achievement can officially be classified as a record.
That is because it took place in a wartime league following the outbreak of the Second World War, and it was clear the standards of the league had dropped.
However two things can't be argued:
Jozef Bican scored five successive hat-tricks (and 19 goals in total) in the Bohemia and Moravia League between November 1939 and March 1940.
Jozef Bican was a truly incredible goalscorer.
Between 1931 and 1957 Bican scored 783 goals in 488 games and another 26 in 33 games at international level.
Nearly every single of his club goals was scored in the top division of either the Austrian or the Czechoslovakian league.
In 1931, aged 17, Bican scored a first-half hat-trick, and four goals in total, on his debut for Rapid Vienna
In 1955, aged 42, Bican played the last league match of his career for Dynamo Prague, he scored four times.
And whilst the wartime leagues might have been weaker Bican was still scoring at a rate far higher than anyone else.
To find out more about Bican read this great article on the si.com website about possibly the greatest goalscorer in the history of football.
RELATED ===> Has A Goalkeeper Ever Scored A Hat-Trick?
Stjepan Lucijanic: 5 hat-tricks in a row, September 2016 to November 2016
Lurking in the seventh tier of Croatian football, and playing in a simple stadium with a capacity of 850 fans, NK Dracice Dakovo might not be the place you would expect to find a record-equalling striker, but that is what happened in 2016.
When Stjepan Lucijanic bagged a hat-trick in a 10-0 win over NK Zrinski Drenje, it gave him five successive hat-tricks and 20 goals in total in those five games.
Lucijanic had already set a division record with a goal 12 seconds into a game that season, and in another match had scored six goals!
Ahmed Rizuvan: 5 hat-tricks in a row, October 2019
Ahmed Rizuvan matched the feats of Jozef Bican and Stjepan Lucijanic when he scored five hat-tricks in successive games in the Dhivehi Premier League, the top level of Maldivian professional football.
Rizuvan scored four against Thimarafushi on 2 October, three against Foakaidhoo on 6 October, five against Fehendhoo on 11 October, hat-tricks against Nilandhoo on 17 October and 21 October and then another four against Green Streets on 29 October.
Rizuvan scored eight hat-tricks in total that season and the Maldivian international unsurprisingly finished top scorer that season with 31 goals!
Players Who Have Scored Three Successive Hat-Tricks in English Football
Only seven players have scored three successive hat-tricks in professional football in England, with four of them coming in the top flight.
The last time it was achieved was way back in 1946…
#1: Frank Osborne for Tottenham in 1925 **TOP DIVISION**
South African-born Frank Osborne was the first man to achieve the feat back in 1925.
Osborne's family moved to England in 1911, and in 1919 he began playing for Bromley after his family moved to London from Southampton.
He was soon snapped up to play professionally for Fulham in 1921, where he became the first Fulham player capped by England.
In 1924 Tottenham paid £1,500 for Osborne, and soon he was moved from his normal inside-right position to centre-forward.
The change soon paid dividends as he scored a hat-trick in successive games against Liverpool, Leicester and West Ham in October and November of 1925.
Osborne left to join Southampton in 1931 and after his playing career finished he returned to Fulham where he held several roles including that of manager.
He died in 1988 at the age of 91.
#2: Tom Jennings for Leeds in 1926 **TOP DIVISION**
Tom Jennings is Leeds United's fourth-highest goalscorer of all-time with 112 league goals in 167 games.
He joined Leeds in 1925 and in his first full season he scored 26 goals, but it was the next season that was to be his most prolific ever. He scored 35 goals including a spell of 22 goals in 14 games between 4 September and 20 November 1926.
This included three hat-tricks in three games.
It began with a hat-trick against Arsenal, then he scored four against Liverpool and then four against Blackburn.
After six years at Leeds he left to join Chester where he kept up his remarkable scoring record, notching 33 goals in 48 games.
Jennings is seen by many as the best Scotsman never to play for his country.
A rather strange tale is that he joined Leeds from Raith Rovers.
During his time at Raith he was part of the squad that was shipwrecked on their way to play in a tour in Argentina.
Their ship ranaground in violent conditions near the Canary Islands and all onboard had to be rescued by a local fisherman and taken to a small village where they were picked up the next day by a passing liner!
RELATED ===> Has a Defender Ever Scored a Hat-Trick?
#3: Dixie Dean for Everton in 1928 **TOP DIVISION**
The legendary Everton striker scored four goals against Burnley and then a hat-trick against Arsenal in the last two games of the 1927/28 season.
Those seven goals took him to 60 league goals for the season to break the record set by Middlesbrough's George Camsell the previous year of 59.
At the start of the 1928/29 season he carried on where he had left off with another hat-trick in an opening-day win over Bolton Wanderers.
He remains Everton's all-time leading goalscorer, with 383 goals in 433 games.
#4: Alf Lythgoe for Stockport County in 1934
Alf Lythgoe came to professional football late, not making his league debut until 1932 when he was 25.
He had begun his career with Crewe Alexandra but was released with the club thinking he was too small for professional football.
After successful spells in non-league he was signed by Stockport and certainly made up for lost time.
He scored 19 goals in 21 games in his first season, then 46 goals in 39 league games in the next.
This included hat-tricks in successive matches against Southport, Darlington and Wrexham in March 1934.
At the start of his third season, he had scored 15 goals in ten games when First Division Huddersfield Town swooped to sign him.
The step up didn't affect Lythgoe, and he finished as the top scorer with 23 goals.
Lythgoe scored 42 goals in 72 games for Huddersfield Town before rejoining Stockport.
He managed a further 24 goals in 50 games before the Second World War effectively ended his career. By the time the War was over, he would be 38.
He finished his career with a record of 146 goals in 191 games.
#5: Paddy Wrightson for Chester in 1936
Paddy Wrightson was another player whose career was effectively ended by the Second World War.
By the time the War started he was 33, but four years previously had undergone something of a dramatic positional transformation.
Wrightson arrived at Chester in 1935 as a scheming inside forward with a reasonable goalscoring record.
Just a few months later he was converted to a conventional centre-forward and the goals began coming left, right and centre.
On 1 February 1936 Chester recorded their record win, 12-0 against York, Wrightson scored four. Then he scored three in a 4-2 win over Barrow, before getting his third hat-trick in three games in an 8-2 win over New Brighton.
He finished the season with 38 goals in total, then followed that up with 36 goals the next season.
By the time the War brought an end to football in England, Wrightson had scored 73 league goals in 89 games.
It was a club record that would stand for over 40 years.
#6: Gilbert Alsop for Walsall in 1939
Walsall legend Gilbert Alsop almost blew every other player on this list out of the water in April 1939.
In a five-game spell, he scored four against Torquay, two against Bristol Rovers, three against Swindon and Bristol City and then a further four against the hapless Swindon again.
If he had scored one more in that game against Bristol Rovers he would have had five hat-tricks in five games!
Alsop has legendary status at Walsall where he scored almost 200 goals in just over 260 appearances.
After retiring from football in 1948 he joined the coaching staff at Walsall and was then a groundsman there for almost 20 years.
He regularly attended games at the then-new Bescot Stadium right up until his death in 1992 at the age of 83.
RELATED ===> Who Is The Oldest Player To Score A Hat-Trick In The Premier League?
#7: Jack Balmer for Liverpool in 1946 **TOP DIVISION**
The last player to score a hat-trick in three successive games was Liverpool's Jack Balmer in 1946.
Balmer was a one-club man, making his Liverpool debut in 1935, and was very much from a football family, his uncles Walter and Bob had both played for Everton at the turn of the century.
When football returned following the Second World War, the bald-headed Balmer was a veteran of the side at 30 years old.
After a modest start to the 1946/47 season, Balmer scoring streak began with all three goals against Portsmouth on 9 November 1946. A week later he scored all four against Derby County.
On 23 November Arsenal were the visitors to Anfield as Balmer sought his third successive hat-trick.
He opened the scoring from the penalty spot in the 15th minute, then crashed a shot into the roof of the net on 61 minutes before rounding off his hat-trick of hat-tricks on 68 minutes.
Balmer retired in 1952 after 313 games and 111 goals for the club and was a coach at Anfield for a further three years.
He died on Christmas Day 1984 at the age of 68.
So No One Has Ever Scored Three Hat-Tricks in a Row in the Premier League?
Nope and only six players have managed consecutive hat-tricks:
Les Ferdinand for QPR in April 1993.
Ian Wright for Arsenal in March 1994.
Didier Drogba for Chelsea in 2010 (they came in the last game of the 2009/10 season and the first game in the 2010/11 season).
Wayne Rooney for Manchester United in August and September 2011.
Harry Kane for Tottenham (twice) in May 2017 and December 2017.
Erling Haaland for Manchester City in August 2022.
In the last instance above Haaland also scored a hat-trick against Manchester United on 2 October 2022 to make it three Premier League home hat-tricks in a row. This was the first time this had been achieved in the Premier League.
However, in between the 2nd and the 3rd of these hat-tricks, Haaland played for Manchester City in away Premier League games against Aston Villa and Wolverhampton Wanderers only scoring a single goal.
Nevertheless, it is the best start to a season for a Premier League striker ever, with Haaland's scoring record for his first eight games reading: 2, 0, 1, 3, 3, 1, 1, 3!
Final Thoughts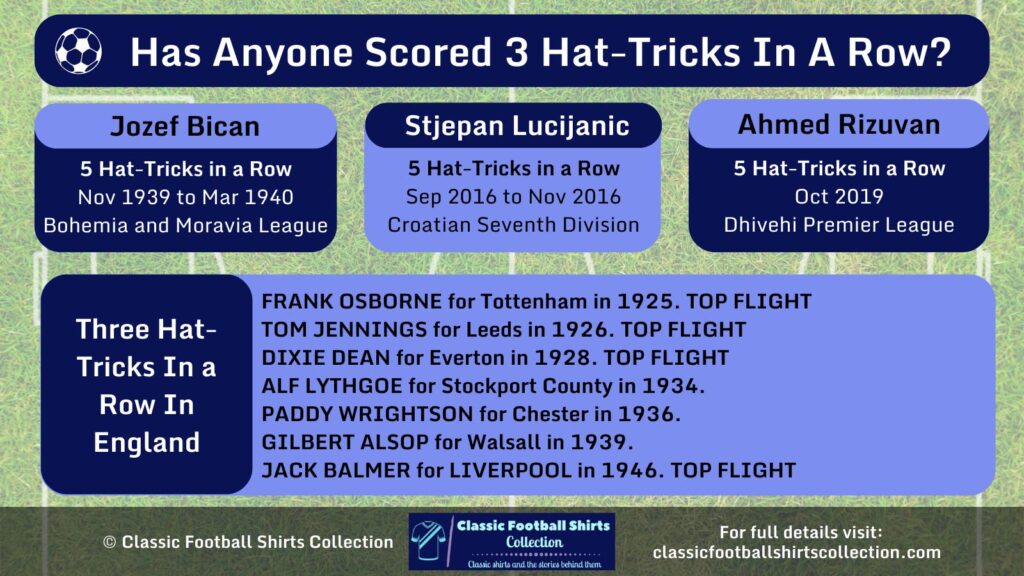 So as you can see from the infographic above scoring three consecutive hat-tricks is rare, but it has been done seven times in England, although not since 1946.
Worldwide the record for successive hat-tricks in five, achieved by three players at varying levels of the game.
How long it takes for someone to do it in the Premier League is another matter altogether, despite the entertainment value of the league, goals are not scored as freely as back in the 1920s and 1930s when a lot of goalscoring records were set.
So we will wait and see…
---