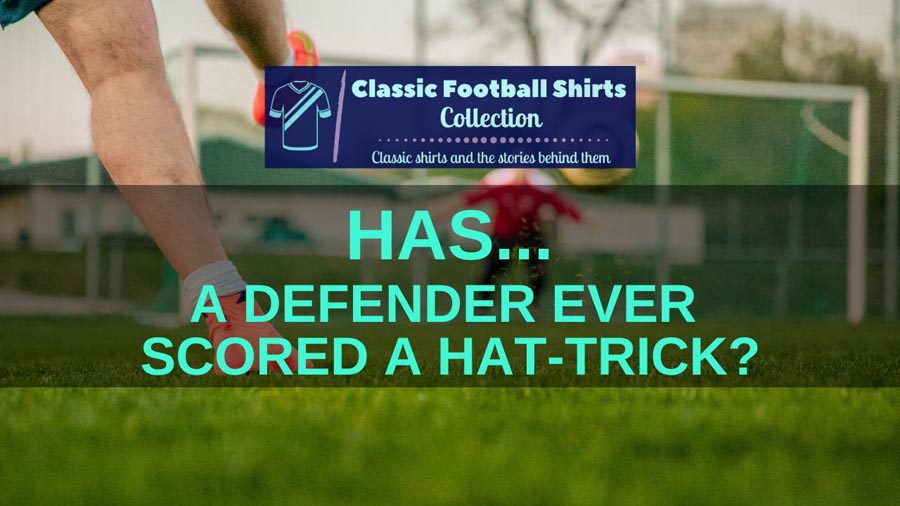 So you are wondering has a defender ever scored a hat-trick?
Inevitably with so many different leagues around the world and over 100 years of history in most of them, the answer is…
Yes!
But some are more notable than others and we take a look at them here.
So let's get started…
Has a Defender Ever Scored a Hat-Trick?
Yes, a number of defenders have scored hat-tricks, although few have scored hat-tricks entirely from open play. MSV Duisburg's Bernard Dietz scored 4 from open play against Bayern Munich in 1977 though. Other defenders to have scored hat-tricks include Fernando Hierro, Alpay Özalan, Layvin Kurzawa, Aden Flint and Alvin Martin.

#1 Bernard Dietz.
5 November 1977: 4 Goals for MSV Duisburg v Bayern Munich
A defender scoring a hat-trick is rare. A defender scoring a hat-trick of goals from open play is even rarer.
A defender scoring four goals is unheard of. A defender scoring four goals from open play is… well not possible right?
Wrong!
It happened in Bundesliga back in 1977, and is the only documented case of a defender scoring four goals in one game in one of Europe's major leagues.
It was Bernard Dietz who did it for MSV Duisburg in a 6-3 win against Bayern Munich, and not one of them was a free-kick or penalty.
By 1977 Dietz was already a left-back of some repute. The 29-year-old had been at MSV Duisburg for 7 years and was 3 years into an international career that would see him win 53 caps for West Germany.
What is more, he had already established a reputation as a goalscoring full-back.
When Bayern went to Duisburg in November 1977, they were in crisis. They were lying 13th in the league, with Duisburg one place below.
Dietz put Duisburg ahead in the 20th minute, but Rainer Kunkel and West Germany legend Gerd Muller struck to put Bayern ahead at half-time.
Dietz struck in the 49th minute to level things up, but Muller put Bayern ahead again in the 57th minute.
It was then time for two minutes of magic that earnt Dietz his place in the history books.
In the 76th minute he scored his hat-trick playing past German goalkeeper Sepp Meier, and then two minutes late he headed in his fourth of the game to put Duisburg 4-3 ahead.
There was time for Ronald Worm to get a fifth in the 83rd minute and then Norbert Stolzenburg a sixth in the 85th minute.
That season MSV Duisburg would finish 6th in the Bundesliga and qualify for the UEFA Cup.
Bayern Munich finished 12th, the only time they have been outside the top 10 of the Bundesliga.
Dietz went on to score 77 Bundesliga goals in his career to make him the top-scoring defender in the history of the Bundesliga, and the second-highest goalscorer in top flight ever for MSV Dusiburg.
None were penalties or free-kicks.
He also played in the 1976 European Championships and the 1978 World Cup for West Germany, and captained them to the 1980 European Championships.
RELATED ===> Has A Goalkeeper Ever Scored A Hat-Trick?
#2 Fernando Hierro.
30 November 1991: RCD Espanyol v Real Madrid and 24 March 2002: Real Madrid v Real Zaragoza
Whilst Fernando Hierro did take set pieces, it doesn't make his record of 163 goals in his 19-year career any less impressive.
Of those 163, 29 were for Spain and Hierro was, at the time of retirement, his country's highest goalscorer. He has since been surpassed by David Silva, Fernando Torres, Raul and David Villa.
He also scored two hat-tricks for Real Madrid.
The first came in a 5-1 win away to RCD Espanyol on 30 November 1991, the second came a decade later when he scored all three in a 3-1 win against Real Zaragoza.
In the first of those seasons, the 1991-92 season, Hierro scored 21 goals in 37 league games, and 26 goals for the season overall.
#3 Alpay Özalan.
6 June 2001: Turkey v Macedonia.
Turkish defender Alpay Özalan scored three goals in a 3-3 draw against Macedonia during qualifying for the 2002 World Cup.
All were from open play (although one of them was blatantly offside!).
What makes this more remarkable is that Alpay certainly wasn't a goalscoring defender.
RELATED ===> Has Anyone Scored 3 Hat Tricks In A Row?
Those three goals were the only goals he scored in a competitive game for Turkey in 90 appearance (his only other international goal being in a friendly against Canada).
At club level he scored 21 goals in 447 games.
Meaning in total he scored 25 goals in 537 games, an average of one goal every 21.5 matches!
#3 Layvin Kurzawa
1 November 2017. Paris St. Germain v Anderlecht
French defender Layvin Kurzawa scored a second-half hat-trick, all from open play, as PSG thrashed Anderlecht 5-0 in 2017.
Again Kurzawa isn't what you would call a goal-scoring full-back, as of September 2022 he has scored 27 goals in 279 club games and 1 in 13 appearances for France.
But on that night in Paris he was in the right place at the right time to score three goals in 26 minutes!
#4 Aden Flint
3 May 2015. Bristol City v Walsall
Bristol City centre-back Aden Flint rounded off the perfect season in May 2015 when he scored three from open play as Bristol City trounced Walsall 8-2.
It sealed the League One title for City and completed an exemplary season from the 6'6 defender who scored 14 goals in 46 league games.
The following year he was named Bristol City's Player of the Year and in 2018 he joined Middlesbrough for a fee believed to be in the region of £7million.
#5 Steve Staunton
4 October 1989. Liverpool v Wigan Athletic
Steve Staunton's hat-trick against Wigan is slightly unusual and maybe shouldn't be on this list, because whilst Staunton was a defender, he actually scored his hat-trick playing a centre-forward.
However it is a slightly interesting story, so worth telling.
The game was the second leg of a League Cup tie at Anfield and with Liverpool already leading 5-2, there wasn't much pressure on the team.
Left-back Staunton started on the bench but came on at half-time as a center-forward to give Ian Rush a rest.
He promptly scored a hat-trick, netting in the 59th, 72nd and 88th minute.
Staunton didn't score in 65 league games for Liverpool and only netted 37 goals in 659 games in his career.
RELATED ===> Who is the Youngest Player To Score A Hat-Trick In The Premier League?
#6 Alvin Martin
21 April 1986. West Ham v Newcastle
Alvin Martin's hat-trick for West Ham did include a penalty, but it warrants inclusion for the incredulous nature of the game it took place in.
The signs weren't good for their opponents Newcastle, who went into the game with goalkeeper Martin Thomas unsure of his match fitness.
Thomas was playing with a shoulder injury as backup Gary Kelly had just had a knee operation, and Newcastle's other keeper David McKellar had picked up hip and groin injuries against Chelsea the previous week.
Two minutes into the game Thomas fell awkwardly on his shoulder leaving him struggling to catch and throw the ball let alone save a shot.
At half-time it was 4-0 to West Ham with Martin having scored the first goal in the 4th minute.
Thomas could carry on no longer and, in the days of one substitute, he was replaced by forward Ian Stewart.
Newcastle came out for the second half with 21-year-old academy graduate Chris Hedworth in goal.
He admitted he hadn't played in goal since he was a schoolboy, but he was struggling with a knee injury that limited his ability to play on pitch.
In addition to this, and having used the one permitted substitute, Newcastle had to switch John Anderson to the right wing, as he could barely move due to a strained Achilles.
If Newcastle thought things couldn't get any worse they were wrong.
In the 55th-minute stand-in goalkeeper Hedworth fractured his collarbone.
Hedworth initially carried on but after Martin scored his second in the 63rd minute he had to move to left-wing and Peter Beardsley went in goal.
That left Newcastle to see out the last 30 minutes with a left winger with a broken collarbone, a right winger with a strained Achilles and a 5'8 goalkeeper.
Newcastle actually pulled a goal back in the 73rd minute, before West Ham scored a 6th in the 82nd minute and a 7th in the 83rd minute.
With five minutes to go referee Bob Hamer awarded a penalty to West Ham for handball and normal penalty taker Ray Steward passed the ball over to Alvin Martin to complete his hat-trick.
He was faced with the less than daunting prospect of scoring past Peter Beardsley to seal an 8-1 win.
As Martin went on to say afterwards:
"I'd never taken a penalty before. In fact, it was the only one I ever took in my career … I have to say, Peter did not fill me with fear as he stood there. I stared at the bottom left corner and stared again. He thought I was bluffing but that's where I put it. He dived the wrong way."
He completed his hat-trick with three goals against three different keepers!
Who Are the Top Scoring Defenders Ever?
Whilst there are some impressive goalscoring performances in this article, only one of the players features in the list of the top-scoring defenders ever:
Ronald Koeman: 253 goals
With a record any striker would be proud of Ronald Koeman's 253 goals were spread over 17 seasons. That gives him an average of 15 goals a season!
Daniel Passarella – 175 goals
Passarella is recognised as one of Argentina's greatest defenders ever, but his contribution at the other end of the pitch was just as impressive. His 175 goals game at a record of better than one ever 3 games.
Fernando Hierro – 163 goals
We have covered Hierro already in this piece, with the Spaniard able to combine unsurpassed defensive instincts, with an unlimited passing range and plenty of goals.
Laurent Blanc – 153 goals
Blanc has a slight advantage here that he started his career as an attacking midfielder, before dropping back to a central defensive role. But even here he had an impressive goalscoring record and scored 16 goals for France.
Graham Alexander – 130 goals
Far from a journeyman, Alexander earned 40 caps for Scotland and develop a reputation as one of the best takers of set pieces in the English league. He is also unusual in that he played for 21 seasons before making his debut in the top-flight at the age of 37. In his sole season in the Premier League he scored 7 goals in 33 games.
Final Thoughts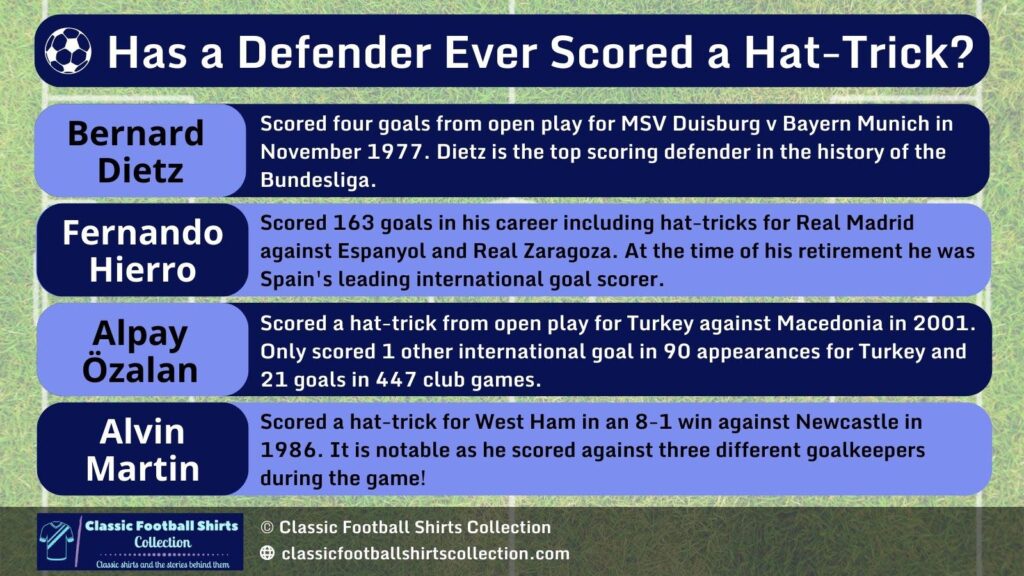 So if you have ever wondered if any defender has ever scored a hat-trick, you can see they most definitely have.
There are actually more examples of defenders scoring three goals in a game, but these are some of the more unusual stories.
Regardless of this, it is an extremely rare occurrence in general and a pretty incredible one at that!
The fact it has not happened in the Premier League as of yet shows how difficult it is.
The closest anyone has come is when full-back Steve Watson scored a hat-trick for Everton against Leeds, however he was playing in a midfield role that day.
---