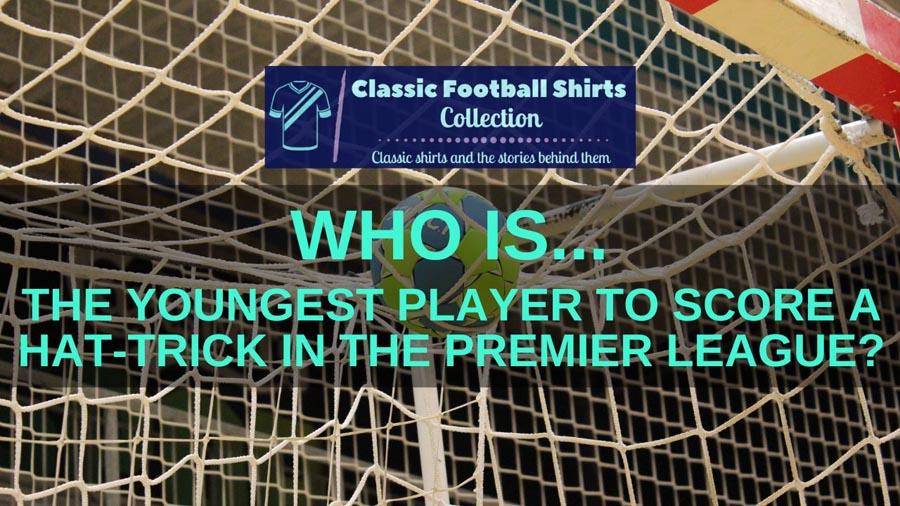 There have been a series of teenage prodigies that have played in the Premier League, and a number of them have been strikers.
So who is the youngest player to score a hat-trick in the Premier League?
I am sure if I was to ask you to take a guess at who it was there would be a few names that would crop up time and time again.
So let's find out who does hold the illustrious title of the…
Youngest Player To Score A Hat-Trick In The Premier League
Michael Owen is the youngest player to score a Premier League hat-trick. He achieved the feat in February 1998 against Sheffield Wednesday when was just 18 years and 62 days old. Only Owen (three times), Robbie Fowler (twice), Nicolas Anelka and Luke Moore have scored Premier League hat-tricks whilst still teenagers.

#1: Michael Owen – 18 years and 62 days.
Sheffield Wednesday vs Liverpool. 28 February 1998.
It was pretty obvious from an early age that Michael Owen was something special.
When he was ten he broke Ian Rush's record for most goals in a season for the Deeside Area Primary Schools team, and from then on he just kept smashing records left, right and centre.
He broke goalscoring records in England's U15 and U16s teams and on 6 May 1997 he became Liverpool's youngest-ever goalscorer when he scored on his debut against Wimbledon.
Just a couple of months later, at the start of 1997/98 season, Robbie Fowler was injured so Owen stepped up to the plate as Liverpool's first-choice striker.
That season he won the Premier League Gold Boot, was named PFA Young Player of the Year and finished third in the PFA Player of the Year Award.
He also became the youngest player to score a hat-trick in the Premier League with his treble against Sheffield Wednesday.
His first saw him collect a Steve McManaman through ball and slot past Kevin Pressman, to level the scores up after Sheffield Wednesday had taken the lead.
Then with Liverpool 3-1 down, he first converted a rebound after Robbie Fowler had hit the post and then he chested down a Paul Ince pass and poked a right-foot shot into the corner of the net to make it 3-3.
Owen went on to score another two Premier League hat-tricks as a teenager and eight in total. Only Robbie Fowler, Alan Shearer and Sergio Aguero have scored more (as of September 2022).
#2: Robbie Fowler – 18 years and 174 days.
Liverpool vs Southampton. 30 October 1993.
There was obviously something in the water in the River Mersey, as second on the list is Robbie Fowler.
Fowler's hat-trick came in just his fifth league game for Liverpool, but he had already created another piece of history before that.
He scored on his debut a month earlier, in a 3-1 win against Fulham in the first leg of the first round of League Cup on 22 September 1993.
Then two weeks later in the return leg at Anfield he scored five!
RELATED ===> Who Is The Oldest Player To Score A Hat-Trick In The Premier League?
The first of Fowler's nine Premier League hat-tricks came in a 4-2 win against Southampton and displayed the full repertoire of his abilities.
A deft downward header was followed up with an exquisite piece of control and an arrowed drive, before he completed his hat-trick with a clever free-kick.
Fowler's next hat-trick came when he was 19, and saw him score three goals against Arsenal in just 4 minutes and 33 seconds.
It was, at the time, a Premier League record and it stood for 20 years until Sadio Mane grabbed a treble in 2 minutes and 56 seconds for Southampton against Aston Villa in 2015.
Robbie Fowler would eventually score 128 league goals for Liverpool, putting him 4th on their all-time top goalscorers list behind Ian Rush, Gordon Hodgson and Roger Hunt.
#3: Nicolas Anelka – 19 years and 343 days.
Arsenal v Leicester City. 20 February 1999.
Anelka scored three hat tricks in English football, each for a different club.
He ended up being Arsenal's top scorer in the 1998-99 season with 17 goals, but it proved to be a season of disappointment for the club.
They couldn't defend their FA Cup and Premier League titles from the previous season.
They can count themselves somewhat unfortunate though, from 20 December 1998 to 5 May 1999 they won 15 and drew 4 of their 19 league games.
It was a 1-0 defeat to Leeds in their penultimate game of the season that cost them though, and they missed out on the title, finishing a point behind Manchester United.
Anelka's hat-trick came in the middle of that run on an unseasonably warm February day.
The first showed his pace, bursting onto a Dennis Bergkamp through ball to score past Kasey Keller. Four minutes later the same combination combined for Anelka's second. Then Marc Overmars squared for Anelka to complete a first-half hat-trick
Anelka's other two hat-tricks came for Manchester City against Aston Villa in 2003 and Chelsea against Sunderland in 2008.
RELATED ===> Has Anyone Scored 3 Hat Tricks In A Row?
#4: Luke Moore – 19 years 356 days.
Middlesbrough v Aston Villa. 4 February 2006.
The only other player to score a Premier League hat-trick as a teenager is a less familiar name.
Luke Moore was a highly rated Villa youngster to the point that when he was just 15 Paul Merson, who was at the club at the time, claimed he was already capable of playing for the first team.
Moore was 17 when he made his debut for Villa in the 2004/05 season after a successful loan spell at Wycombe Wanderers that had already seen him grab a league hat-trick.
By the start of the following season, he had cemented himself as a regular part of Villa's first team.
Moore struck in the 18th, 62nd and 64th minute as Villa thrashed Middlesbrough at the Riverside.
It was to be the high point of his Premier League career. He scored the following week against Newcastle, but after that would only score 5 league goals in his next two seasons at Villa.
Moore would go on to retire before he turned 30 and is now a football agent.
Other Players Of Note…
We must not forget that football began before the Premier League, and there are some other teenagers of note.
Trevor Francis – 16 years and 307 days.
Youngest hat-trick scorer in the Football League.
On 13 February 1971 Trevor Francis scored twice as Birmingham drew 3-3 with Sheffield Wednesday.
By this point local papers were already purring about the 16-year-old, just a week later his name was on the lips of the nation as he scored four goals in a Second Divison match against Bolton.
This prompted Bolton's general manager at the time to acclaim him as an "astonishing player."
That manager was none other than Nat Lofthouse, who knew a thing or two about centre-forward play!
Francis would go on to have a long and illustrious career and in 1979 became the first £1million player when he joined Nottingham Forest after 118 goals in 280 games for Birmingham.
Alan Shearer – 17 years and 240 days.
Youngest hat-trick scorer in the top flight.
At noon on 9 April 1988 Alan Shearer found out he would make his first start in professional football as Danny Wallace had failed a fitness test.
Around five hours later he had smashed Jimmy Greaves' record to become the youngest player to score a top-flight hat-trick as he scored three as Southampton thrashed Arsenal 4-2 at the Dell.
Shearer scored in the 5th, 33rd and 49th minute and would go on to break many more records, retiring in 2006 as the Premier League's all-time leading goalscorer.
RELATED ===> Who Was The First Non-British Footballer To Play In The Premier League Or First Division?
James Vaughan – 16 years and 271 days
Youngest Premier League goalscorer.
James Vaughan was a lightening quick striker looking to follow in the footstep of Wayne Rooney who had also scored at the age of 16 for Everton in 2002.
Vaughan went one better when he came off the bench in the 73rd minute to make his debut against Crystal Palace on 10 April 2005.
Fourteen minutes later he wrote his name into the record books, converting a Kevin Kilbane cross to become the Premier League's youngest-ever goal scorer.
Unfortunately, Vaughan's career was blighted by injuries but he still managed to make 363 appearances and scored 111 goals for 13 clubs before he retired in 2021.
Final Thoughts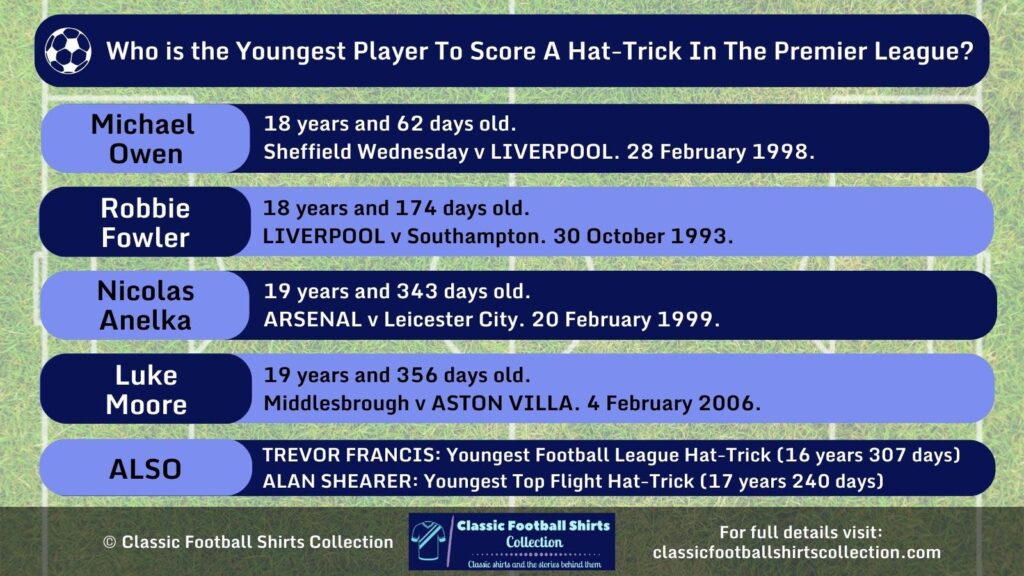 So as you can see from the infographic above, Michael Owen is the youngest player to score a hat-trick in the Premier League, and one of only four players to achieve the feat whilst still a teenager.
Owen was almost 20 years younger when he scored his first hat-trick than Teddy Sheringham who was 37 years and 146 days old when he scored a hat-trick for Portsmouth against Bolton in 2003!
The overall record in the top flight for a hat-trick in terms of the youngest player is still held by Alan Shearer.
This proves the old adage true – if you are good enough, you are old enough!
---