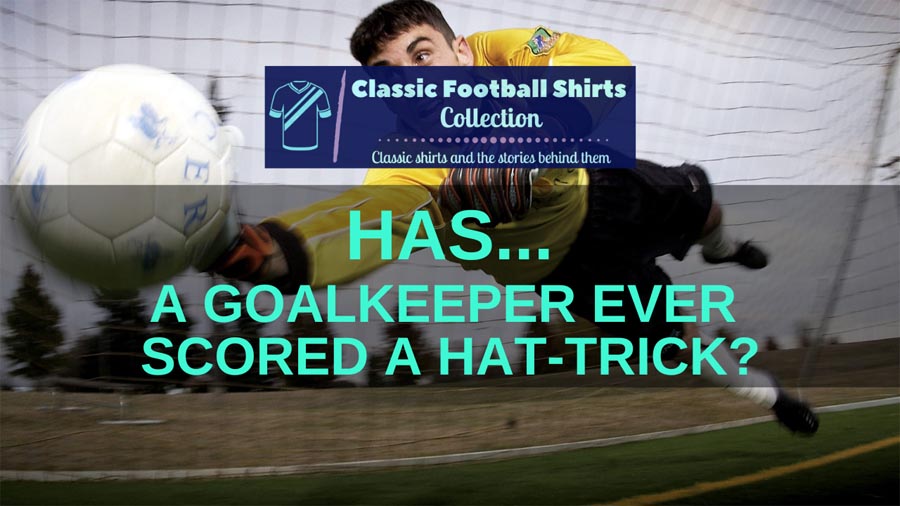 It might sound like the most ridiculous question – has a goalkeeper ever scored a hat-trick?
But every question has an answer, and sometimes they might not be what we expect.
When I wrote recently about hat-trick scoring defenders, I thought I should double-check to see whether there has ever been a hat-trick-scoring goalkeeper.
The answer was quite surprising.
So let's jump in.
Has A Goalkeeper Ever Scored A Hat-Trick?
Three goalkeepers have scored a hat-trick whilst playing in goal. Ilija Pantelic did it first in the Yugoslavian First Division in 1963, Jose Luis Chilavert was next with his hat-trick being scored in the Argentinian Primera Division in 1998, and most recently Grigorios Athanasiou scored a hat-trick in the Greek Fourth Division in 2022.

#1 Ilija Pantelic
March 1963. NK Trešnjevka v FK Vojvodina
Back in 1963 Yugoslavian international goalkeeper Ilija Pantelic became the first shot-stopper to score a hat-trick.
He scored three penalties as FK Vojvodina beat NK Trešnjevka 3-0.
Those penalties proved to be vital at the end of the season as Vojvodina finished just one place and two points above the relegation zone in the Yugoslavian First Division.
Pantelić was one of the best goalkeepers in Europe for a while, and represented his country 18 times, including playing in the final of the 1968 European Championships against Italy.
He scored six goals in total for Vojvodinam, which also included a goal against Atletico Madrid in the 1966-67 European Cup competition.
After leaving Vojvodina in 1969, Pantelic played in French professional football for almost a decade, turning out for Marseille, Bastia and Paris St. Germain.
He retired in 1977 at the age of 35 and was director of Vojvodina's youth academy for many years.
He died in 2014 at the age of 72.
RELATED ===> Has a Defender Ever Scored a Hat-Trick?
#2 José Luis Chilavert
28 November 1998. Vélez Sársfield v Ferro Carril Oeste
It took 35 years for another goalkeeper to score a hat-trick, and it probably isn't surprising that it was the extravagant Paraguayan José Luis Chilavert that did so.
Chilavert was known as one of the best goalkeepers of his generation, he was a three-time winner of the IFFHS World's Best Goalkeeper award and was named in the team of the Tournament for the 1998 World Cup.
He was also a dead ball expert, rattling in 67 goals in his 22-year career.
Chilavert's hat-trick came in 1998. By that point, the then 33-year-old goalkeeper had been honing his free-kick and penalty-taking expertise for 15 years.
The game was a local derby too, with Chilavert's Velez Sarsfield taking on their west Buenos Aires neighbours, Ferro Carril Oeste.
All three were penalties with the first coming as the first half drew to a close in the 45th minute, powerfully dispatched into the side netting to the goalkeeper's left.
His second was 30 minutes later, thumped straight down the middle of the goal.
His hat-trick was completed in the 82nd minute, with another thundering effort blasted in off the underside of the bar.
That season Chilavert scored 10 league goals in 35 games. When he retired in 2004, he ended with a record of 59 goals in 729 domestic games and 8 goals in 74 appearances for Paraguay.
And he still isn't the top-scoring goalkeeper of all time (I will reveal who that is a bit later in this article…)
RELATED ===> Who Is The Oldest Player To Score A Hat-Trick In The Premier League?
#3 Grigorios Athanasiou
12 February 2022. Pavlos Melas Stavroupoli v Aetos Vassilikon
The next hat-trick by a goalkeeper came 24 years later and took place in the rather less salubrious surroundings of the Greek Fourth Division.
Grigorios Athanasiou converted three penalties for Pavlos Melas Stavroupoli in a game against Aetos Vassilikon to give them a 3-0 win.
Athanasiou achieved the feat a month before his 38th birthday and does have a more illustrious back story, having played for over a decade in Greek Superleague.
It seems the 6'5 stopper never took any penalties though at that level.
Honorable Mentions…
Whilst these are the only three documented instances of goalkeepers scoring hat-tricks whilst playing in goal, there are a few 'goalkeepers' who deserve a mention here.
Tony Read
20 November 1965. Luton Town v Notts County
In March 1965 Tony Read arrived at Luton Town from Peterborough.
Read shared something in common with many goalkeepers, he fancied himself as an outfield player, notably a striker.
However, unlike many, he was able to back this up.
With the club short on numbers he filled in on pitch for the reserves and turned in a number of goalscoring performances to the point he got called up for the first team.
In the 1965-66 season Read scored 12 goals in 20 starts, including the perfect hat-trick against Notts County.
His first was a right-footed free-kick, his second a composed left-foot finish and his third a diving header!
Read never scored again after that burst of goalscoring form and soon found himself back between the sticks.
He made over 200 appearances for Luton between 1965 and 1972 before retiring from the game to run a car business.
Ken Simpkins
11 September 1968. Boston United v Goole Town.
Ken Simpkins became a goalkeeper by mistake.
As a 14-year-old he was a goalscoring centre-forward who once scored nine in a day, six for Wrexham Schools in the morning and three for Wrexham Reserves in the afternoon.
Such was the furor surrounding his abilities, he was described by the local paper as the new John Charles.
But when Wrexham's keeper Rolando Ugolini broke his collarbone he ended up in goal, he even played for Wales U23s.
In 1964, After 4 appearances in goal for Wrexham, he moved to Hartlepools, who were managed by Brian Clough.
He turned out 121 times for them, 116 times in goal and 5 on field, one of which yielded a winning goal against Port Vale in 1967.
In 1968 he joined Boston, and on 11 September 1968, he once again returned to his original position as a centre-forward for a game against Goole Town.
He scored a 20-minute hat-trick to turn a 2-0 deficit into a 4-2 win. A couple of weeks after that game injury lead to him having half of his knee cap removed, and Simpkins retired from the game.
Jim Platt
1971. Lincoln Reserves v Middlesbrough
Between 1971 and 1987 Jim Platt played almost 500 games in the football league.
He would have had far more than his 23 caps for Northern Ireland as well, were it not for the fact his career coincided with that of the legendary Pat Jennings.
Nevertheless he still went to the 1982 and 1986 World Cups.
But back in 1971, when Platt was 19 and had just arrived at Middlesbrough he travelled with Middlesbrough Reserves to be the 13th man for a game against Lincoln.
Platt takes up the story himself:
"I'd only gone along for a day out," he recalled.
"There was just one substitute in those days and I was 13th man but one of the lads was ill on the bus so I was promoted to the bench and another pulled a hamstring after 10 or 15 minutes. It was a good substitution.
"I can just about remember the goals. I think one was quite a good header, another was a bit of a tap-in.
"I was quite a good outfield player. Every keeper will tell you that he longs to play centre forward."
RELATED ===> Has Anyone Scored 3 Hat Tricks In A Row?
Diogo Acosta
5 May 2010 Palmeiras B v Juventus
Back in 2010 Acosta was playing for Palmeiras B in a match in the Brazilian Third Division against Juventus.
The game had added importance. Juventus needed to win to keep up their promotion challenge whilst a victory for Palmeiras would clinch promotion for them.
In a fiery game Acosta had already scored twice before the Palmeiras goalkeeper Rafael Borges was sent off with just minutes remaining.
Juventus threw everyone forward to get a winner.
With seconds to go Acosta caught a headed effort and then, in his own words:
"After I caught the ball I tried to get it back into play quickly, because we needed to win to go up. I saw their goalkeeper running back to goal, after trying to get his head on the corner. I know the pitch at the Rua Javari is small, so I decided to try a shot."
His shot went in, Acosta completed his hat-trick and Palmeiras sealed promotion!
Rogerio Ceni
His entire career!
Ceni is quite simply the granddaddy of goalscoring keepers.
Between making his debut as a 17-year-old in 1990 and playing his last game at the age of 42 in 2015, he scored an incredible 131 goals!
He was the official taker of free kicks and penalties for Sao Paulo from 1997 until his retirement in 2015.
In a three-season spell from 2005 to 2008, he scored 47 goals alone.
He was also a good enough goalkeeper to win 17 caps for Brazil.
The only downside is, despite all his goals, he never scored a hat-trick!
Final Thoughts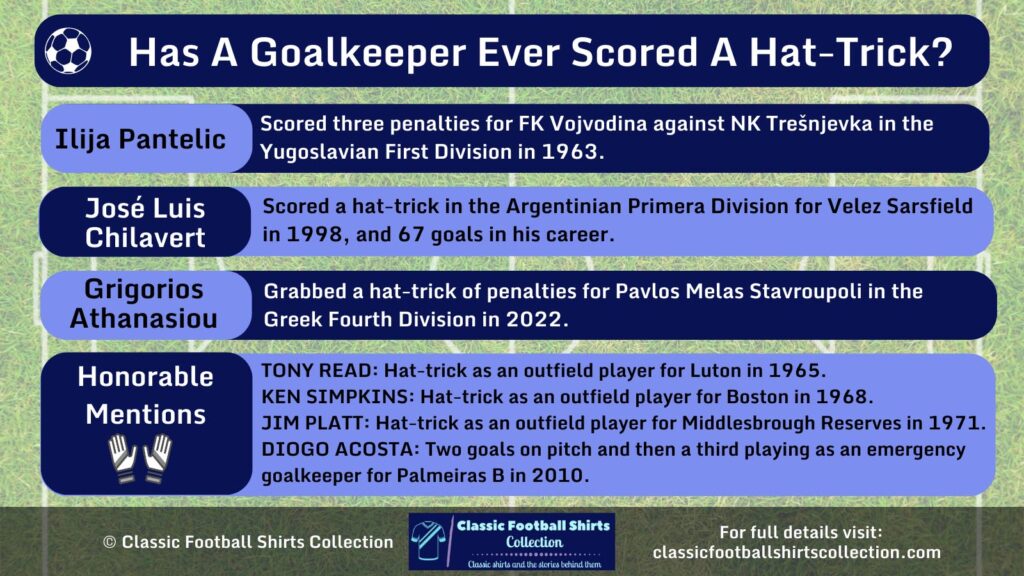 So the infographic above shows the three goalkeepers who have scored hat-tricks whilst playing in goal, the most famous of which is Jose Luis Chilavert's hat-trick for Velez Sarsfield in 1998.
Often many goalkeepers are referred to as frustrated centre-forwards and there are some that are able to back this up better than others, as you can see from this article.
Chilavert is still second on the list of goalscoring goalkeepers though, with his 67 goals way behind the 131 of Rogerio Ceni.
Third in the list is Jorge Campos with 46 goals, 4th is Johnny Vegas Fernandez with 45 goals and 5th is the flamboyant Colombian Rene Higuita with 43 goals.
There is definitely something about Central and South America though, the five top goalscoring goalkeepers are all from that region!
---