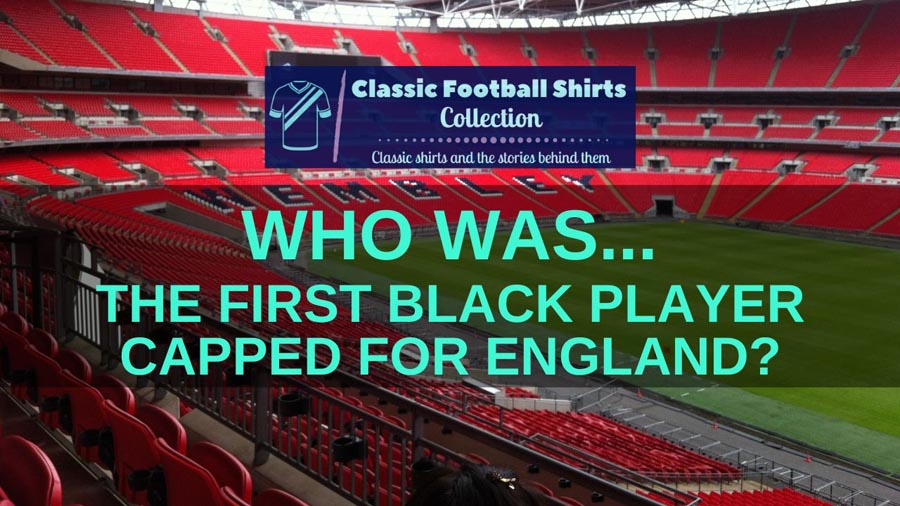 The question of who was the first black player capped for England is not as clear cut as was once thought.
In fact for many years there were a couple of players no one ever knew about who proceeded the player who was considered the previous incumbent of the post.
So we take a closer look at the subject here, along with some other prominent black footballers.
Let's get started…
Who Was the First Black Player Capped For England?
The FA has recognised Benjamin Odeje as the first black player to represent England when he played for England Schoolboys against Northern Ireland in March 1971. West Ham's John Charles could also be considered for the accolade, he debuted nine years earlier for England Under 18s. Viv Anderson was the first black player to play for England in a full international in 1978.

The First Black Player Capped for England at Any Level
For a long time it was thought that Laurie Cunningham was the first black player to represent England at any level when he represented England Under-21s against Scotland in April 1977.
It is now known he wasn't, he was actually the second or third black player to pull on an England jersey depending upon your interpretation.
So who are the one or two (again depending upon interpretation), that came before him?
Way back in May 1962 West Ham defender John Charles played for England Under 18s against Israel, scoring a 3-1 win.
Charles also played in, and won, the International Youth Tournament with England Under 18s in 1963.
Then four years later he played for Young England v England at Highbury in 1967. Maybe surprisingly the Young England team beat the World Cup winners 5-0!
Alongside Charles in the Young England team that day were Colin Harvey, Rodney Marsh and Allan Clarke.
The England team included George Cohen, Martin Peters, Bobby Moore, Roger Hunt, Geoff Hurst and Alan Ball, all of whom had played in the World Cup Final the previous year.
Charles had a stellar career at West Ham and made almost 150 appearances following his debut in 1962, many alongside Bobby Moore.
Unfortunately, a persistent hamstring injury lead to Charles retiring from football in 1971 at the age of 26 to run the family's market greengrocer stall.
The sign of how times have changed is shown by the fact that Charles earned £65 a week at West Ham. But in his first week on the greengrocer stall he earned £200.
Sadly after leaving football Charles drifted into alcoholism and had mental health problems. Eventually he died of cancer in August 2002 at the age of 57.
RELATED ===> Revealed: The Best Retro England Shirts
The other candidate is Benjamin Odeje.
In March 1971, at the age of 15, Odeje made the first of five appearances for England schoolboys, in a game against Northern Ireland schoolboys in front of 70,000 fans at Wembley.
Odeje had quite a reputation at the time, having scored almost 400 goals in three seasons in school football.
In fact, he was awarded man of the match in his debut appearance for England schoolboys.
Odeje was an apprentice at Charlton Athletic, but never made a first-team appearance for them or any other professional team.
He did have a successful career at non-league level, playing for Dulwich Hamlet, Hendon and Clapton.
After his career finished he coached at Queens Park Rangers and then became a successful PE teacher.
The reason I say the question of who was the first is open to interpretation comes down to the heritage of both players.
Benjamin Odeje was born in Nigeria to black parents who came over to England in the mid-1960s.
John Charles was born in London to a white, English mother and a black, Grenadan father.
The FA however formally acknowledged Odeje as the first black man ever to play for England and invited him to attend England's Nations League clash against Germany in September 2022 as a guest of honour.
Members of John Charles' family were also invited to the same game.
Either way, it is evident both players had to deal with a huge amount of prejudice in their time in the game as this interview with Benjamin Odeje illustrates.
Both have also played a pioneering role in the history of black players in football.
The First Black Player Capped For England in a Full International
In November 1978 Viv Anderson became the first black player to represent England's senior team when he pulled on the Three Lions for a friendly against Czechoslovakia.
Anderson was 22 at the time and had made his first-team debut four years prior for Nottingham Forest.
He made a second appearance for England a few months later in another friendly against Sweden, before making his competitive debut in November 1979 in a 2-0 win against Bulgaria at Wembley.
Anderson went on to have a stellar England career playing 30 games over a decade under the managership of first Ron Greenwood and then Bobby Robson.
RELATED ===> Has a Defender Ever Scored a Hat-Trick?
Anderson played every single minute of those 30 games, but unfortunately not one of them was in tournament football. He went to the 1982 and 1986 World Cups and the 1988 European Championship without ever getting on the pitch.
He was awarded an MBE in January 2020 and is recognised as one of Nottingham Forest's greatest-ever full-backs.
In fact when fans voted for the club's all-time greatest XI he got 96% of the vote in the right back category!
First Black Player to Score For England
Three players previously mentioned all scored for England, John Charles, Benjamin Odeje and Laurie Cunningham.
However the first black player to score for the full international team was Watford's Luther Blissett.
In fact not only did he score, he scored a hat-trick on what was his full England debut!
Blissett had risen through the ranks with Watford. He scored six goals in 1978-79 when they got promoted from the Fourth Division, 21 goals when they secured a second successive promotion in 1978-79, and then 10, 11 and finally 19 goals in the 1981-82 season as Watford got promoted to the First Division.
With many expecting Watford to go straight back down, they surprised everyone in the First Division.
They briefly lead the table and eventually finished 2nd to Liverpool in the league. With 27 goals in 41 games, Luther Blissett finished as the First Division's top scorer.
Blissett made his England debut as a substitute against West Germany in October 1982 before getting his first start two months later on 15 December 1982.
The game was against European whipping boys Luxembourg and England won 9-0, with Blissett netting in the 44th, 63rd and 87th minute.
Blissett could have had four, he had a header cross the line in the 2nd minute, but the goal wasn't given.
Blissett's goal-scoring exploits lead to a £1million move to AC Milan at the end of the 1982-83 season, although he returned to Watford after just one season in Italy.
He went on to gain a further 12 England caps, but never netted again for his country.
First Black Player to Captain England
The honour of being the first black player to captain England fell to Paul Ince when he took the armband for a game against the USA on 9 June 1993.
It was only Ince's 7th game for England and he would go on to captain his country a further six times, winning a total of 53 caps.
Unfortunately the game ended in a humiliating 2-0 defeat for England at a time when the American national team was held in much lower regard than they are now.
The game was part of the 1993 US Cup and England finished bottom of the four-team competition that also included Germany and Brazil.
RELATED ===> Could Gareth Bale Have Played For England?
The One That Should Have Been…
On 6 October 1925 Plymouth forward Jack Leslie was named as a reserve for an England game against Ireland.
It was a proud moment for both Plymouth and Leslie who was, at the time, one of only two black players playing professionally in England.
At that point there were no substitutes in football, so being a reserve essentially meant being on standby in case anyone got injured in the build-up to the game.
And that is what happened, Huddersfield's Sam Wadsworth dislocated his elbow.
However Leslie wasn't called up, instead his invitation to be a reserve was mysteriously withdrawn and Newcastle's 35-year-old Francis Hudspeth won his first and only international cap.
Leslie was never considered for selection again despite playing for a further decade and scoring 133 goals in 384 games for Plymouth Argyle.
It was widely rumoured that, in the days before TV coverage, the England Selection Panel (a panel of coaches and trainers selected the squad as opposed to one manager) hadn't realised that Leslie was in fact black.
It is said upon finding this out that some members of the panel raised objections against having a black player representing England and Leslie's call-up was withdrawn.
Jack Leslie did go on to work in football, being part of the West Ham backroom staff. He died in 1988 at the age of 87.
Final Thoughts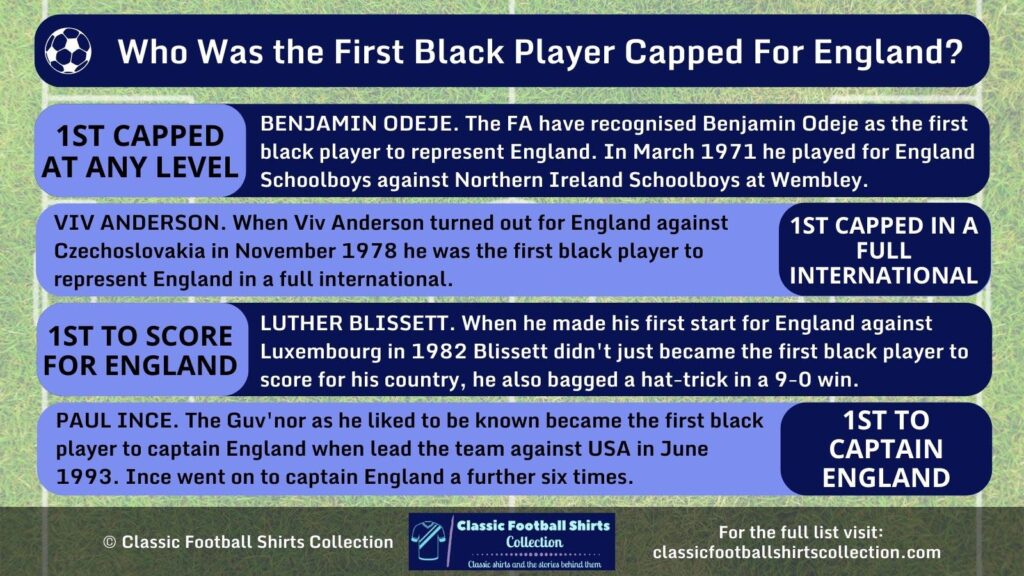 As you can see from the infographic above, officially the first black player capped for England at any level was Benjamin Odeje when he played for England Schoolboys against Northern Ireland in 1971.
West Ham's John Charles can also stake a claim to the title, playing for England Under 18s against Israel in 1962.
However John Charles was born to a white mother and a black father, whereas both of Odeje's parents were black and it is Odeje who the FA has formally recognised as the first black player to represent England.
The first black player to pull on the Three Lions in a full international was Viv Anderson when he played for England against Czechoslovakia in 1978.
Since then, thankfully many more black players have gone on to follow suit.
---