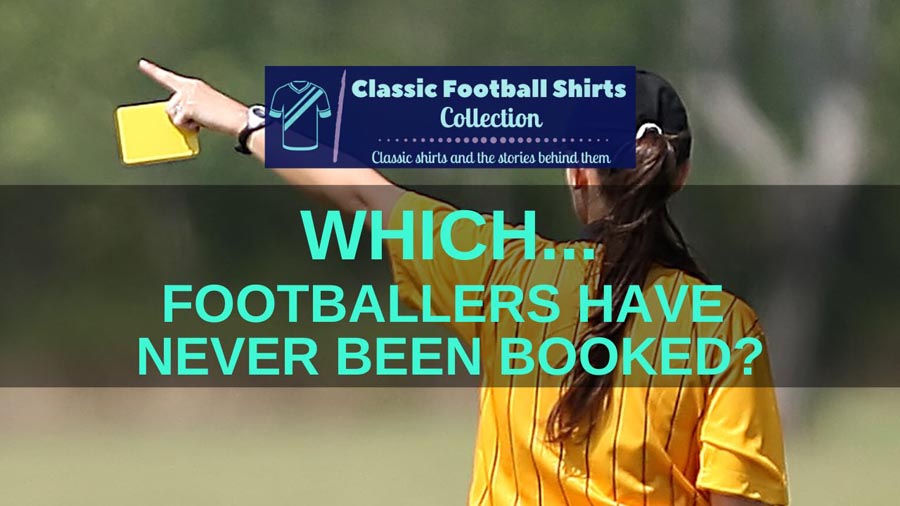 It seems inconceivable that a player could now go through his entire career without getting a yellow card, but it hasn't always been that way.
In fact if you are asking which footballers have never been booked? There are a few.
Although admittedly stepping back a generation or two, it isn't as surprising because there was a time when you had to almost commit GBH to get cautioned…
Things are much different now though.
So without further ado let's find out who are football's most angelic players…
Which Footballers Have Never Been Booked?
If you go back to the 1970s and before, a number of players managed to play their entire careers without getting booked as foul play was treated with much more leniency then. The most famous example of a footballer who was never booked is Gary Lineker, but other illustrious names not to get a yellow card include Peter Shilton, John Charles, Stanley Matthews, Billy Wright and Dixie Dean.

When Were Yellow Cards and Red Cards Introduced?
Before we go into our list of players who never troubled the referee's notebook it is worth knowing when yellow and red cards were introduced to the game.
Because surprisingly enough it didn't happen until the 1970 World Cup.
And even then the English Football League didn't adopt them until 1976.
Then they dropped red cards in 1981 arguing they riled up the fans too much. Referees could still send players off it just had to be done verbally without a card being issued.
In 1987 the International Football Advisory Board made it mandatory that all leagues use yellow and red cards.
They have been part of the English game ever since.
Note this doesn't mean that before 1970 players couldn't be booked or sent off. They could, but it was done without a card being produced.
The referee verbally cautioned or dismissed the player and noted it in his notebook.
Just for the record the first English player to be issued with a red card was Blackburn's Dave Wagstaffe.
He was sent off on 2 October 1972 for foul language.
Later that same day the legendary George Best was sent off for the same offence whilst playing for Fulham.
RELATED ===> Who Was the First Black Player Capped For England?
PLAYER #1: Gary Lineker. 647 Games from 1979 to 1994
Probably the most notable player to achieve this feat, due to the fact he played in a more modern era, is Gary Lineker.
Lineker made his senior debut for Leicester on 1 January 1979 and played his last game for Japan's Nagoya Grampus Eight on 19 November 1994.
In between he turned out almost 650 times without ever getting booked.
Lineker once revealed that the closest he ever came to being booked was when he was playing for Barcelona. He said:
"Probably the closest was in Spain, which is not surprising. Going three years in Spain was quite extraordinary without getting a yellow card. But I very nearly got booked for laughing at the referee once. He went like that [gestures to his pocket]. I said: 'Are you going to book me for laughing?' But he didn't."
In the same interview Lineker admitted he suspects he would have picked up a yellow card if he had played in the game today:
"You fall over and they think you've dived, or you mistime a tackle slightly… you had to commit a really horrific foul, or four or five different fouls to get a yellow card in my day."
Lineker was one of the most celebrated strikers of his era and alongside his record of never being booked, he remains the only player to have been top scorer in England with three clubs, Leicester City, Everton and Tottenham.
He was also the first Englishman ever to be top-scorer at a World Cup Finals tournament in 1986.
PLAYER #2: Peter Shilton. 1374 Games from 1966 to 1997
Peter Shilton's record is quite remarkable in the fact it spanned 31 years across four decades.
He made his debut in 1966 at the age of 16 and played his last professional game in 1997 at the age of 47.
Of course, being a goalkeeper he wasn't quite involved in the game as the same way as an outfield player.
However there is one caveat.
Shilton did never get a yellow card across his career, that is true.
But on 28 August 1992 he got a straight red card!
He received it playing for Plymouth against Hull City for a professional foul on Graeme Atkinson.
That was the only blot on Shilton's copybook.
He still holds the record for the most competitive appearances in world football.
RELATED ===> Could Gareth Bale Have Played For England?
PLAYER #3: Jimmy Dickinson. 876 Games from 1946 to 1965
I think we can safely say that Jimmy Dickinson's record of 876 outfield appearances without getting booked will never be bettered.
Dickinson made his debut just after the war in 1946 and served only one club in his career, Portsmouth.
His record of never getting booked earned him the nickname 'Gentleman Jim'. In fact there is a pub in his hometown of Alton called The Gentleman Jim.
The other record he unfortunately holds is being the only England player to have scored an own goal in a World Cup Finals game. He diverted into his own net during the 1954 World Cup in a game against Belgium.
PLAYER #4: John Charles. 753 Games from 1949 to 1974
Known as The Gentle Giant, John Charles is known as one of the greatest ever players to come from the British Isles.
Equally adept at centre-back or centre forward, Charles doubled the British transfer record when he joined Juventus in 1957 for £65,000. He was one of the very first British players to play professionally overseas.
Charles' prominent position meant he was always involved in the thick of the game which makes his record even more impressive.
For his first four seasons for Leeds he played as a centre-back, scoring four goals in 109 games.
Then he switched to centre-forward and scored 150 goals in his next 208 games!
PLAYER #5: Stanley Matthews. 857 Games from 1932 to 1965
Equally as remarkable as Stanley Matthews record of not getting booked is the fact he made his last league appearance on 6 February 1965, five days after his 50th birthday.
Matthews also won the inaugural European Footballer of the Year Award and Football Writers' Association Footballer of the Year Award.
He also remains the oldest player ever to play for England, playing his last game for his country at the age of 42 years and 104 days, with his international career spanning 23 years.
Matthews was also ahead of his time when it came to diet. He didn't drink alcohol, eat lots of salad and fruit and fasted every Monday.
He also wore lead in his shoes on his way to the ground so "when he put his football boots on they felt like ballerina shoes."
PLAYER #6: Billy Wright. 647 Games from 1939 to 1959.
Billy Wright is another legendary player who was never booked or sent off, just one of a number of records he set during his career.
He captained England a record 90 times, including at three World Cups, and made 70 consecutive full international appearances.
Wright's career was interrupted by the war, but during the 1950s he only missed 31 games for his club, Wolves.
PLAYER #7: Dixie Dean. 507 Games From 1923 to 1940.
One of the great goalscorers ever, William 'Dixie' Dean was never booked or sent off during his career.
He also holds the record for most league goals in one season notching 60 in the 1927/28 season.
With nine games to go Dean was on 43 goals, 17 short of the record.
Eight goals in his next six games put him on 51 goals with three games of the season left.
Surely, he couldn't break the record?
Two goals against Aston Villa and four against Burnley meant he went into the last game of the season against Arsenal three goals shy of the record.
Dean scored in the 4th minute and then was fouled in the penalty area a few minutes later. Dean converted the penalty to equal the record.
This left him 80 minutes to break the record.
In the 82nd minute he powered home a trademark header to score his 60th goal of the season to create a record unlikely to ever be broken and to see Everton secure the league title.
RELATED ===> Who Was The First Non-British Footballer To Play In The Premier League Or First Division?
PLAYER #8: Tommy Lawton. 456 Games from 1936 to 1956.
The careers of Tommy Lawton and Dixie Dean are interminably linked.
Lawton was brought in to replace Dean at Everton and the pair played for one season together before Dixie Dean left the club.
Like Dean, Lawton was a prolific goalscorer, like Dean he was famed for his aerial ability and like Dean he was never booked or sent off in his career.
PLAYER #9: Billy Liddell. 563 Games from 1938 to 1961.
Our list is rounded off by another Merseyside legend, Billy Liddell.
Liddell's entire career was spent at Liverpool, and he became so synonymous with the team the club was nicknamed 'Liddellpool' for a while.
Unfortunately his career at Liverpool ended just as the Shankley era was taking shape, but he is widely remembered as one of the greatest players ever to pull on the red shirt of Liverpool.
Final Thoughts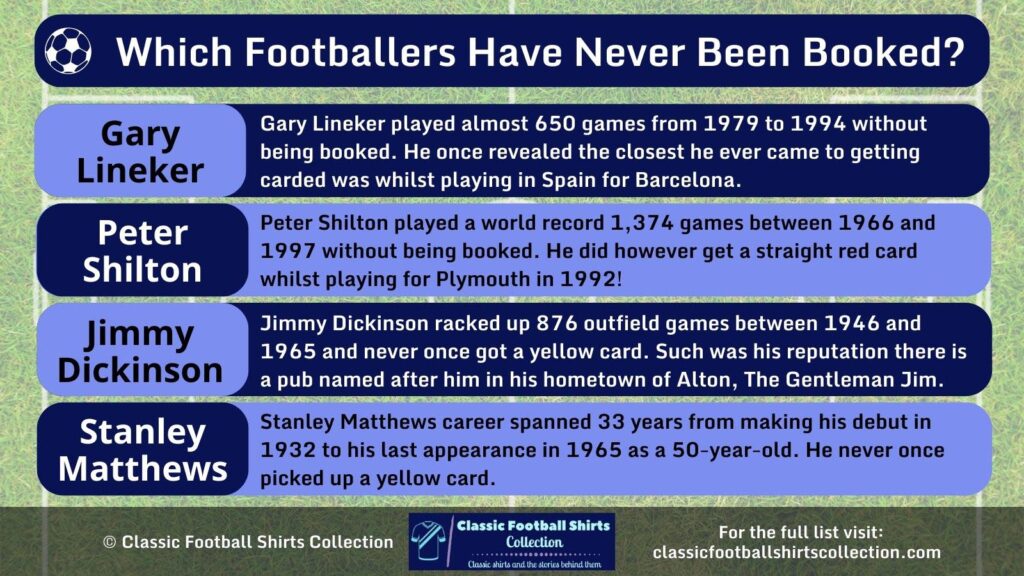 This is just a selection of the most high-profile players who never received a yellow card in their career.
Yellow and red cards were much rarer in previous eras of football compared to now, so more players were more able to stay out of the referee's notebooks.
But it is still a remarkable achievement the players in this article never got booked considering the lengths of their careers.
Just don't expect that to happen in today's game!
---