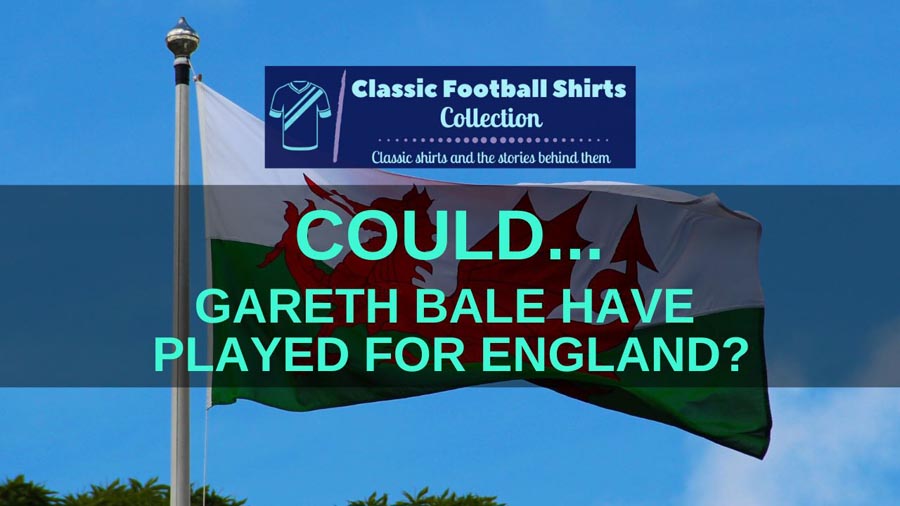 It would seem strange to picture him in anything else other than the red of Wales, but could Gareth Bale have played for England?
Could we have seen him leading the line alongside Harry Kane?
We look at the matter more closely in this blog.
So without further ado, let's get started…
Could Gareth Bale Have Played For England?
Yes Gareth Bale could have played for England. He was eligible by virtue of having a grandmother born in the country. However, he made it clear from very early on that he had no interest in representing England and was only interested in playing for Wales.
The Rules Around Representing a Home Nation
The United Kingdom is somewhat of a special case when it comes to FIFA's eligibility rules.
There is no such thing as English, Scottish, Welsh or Northern Irish citizenship, and as such these four nations have their own unique agreement with each other and with FIFA when it comes to who can represent one of the countries.
The rules are that anyone holding a British passport can play for:
The country of his birth.
The country of his mother or father.
The country of his grandparents.
Gareth Bale's parents were born in Wales and three of his four grandparents were born in Wales.
However, his Grandmother on his mother's side was born in England.
And as such that made Bale eligible to represent either England or Wales.
RELATED ===> Revealed: The Best Retro Wales Shirts
But the Welsh wizard says he never seriously considered it, and he was never directly approached to play for England.
But when he was 15 years old his agent was approached, but when he went to the teenage Bale with the idea it was a non-starter.
As Bale explained: "It was never an option. I was really young at the time. It was literally a one-second conversation. "I said, 'Stop, I'm from Wales and love Wales'. Everyone knows how much I love playing for Wales. "My grandmother's English but I'm Welsh and I would never want it to happen."
So that was the end of that!
Bale's Welsh Heritage
Although Gareth Bale joined Southampton at the age of nine, he is very much a born and bred Welshman.
He was born in Cardiff in 1989 and it was playing for his first club Cardiff Civil Service that he came to the attention of Southampton
He was spotted playing in a six-a-side tournament in Newport by Southampton scout Rod Riddick.
Riddick was also manager of Southampton's satellite academy in Bath and later recalled the day saying: "When I got there it was a six-a-side and I saw a little lad a few pitches away who just kept running at people."
Riddick would go on to play an important part in Bale's career, especially when Southampton were mulling whether to give him a scholarship when he was 15 or release him.
This was something Bale acknowledged in the first interview he gave after joining Real Madrid when he was asked about how he was nearly released by Southampton before his career had even begun.
"Rod Ruddick, the Southampton scout who spotted me at the age of nine, believed I would make it," he said.
It was Riddick who noted that 15-year-old Bale was starting to go through a growth spurt that would see him go from 5'5 to 6'1 in just 18 months.
RELATED ===> Who Was The First Non-British Footballer To Play In The Premier League Or First Division?
Such was the turnaround that Bale went from almost being cut from the club to making his first team debut on 17 April 2006, at the age of 16 years and 275 days old.
The following month he made his full debut for Wales at the age of 16 years and 315 days old.
This was just the start of what would go on to be a record-breaking international career that has yielded (as of September) 106 caps and 40 goals.
So yes Gareth Bale could have played for England and who knows what he would have achieved had he done so, but that was never going to happen, as Bale himself said: "I am from Wales and proud to be so."
And the way he has represented his country illustrates that.
Final Thoughts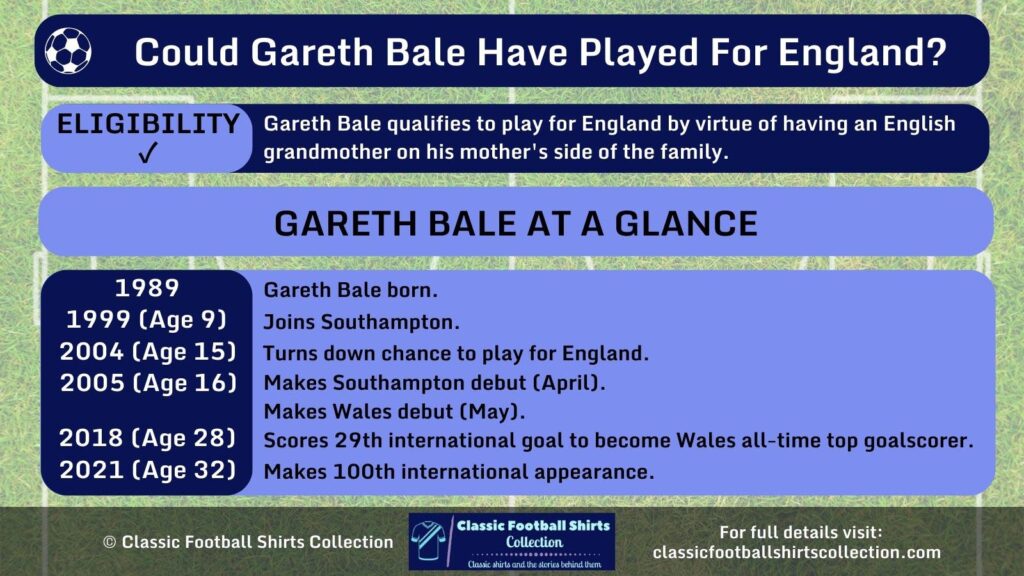 Gareth Bale could most definitely have played for England, he qualified by virtue of having an English grandmother.
However, Bale has made it clear that, despite an approach from England before he had made his Welsh debut, he was never interested in donning the Three Lions and only ever had intentions of playing for Wales.
And that he has done with aplomb.
He is currently second on the all-time list of Wales appearances (and will surely go top of the list before long) and is Wales' all-time record goalscorer.
So yes he could have played for England, but would he ever have wanted to?
Never!
---