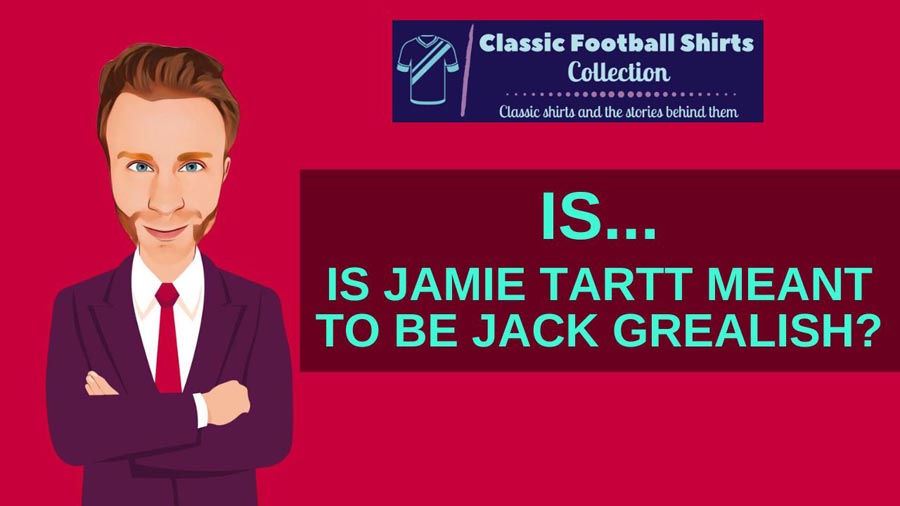 It is no surprise that people have spotted the similarities between the fictional TV character Jamie Tartt and England star Jack Grealish.
Both are attacking players and both sport similar haircuts, headbands, short shorts and low socks.
So is Jamie Tartt meant to be Jack Grealish?
Or is he based on another player?
That is the question we will be looking at in this blog.
Is Jamie Tartt Meant To Be Jack Grealish?
Phil Dunster, who plays Jamie Tartt in Ted Lasso, has said in a number of interviews there is definitely a bit of Jack Grealish in the Jamie Tartt character. He has also confirmed a number of other footballers are an inspiration for Tartt including Eric Cantona, Cristiano Ronaldo, David Beckham, Olivier Giroud and more!

Who is Jamie Tartt?
Before we look at who Jamie Tartt is based on, let's have a quick recap on the man himself.
Jamie Tartt is the star player at AFC Richmond, the fictional English Premier League team on whom the Apple TV+ series Ted Lasso focuses.
The character is played by the English actor Phil Dunster, and initially, in the first series, he is the embodiment of an egotistical footballer, with an inflated opinion of himself and his importance.
By the second series, he has become a slightly more rounded character and isn't quite so self-obsessed!
The Ted Lasso fandom page for Jamie Tartt, gives a more indepth look at the character.
The show itself has been a big success, with the first season picking up 20 Emmy nominations and winning seven awards.
The second season of the show received a further 20 Emmy nominations, winning four of them this time.
It is the most-watched television series on Apple TV+.
Is Jamie Tartt Meant to Be Jack Grealish? The Case For…
There are definitely a number of similarities between Jack Grealish and Jamie Tartt, notably:
Is Jamie Tartt Meant to Be Jack Grealish? The Case Against…
However it should be noted that many of the similarities are very aesthetic, when it comes to personality there are a number of differences:
Jamie Tartt is portrayed as arrogant and a somewhat toxic presence in the dressing room. Grealish is seemingly well-liked by teammates.
Jamie Tartt is seen as conceited and obsessed with himself, whereas Jack Grealish is apparently down to earth and has never forgotten his roots.
Jamie Tartt is very much an individual who plays for himself, whereas Grealish is much more of a team player.
So Who Is Jamie Tartt Meant To Be?
Aside from drawing comparisons with Jack Grealish, many people believe Jamie Tartt is based on Cristiano Ronaldo, particularly in Ronaldo's early years.
Ronaldo comes across as being obsessed with himself, like Tartt, and as a young player was undoubtedly extraordinarily talented, but had a selfish streak.
It even seems as though the Jame Tartt chant (Jamie Tartt do do do do) is taken from a rather cringeworthy commercial Ronaldo did for a Singaporean shopping platform:
But there are also similarities between Jamie Tartt and many other players including Jamie Redknapp, David Beckham, Wayne Rooney, Jamie Vardy…
In fact Phil Dunster, who plays Jamie Tartt, has given a few hints at who the character is based on…
So What Does Phil Dunster Say?
British actor Phil Dunster who plays Jamie Tartt is a lifelong football fan and supporter of AFC Wimbledon.
His came to prominence in 2017 when he was cast in the Sky One drama Strike Back and since then he has been seen increasingly in film and TV.
Unsurprisingly he has been asked a number of times about the Jamie Tartt character and a few names continually crop up when he walks about the role.
In July 2021 he talked to Jacob Stolworthy of the Independent newspaper about Tartt, saying:
I think there are quite a few footballers in Jamie Tartt. He's watched Cantona and Ronaldo; those players that show they think they're the best. But, affectionately, I modelled some of Jamie on Jack Grealish, a bit of Jamie Vardy. And Olivier Giroud, 'cause the man loves his hair.
The following month he gave another insight into Tartt, when Screen Rant asked him if there was any inspiration for the character:
I think that there's some that I've learned from more than others. I tried to keep it fairly vague, but I've watched football my whole life and I love it, so I probably have picked up lots of people along the way. And I think who Jamie would model himself on may be slightly different from who I would model Jamie on.

I think Jamie looks at people like David Beckham: the different hairstyles; he wore a bandana when he met Prince Charles – that's the sort of audacity that he had with his styling. He would probably model himself on Ronaldo, on Eric Cantona. I sort of have that in mind when I'm working with Jacky Levy, the costume designer, and also with Nicky Austin, the makeup designer.

We found that character. I think that there are characters like Jack Grealish, who I'm very fond of, and Olivier Giroud. Maybe the arrogance of Dimitri Payet is probably in there somewhere, as well.
A few months later, in October 2021, Dunster appeared on SoccerAM when Jimmy Bullard asked him where Tartt was based on anyone in particular:
Yeah, I watch football pretty much every day, so I have taken a whole bunch of characters, Jimmy Bullard and obviously Jack Grealish, and there's a lot of young players like Mason Mount.

He is a flair player, Jamie Tatt, so there's a bit of Bernardo Silva, a bit of Cristiano Ronaldo.
Final Thoughts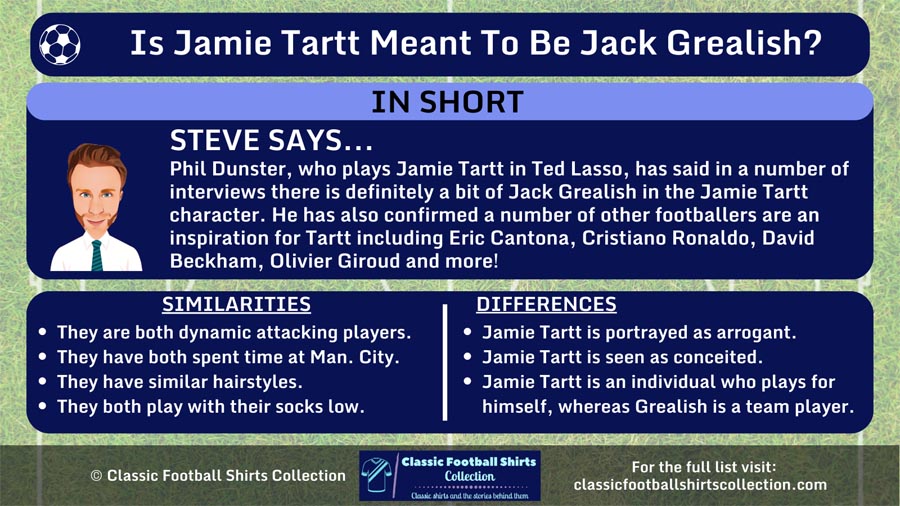 There is no doubt that part of the Jamie Tartt character is based on Jack Grealish, more his physical appearance than his actual character though.
The clues are definitely the fashion sense, hairstyles, low socks and 'playboy-esque' persona, however Grealish is much more likeable as a person than the Jamie Tartt character.
The similarity to Jack Grealish has been confirmed by Phil Dunster who plays the character.
In the three interviews above he mentions Grealish as an inspiration in each of them.
He also mentions a number of other footballers though, including Eric Cantona, Cristiano Ronaldo, David Beckham, Olivier Giroud and more.
So it seems Jamie Tartt is Jack Grealish and is also a number of other footballers.
---