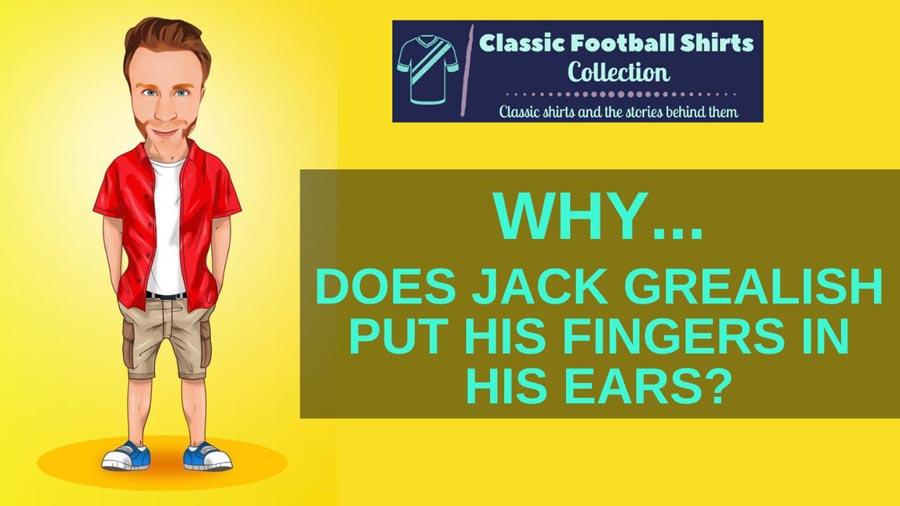 Some celebrations are tributes to someone or something, some are done in the heat of the moment, some are highly choreographed and then there are some that are just slightly confusing.
This one falls into the last category.
Just why does Jack Grealish put his fingers in his ears after he scores?
That is what we are going to look at today.
Why Does Jack Grealish Put His Fingers In His Ears?
The celebration first appeared when speculation was linking Grealish with a move away from Aston Villa in the 2019/20 season, and it was his way of saying he wasn't listening to the speculation. He then repeated the celebration after his first goal for Manchester City in August 2021, as a response to say he wasn't listening to the critics who said City had overpaid for Grealish.

When Did He Start Doing It?
As you can see from the video above, Jack Grealish scored 32 goals for Aston Villa in total.
The fingers in the ear celebration appeared for the first time as he scored in the 41st minute of a game against Burnley to put Aston Villa 2-1 up on New Year's Day 2020.
He repeated it a few more times for Villa, including when he scored against West Ham on 26 July 2020, the last day of a COVID-delayed season.
In fact, he reposted the image on his own Instagram page a few days later:
After he scored his first goal for Manchester City, on his home debut against Norwich City on 21 August 2021 Grealish repeated the celebration.
It has been seen a few times since in Manchester City colours.
But why?
Grealish At Aston Villa: Speculation Builds
It is no coincidence that Grealish first pulled out the celebration during his best season by far at Aston Villa.
The 2019/20 season was his 9th season since first appearing on an Aston Villa team sheet way back in March 2012.
Grealish contributed eight goals and six assists to a struggling Villa team.
In fact, the club only survived relegation back to the Championship by a single point, so it is safe to say that Jack Grealish probably did more than anyone to keep them in the top flight.
Unsurprisingly he began to be linked with moves away from Villa Park, with both Tottenham and Manchester United said to be prospective suitors.
The message we can take from the celebration during his time at Aston Villa is that Grealish wasn't taking any notice of the speculation, or what was being written or said about him.
He was shutting out all external noise.
The following season Grealish was even more productive, contributing six goals and 12 assists in just 26 Premier League games, as he missed a big chunk of the season due to a shinbone injury.
It earned him a big money move to Manchester City in August 2021…
Grealish At Manchester City: Responding to Critics
Even in a world of big money moves, Jack Grealish's transfer was huge.
The reported fee of £100 million paid by Manchester City was the most ever paid by a British club, and the most expensive transfer of an English player ever.
Even as I write now, only six players have ever been transferred for a bigger fee than Grealish – Neymar, Kylian Mbappe, Philippe Coutinho, Joao Felix, Enzo Fernandez and Antoine Griezmann.
It put Grealish in exalted company.
It also prompted some fans and pundits to say it was a waste of money.
So in a similar vein to his celebrations for Villa, when Grealish scored on his home debut for City against Norwich he lapped up the congratulations of the crowd and then put his fingers in his ears.
This was taken to show that Grealish was blocking out the noise from fans and the media commenting on his big-money move.
In other words, he wasn't listening to what other people were saying.
Final Thoughts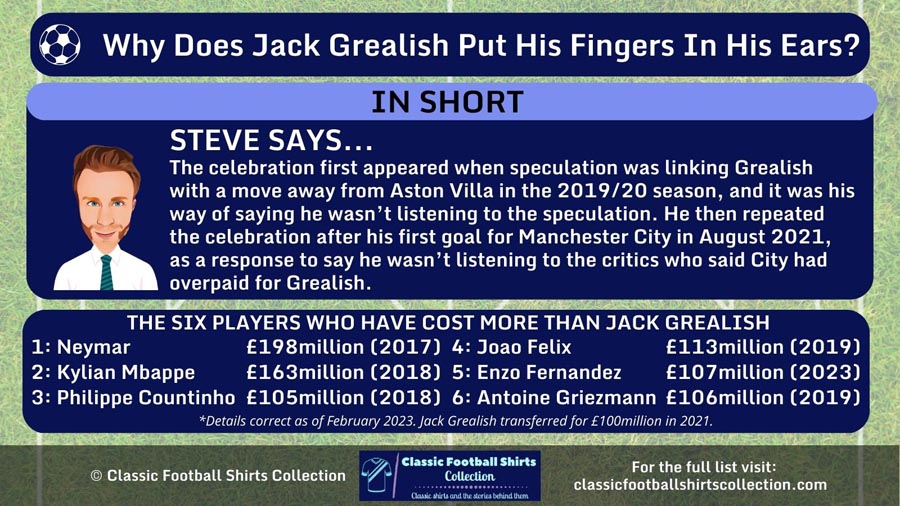 The fingers in the ears celebration has become so synonymous with Jack Grealish that British tennis star Liam Broady copied it when he reached the third round of Wimbledon in 2022.
After beating Argentinian Diego Schwartzman in five sets Broady walked to the centre of the court with his fingers in his ears.
When asked about his celebration he said: "It's the Jack Grealish celebration, isn't it? I just like Jack Grealish."
Grealish however has his own reasons for the celebration, and it is simply to show he is blocking out any external noise.
At Villa this was regarding speculation around a potential move away from the club, and at Manchester City it was suggestions that the club had paid over the odds for him in the transfer market.
---