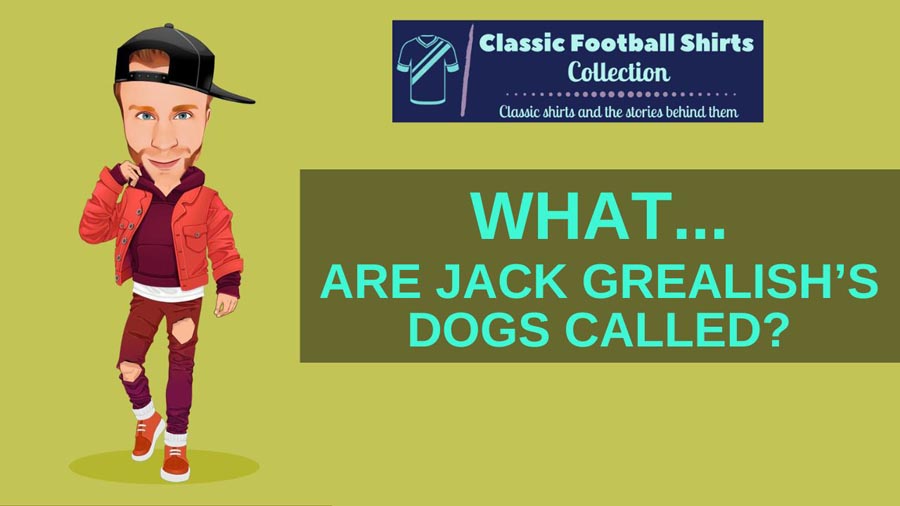 Some footballers love a symbol of their wealth.
It could be a house, it could be a car and sometimes it could be a dog!
And for Jack Grealish, a self-proclaimed dog lover, it is the latter.
So what are Jack Grealish's dogs called?
We are going to delve a bit more into the story behind his pampered pooches in this blog today.
What Are Jack Grealish's Dogs Called?
Jack Grealish has a pet cockapoo called Skye and three Belgian Malinois guard dogs whose names have never been made public. The England star is a big dog lover, and has previously said on his Instagram page "you won't find anyone who loves their dogs as much as me."
The Social Media Star
Jack Grealish was not shy in showcasing his love for dogs on International Dogs Day in 2022.
He posted photos of him with two of his pooches, saying: "Happy #InternationalDogsDay 🐶❤️You won't find anyone who loves their dogs as much as me."
One of the dogs featured was his pet cockapoo Skye, who Grealish adopted in 2020.
Skye has made a number of appearances on Jack Grealish's social media channels, including gatecrashing the press conference when he signed a new contract with Aston Villa in 2020.
The other dog that appears in the Instagram post above is one of three Belgian Malinois that Jack Grealish owns.
The Guard Dogs
In 2020 after knife-wielding burglars raided the house of Dele Alli, Jack Grealish invested £25,000 in a Belgian Malinois to protect his £1.7million property in Worcester, south of Birmingham.
In late 2021, following his record-breaking £100million move to Manchester City, Grealish splashed out £40,000 more on a further two Belgian Malinois.
The guard dogs came from Chaperone K9 Services, a firm popular amongst footballers.
A quick glance at its Instagram page and you can see its star-studded list of clients that include Jesse Lingard, James Madison and Kieran Tierney.
Belgian Malinois are a variety of the Belgian Shepherd Dog breed and are particularly popular with the police and army.
They are often seen as a faster and healthier version of the German Shepherd, who love an active lifestyle.
But whilst being fiercely protective animals, they are also docile enough to be petted and walked by small children.
Based in Leicestershire, all Chaperone K9 dogs undergo at least two years of training before a client takes ownership of them.
But these dogs do come at a premium, costing anything between £10,000 and £25,000.
Final Thoughts
Jack Grealish owns four dogs:
Skye – Cockapoo
Adopted in 2020
Three Belgian Malinois guard dogs.
One was adopted in May 2020 for £25,000. Two were adopted in late 2021 for £20,000 each.
Skye in particular has been a regular presence on the Manchester City star's social media accounts and even took part in a press conference when Grealish signed a new contract when he was still at Aston Villa.
I think it is fair to say Jack Grealish is definitely a dog lover!
---