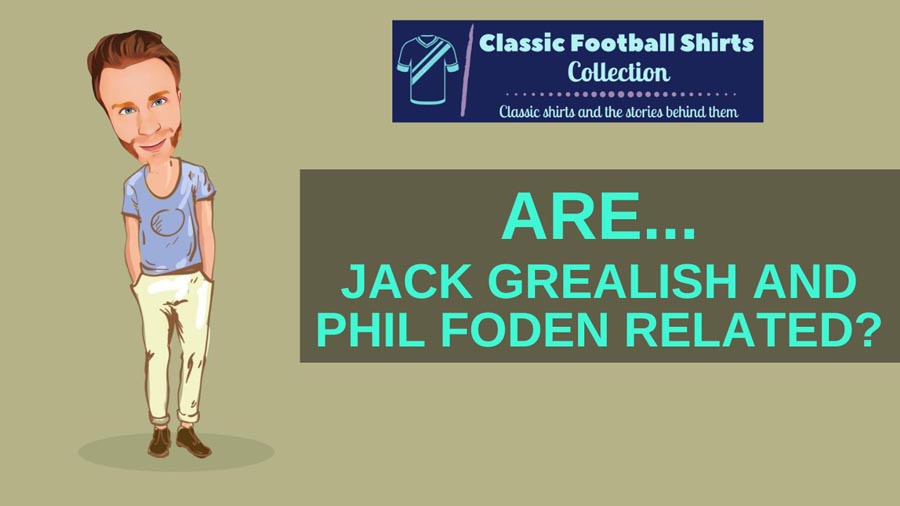 They spend a lot of time together both on and off the pitch.
So it is no surprise people ask if Jack Grealish and Phil Foden are related every now and then.
The pair have been caught up in a bit of controversy, as well as creating some fantastic footballing moments together.
So how close are they?
Let's find out…
Are Jack Grealish And Phil Foden Related?
No Jack Grealish and Phil Foden are not related, however, the two are best of friends and very close off of the pitch. Jack Grealish has even referred to Foden as being 'like a little brother'.
Strong Bonds
Whilst there is no blood relationship between the pair, Jack Grealish and Phil Foden have a strong relationship both on and off the pitch.
In fact, it has been known to get them in trouble.
In December 2021 the pair celebrated a 7-0 thrashing of Leeds by going on a night out in Manchester city centre.
Unfortunately for them word reached the Manchester City hierarchy of the indiscretion (mainly through photos posted on social media and in the press!).
When the pair reported for a recovery session the following day in less than tip-top condition, Pepe Guardiola decided to punish them by dropping them from the starting lineup for a game against Newcastle the following Sunday.
Guardiola said at the time:
"At Christmas time, I pay a lot of attention to behaviour on and off the pitch. And when off the pitch isn't proper, they're not going to play.

"We have to be focused all the time because of distractions at Christmas time and everything that happens — you have to still be focused."
Like A Little Brother
On the pitch though the pair's connection has had a rather more positive effect.
The couple immediately bonded on international duty at the Euro 2020 tournament, when Grealish was still at Aston Villa.
In fact in his first interview after signing for Manchester City, Grealish said:
"When we are away with England I get on so well with him."

"He makes me laugh. He is like a little brother. I just can't wait to play regularly with him week in, week out.

"I feel like sometimes when you have a connection with someone off the pitch it can transfer onto the pitch.

"We did that in training with England. We would look for each other, play one-twos and I can't wait to be doing that here."
The Statistics
The pair have since combined on the pitch a number of times, often featuring on opposing wings for City.
And the connection between the two has arguably grown even stronger. Before the Manchester derby in 2022 Grealish said:
"I love playing with Phil (Foden),"

"Phil is a brilliant player and I love playing with him. I think he's one of the best youngsters in the world and I think it's only the start for him."
The two have a similar amount of playing time since Grealish joined Manchester City, although Phil Foden has been undoubtedly the more productive in terms of goals and assists:
2021/22 Season
| | | | | |
| --- | --- | --- | --- | --- |
| | App | Goals | Ass | Mins |
| Jack Grealish | 26 | 3 | 3 | 1,916 |
| Phil Foden | 28 | 9 | 5 | 2,134 |
2022/23 Season (up to 7 Feb 2023)
| | | | | |
| --- | --- | --- | --- | --- |
| | App | Goals | Ass | Mins |
| Jack Grealish | 15 | 2 | 3 | 1,042 |
| Phil Foden | 18 | 7 | 3 | 1,047 |
The two players have played 37 games together for Manchester City at the time of writing, sharing the pitch for a total of 2,091 minutes.
All statistics are courtesy of the excellent Transfermarkt website.
Final Thoughts
No Jack Grealish and Phil Foden are not related, although Grealish has said he sees Foden, who is five years his junior, as like a little brother.
The strong bond between the two has been caught on camera a number of times, including the incredible game of no bounce above!
The pair are integral part of both the Manchester City setup and England setup, and are undoubtedly firm friends.
---