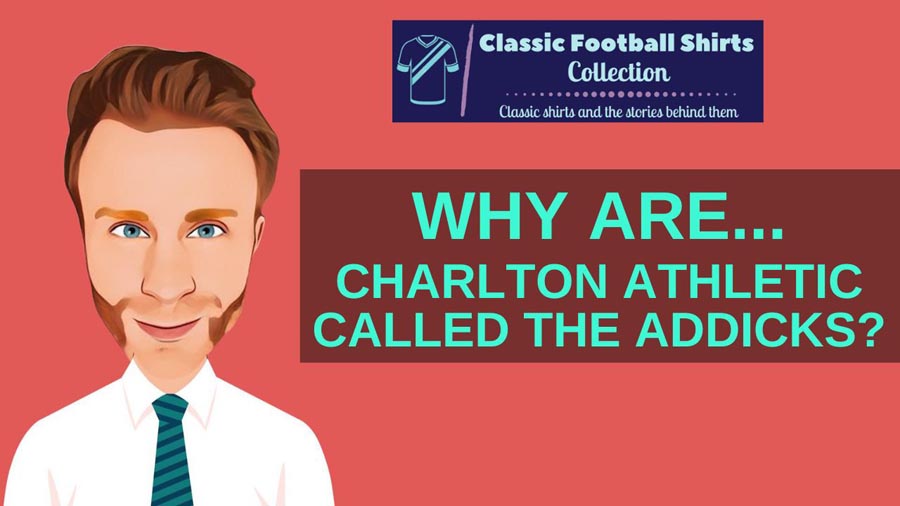 Every football team has a nickname, but very few teams have a nickname that isn't actually an official word.
In our blog today we are going to be looking at a team whose nickname isn't in the dictionary.
So why are Charlton Athletic called the Addicks?
It is all down to one man…
Let's find out a bit more about him.
Why Are Charlton Athletic Called The Addicks?
Charlton Athletic gained its unusual nickname thanks to local fishmonger Arthur 'Ikey' Brown who turned up to home games waving a haddock nailed to a stick, whilst calling out "Haddocks", which sounded like "Addicks" in his South London accent. Soon enough other fans joined him in his unusual routine for local papers to call the club The Addicks, and the nickname stuck.
Arthur 'Ikey' Brown
Despite dying way back in 1956, Arthur 'Ikey' Bryan has left an indelible mark on Charlton Athletic Football Club.
For it was he that was responsible for Charlton gaining the nickname the Addicks, and it was due to his rather unusual way of showing his support for the club and promoting his business at the same time.
Arthur Bryan was a local fishmonger, who operated out of a shop located at 77 East (now Eastmoor) Street in Charlton.
He came from a keen sporting family, and it was at his shop that the club was officially formed on 9 June 1905. Arthur also donated funds to the fledgling club.
For its first season, the club played just friendly games, but in 1906 they joined, and promptly won, the Lewisham League.
Over the next 15 years, the club was forging a reputation as a strong local side and would go on to win numerous local leagues and cups, before being admitted to the Football League in 1921.
By the time they joined the Football League the nickname of the Addicks was well and truly associated with them, having been first documented in late 1908.
And this is where Arthur 'Ikey' Bryan comes in…
The Start of Something Fishy Going On
Arthur was a very recognisable figure. His eyesight problems meant he wore rather unusual spectacles with one frosted lens, which earned him the nickname "fog eyes".
However the spectacles were far from the most noteworthy thing about him when it came to him showing his support for Charlton Athletic.
Arthur would turn up at home games dressed in his fishmonger outfit of a straw boater and striped apron, with a piece of haddock tied to a stick which he would twirl around his head whilst shouting out the word 'haddocks' to promote his nearby business.
With his strong South London accent, the 'h' was dropped from the word and the 'o' became corrupted to 'i' with lazy usage.
The presence of Arthur shouting "Addicks" became so common that he became known in the local press as "The Addicker".
The book, The Addicks Cartoons: An Affectionate Look into the Early History of Charlton Athletic, carries a first reported reference to Charlton as 'The Haddocks' in a cartoon on 31 October 1908.
However by 1910 this nickname had become The Addicks.
It is thought that it was the Kentish Independent newspaper that coined the slightly corrupted variation of the nickname following Charlton's appearance in their first cup final, The Woolwich Cup Final in 1909, a game at which Arthur Bryan was by all accounts particularly vocal!
Arthur's enthusiasm rubbed off on a number of other fans, and often several supporters could be seen at home games twirling haddocks around their heads whilst supporting the team!
Fish, Diving and Dancing
Arthur's self-promotion before games had the desired effect with his fish shop at 77 East Street becoming popular with both players and fans.
It wasn't uncommon for Charlton and their opponents to have a post-match meal of fish and chips at Arthur's shop.
Twice married Arthur certainly kept himself busy when he wasn't supporting Charlton or working in his fish shop, he had 13 children!
Arthur's son-in-law, Frank Mercer, was the UK diving champion in 1961 and represented England in the 1954 Commonwealth Games in Vancouver where he came seventh.
He then went on to open the Bickley School of Dance in 1975, which went on to produce some of the world's leading ballroom dancers.
Arthur was still seen well into the 1920s outside his shop shouting "Addicks for sale" to promote the fresh fish hanging from the awnings.
Unfortunately in the 1930s, Arthur fell onto hard times and for a number of years he was reduced to living on a council allotment.
He died in 1956 at King's College Hospital in Dulwich and is buried in Charlton Cemetery.
The Fall and Rise of the Addicks
Perhaps coincidentally, Charlton's nickname of the Addicks fell into disuse for many years around the time of Arthur's death.
Instead two other nicknames, The Robins, and The Valiants, became more popular.
However, the original nickname never disappeared completely. 
When Charlton lost its home at the Valley in 1985 and moved in to share with Crystal Palace at Selhurst Park, The Addicks nickname was revived and it remains the official nickname of the club to this day.
Final Thoughts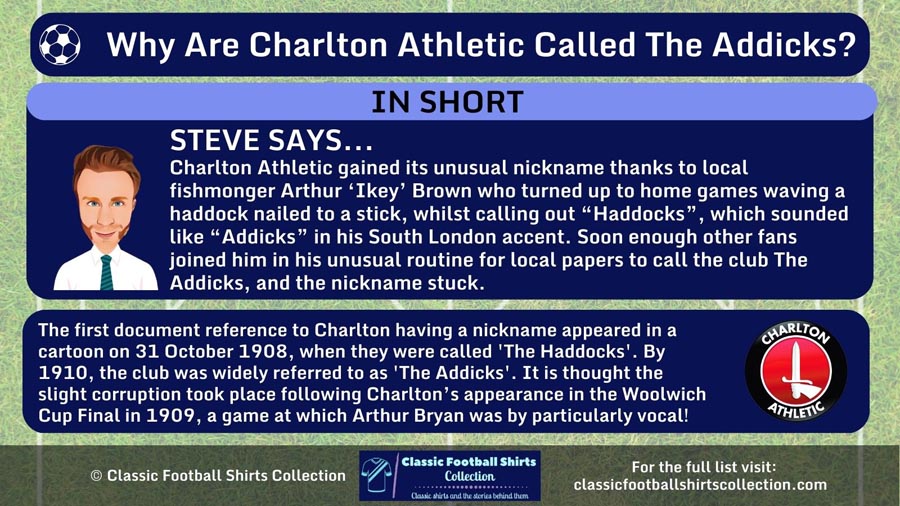 Charlton Athletic's nickname of The Addicks all comes down to one person, a quirky local fishmonger called Arthur 'Ikey' Brown.
His tradition of turning up to support Charlton waving a haddock nailed to a piece of wood, whilst shouting out 'Addicks', was meant to promote his local fish shop.
And that it did, the shop at 77 East Street became somewhat of a local landmark.
But it also had a much longer-lasting effect, it lead to the local press calling Arthur 'The Addicker', and then the team 'The Addicks'.
And the nickname continues to this very day!
---