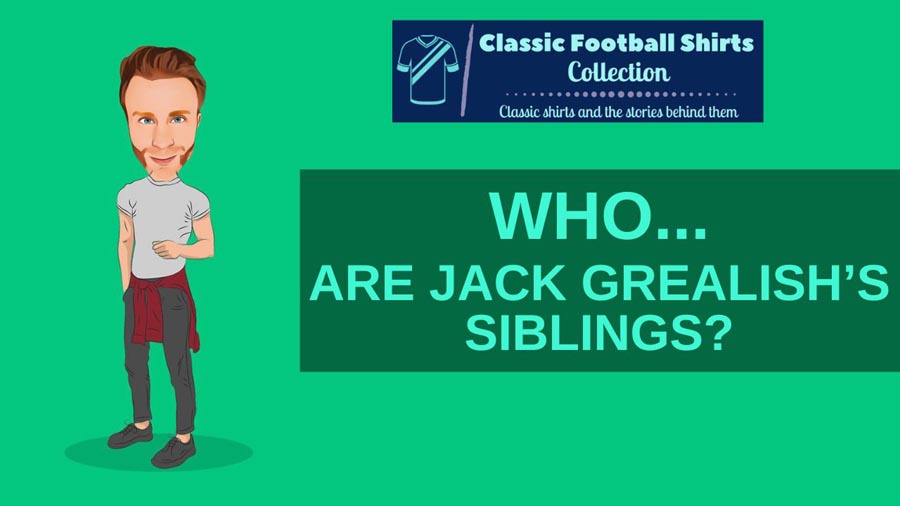 He is one of England's most recognisable football stars, but not everyone knows the full story behind his family, which does include some tragedy.
In this blog we are going to take a closer look at Jack Grealish's siblings, who they are and how they have influenced his life and career.
It will be emotional and inspiring (hopefully) in equal measures.
So let's get started…
Who Are Jack Grealish's Siblings?
Jack Grealish is the eldest of five siblings. In order from oldest to youngest they are Jack, Kevan, Keelan, Kiera and Hollie. Unfortunately Keelan died of sudden infant death syndrome in 2000 at just nine months old. His sister Hollie was born with cerebral palsy.

How Many Siblings Does Jack Grealish Have?
Born on 10 September 1995, Jack Grealish is the eldest of five siblings.
They are:
Jack: Born 10 September 1995.
Kevan: Born 1997 (exact date of birth unknown).
Keelan: Born 25 June 1999, died 2 April 2000.
Kiera: Born 14 October 2001.
Hollie: Born 30 August 2003.
Like Jack and his parents, all of his siblings are diehard Aston Villa fans.
His brother Kevan has been particularly proactive in the past defending Jack from unwarranted media criticism, notably around his failed move from Aston Villa to Tottenham in 2018.
We have already talked a little bit about Jack's parents when we discussed how he qualified to play for Ireland.
How Did Jack Grealish's Brother Pass Away?
You no doubt noted in the list of Jack Grealish's siblings above that his brother Keelan died in April 2000, when he was just nine months old.
Keelan Daniel Grealish died of sudden infant death syndrome (SIDS), more commonly known as cot death, on 2 April 2000.
SIDS is the sudden, unexpected and unexplained death of an apparently healthy baby, usually less than a year old.
Experts still don't know the exact cause of SIDS, but they believe it is down to a number of factors:
Babies born prematurely or with a low birth weight.
Defects in the part of the brain that controls breathing and arousal from sleep, which often has not matured sufficiently to work properly.
Respiratory problems and regulation of heart rate.
In the UK around 200 babies a year die as a result of SIDS.
Whilst this number may seem high, it represents just under 0.03% of all babies born in the UK each year, or around one in every 3,330 births.
Jack was only four years old when Keelan died, but when he scored his first goal in senior football, whilst on loan to Notts County he dedicated it to Keelan.
In November 2018 Grealish also dedicated his goal for Villa in a 4-2 win over rivals Birmingham to his brother, saying after the game:
"I had a tear in my eye when I celebrated, which you could see. All my family are big Villa fans.

"I had a little brother that passed away earlier in my life. That goal is dedicated to him."

Jack Grealish after scoring for Aston Villa against Birmingham in 2018
What Condition Does Jack Grealish's Sister Have?
Unfortunately for the Grealish family, they were faced with another potential tragedy with the birth of Jack's youngest sister Hollie in 2003.
Hollie was born three months prematurely with cerebral palsy, a lifelong condition that affects movement and coordination.
Doctors warned the family that it was likely she would never be able to walk and talk.
But thankfully this story has a much happier outcome as Jack himself explained in 2022:
"I'm so close with my little sister. Hollie is 19 now and she was born three months premature. They said that she wouldn't be able to talk, that she wouldn't be able to walk and do a lot of stuff, but here we are and she can do everything."

Jack Grealish talking about his sister.
Jack's close relationship with his sister was demonstrated in 2021 when he threw an 18th birthday party for her and invited her favourite Coronation Street actor Andrew Whyment, as a surprise.
After the party Whyment shared a message on Instagram:
To which Hollie responded: "You've made my night complete, thank you so much for coming, hopefully I'll see you soon xxx."
Jack has also carried out a lot of charity work for Children in Need and Saving Lives and is an Ambassador for Special Olympics GB, saying at the time: "Special Olympics GB is such an important organisation, playing a huge role in tackling the lack of inclusion for hundreds of thousands of kids in the UK with intellectual disabilities".
And when Jack Grealish scored for England against Iran in the 2022 World Cup he dedicated the goal, and a special celebration, to 11-year-old Manchester City fan Finlay Fisher who also suffers from cerebral palsy.
Finlay had written to Grealish after finding out that Hollie also had cerebral palsy, and in his letter to the star said:
"To Jack, My name is Finlay and I am 11 years old. I am a huge Man City fan and England Fan. I have cerebral palsy and I saw that your sister has cerebral palsy too.

"I love the way you are really good with her, you really get it. You always have her there with you and look really proud, especially when we won the league.

"'I wish there were more people in the world more like you who treat people with disabilities the same as everyone else."

A letter from 11-year-old Manchester City fan Finlay Fisher to Jack Grealish.
Jack then surprised Finlay at a City in the Community event held by Manchester City and promised to dedicate his next goal to him.
And that next goal happened to be in the World Cup for England!
Final Thoughts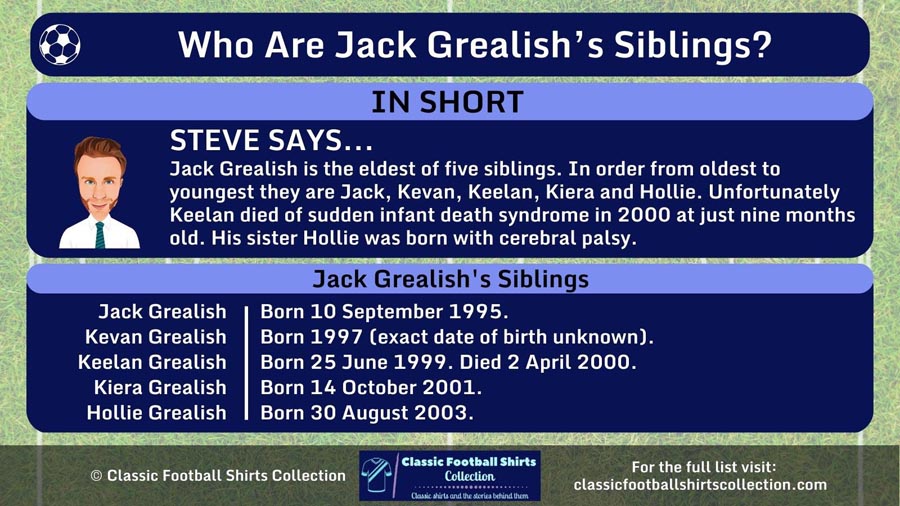 Jack Grealish is the oldest of five siblings, although unfortunately one of his brothers died at nine months old in 2000, however he remains very close with his two sisters and one other brother.
Jack is especially close to his youngest sister Hollie who suffers from cerebral palsy, calling her his best friend, and also his inspiration and his hero.
The Manchester City and England star is a strong advocate for breaking down barriers in sport for children with intellectual disabilities and even had the presence of mind to keep his promise and dedicate his World Cup goal in 2022 to a fan who has cerebral palsy.
---