The tug-of-war between Ireland and England for the services of Jack Grealish made big headlines at the time.
Grealish had, after all, been playing for Ireland since 2011 before declaring his allegiance with England in 2015.
But with such a broad Brummie accent, how does Jack Grealish qualify for Ireland?
That is what we are going to look at today.
So let's jump in…
How Does Jack Grealish Qualify For Ireland?
Despite both Jack Grealish and both of his parents being born in Birmingham, he qualifies to play for Ireland as he has three Irish grandparents. Grealish represented Ireland a total of 19 times in the under-17s, under-19s and under-21s before pledging his allegiance to England in September 2015. He didn't make his full England debut for another five years however.

To get to the bottom of this we need to ask a few questions.
Is Jack Grealish Irish?
Nope.
Are Jack Grealish's parents Irish?
Nope, both his dad Kevin and his mum Karen were born in Birmingham, so they aren't Irish either.
I am guessing you can now work out how Jack Grealish does qualify for Ireland?
Yep through his grandparents.
The Irish Connection
Jack Grealish's grandparents on his dad's side are both Irish.
His grandmother on his dad's side was born in Sneem in County Kerry and his grandfather was born in Gort in County Galway.
There is also an Irish connection on his mum's side, with his maternal grandfather coming from Dublin.
This Irish influence was felt before he started playing football for the Republic of Ireland representative teams.
He actually played Gaelic Football for John Mitchel's Hurling and Camogie Club of Warwickshire GAA between the ages of 10 and 14 before it was decided it was too much of an injury risk and he stopped playing to concentrate solely on football.
Why Ireland Not England?
So why did Jack Grealish start playing for Ireland rather than England?
His father revealed that both nations wanted him to play for them, and Grealish was actually named in an England under-17 team in 2011 when he was 15, but he declined the invite.
Jack initially plumped for Ireland as that is who his mates were playing for:
"When his career started off, England were calling for him and Ireland were calling for him when was 14, 15. Some of the Villa teammates he was with, like Mickey Drennan and Samir Carruthers were all young Irish lads and they were all playing for Ireland."

Kevin Grealish, Jack Grealish's father.
So on 19 October 2011, Jack Grealish made his debut for Ireland under-17s, playing for an hour and scoring as they beat Liechtenstein 6-0.
Grealish would go on to play seven times for Ireland's under-17s scoring three goals.
But during this time there was more uncertainty about his international future.
Grealish didn't get off the bench at the World Under-19s Championships in October 2012 and there was speculation that he was considering a switch to England at this time.
However the following August he won his first call-up to Ireland's under-21s and made his debut as a second-half substitute in a game against the Faroe Islands
In November 2013 he made his first start for the Republic of Ireland under-21s, scoring a goal in a 5-2 victory also against the Faroe Islands.
By now Grealish's stock was really beginning to rise. In September 2013 he made his professional debut, it came on loan at Notts County from Villa.
He went on to play 37 times for Notts County, scoring five goals, making seven assists and playing a big role in helping the club avoid relegation from League One.
On his return from Notts County he made his debut for Aston Villa, coming on as an 88th-minute substitute in a 4-0 defeat to Manchester City on 7 May 2014.
Decision Time
Speculation about his international future really picked up in August 2014 when Martin O'Neill revealed he had wanted to include Grealish in a full international squad, but Grealish had asked for time to weigh up his options.
"I spoke to his father, I spoke to Jack, he's a young kid coming through and he's got a lot of potential — I've said this before. I think they just want to take a little bit of time.

"Of course he's got a number of options. He has felt comfortable playing underage football but underage football is a completely different thing to committing yourself to senior football."

Martin O'Neill. Republic of Ireland manager at the time.
Then in October 2014 Grealish withdrew from Ireland's under-21 squad to concentrate on club football.
This didn't stop him from being named the FAI U21 Player of the Year in March 2015 though.
After 11 substitute appearances, Grealish made his first Premier League start on 8 April 2015 and then followed it up with a Man of the Match performance in Aston Villa's FA Cup Semi-Final victory over Liverpool later that month.
In August 2015 Martin O'Neill said he had again spoken to Grealish and his father and that he expected him to make a decision on his international future 'very soon'.
The following month, on his 20th birthday, Grealish scored his first Premier League goal.
Two weeks after that, on 28 September 2015, he finally came to a decision about his international future:
"I have decided to give my allegiance to England. It was not an easy decision as Ireland has a special place with me through my family. However, I have decided to represent my country of birth."

Statement by Jack Grealish on 28 September 2015.
A Long Wait
It would be a long time before Grealish actually made his full international debut however.
Grealish did debut for England Under-21s on 19 May 2016 though, and was part of the team that won the Toulon Tournament that year.
Finally on 31 August 2020, two weeks before his 25th birthday, Grealish was called up to the England senior squad.
He made his full international debut on 8 September 2020 as a 76th-minute substitute in a 0-0 draw with Denmark.
At a press conference prior to Euro 2020 Jack Grealish explained why he had turned his back on Ireland and decided to represent England:
"As I got older, I started playing obviously at Villa, in the first-team, I broke through. And there was a time when I thought: 'obviously I am English, my parents were born in England, I was obviously born in England, so I feel English'. So yes, I obviously changed to England and since then I never looked back. I've enjoyed every moment that I've had here. And I wouldn't be here today if I didn't."

Jack Grealish explains why he choose England over Ireland.
Final Thoughts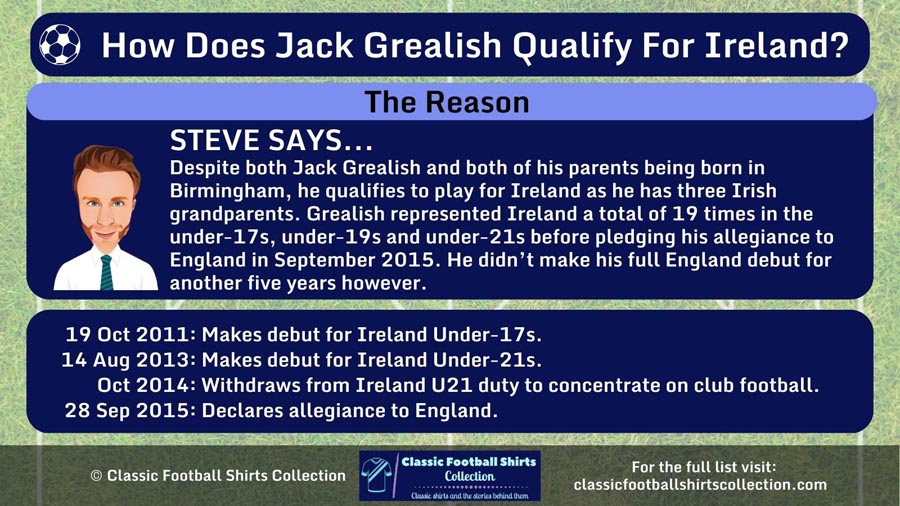 So that is the story of how Jack Grealish qualified for Ireland and why he later decided to switch allegiances and play for England.
As he explained in his quote at the Euro 2020 press conference, Jack Grealish is English, as are both of his parents.
It was the fact he had three Irish grandparents that made him eligible to play for Ireland, and as a number of his Villa teammates were Irish and playing for the Ireland Under-17 team at the time he decided to follow suit so he could play football with his mates.
As he got older and things got more serious, he said he felt English and that is who he wanted to play for.
At the time it caused quite a furore, and just when it had died down it was reignited when in February 2019 Declan Rice decided to do exactly the same thing!
---