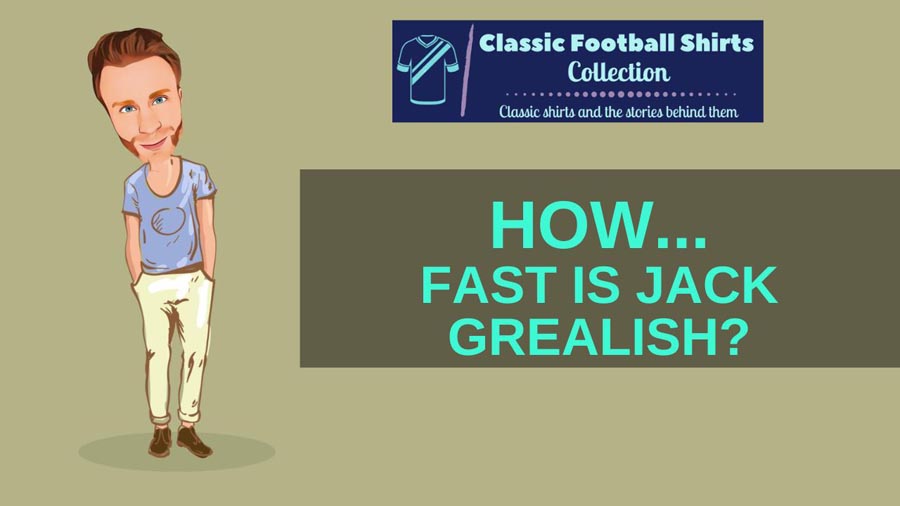 When you think about Jack Grealish, many things probably come to mind.
His close control and touch, his tricky feet, the fouls he continually draws from opponents, his chunky calves, his hair and his headband.
But one thing we probably don't automatically associate with Jack Grealish is pace.
I mean none of us would think of him as slow, but how fast is Jack Grealish?
Let's take a closer look…
How Fast Is Jack Grealish?
Jack Grealish's top recorded speed is 32.1 km/h or 19.95 mph. This puts him roughly in the top third of footballers by speed, but he is still behind a number of players including Shakhtar Donestyk's Mykhailo Mudryk who recorded 36.6 km/h (22.74 mph) in the Champions League and Darwin Nunez of Liverpool who clocked up 36.5 km/h (22.68 mph) in the Premier League.

What Does FIFA Say?
We all know that what the real oracle of football says goes… So how fast is Jack Grealish according to EA Sports the makers of FIFA?
Grealish's pace rating on FIFA 2022 is 80, up four from 76 in FIFA 2021.
Other players with pace ratings of 80 in FIFA 2022 include Antoine Griezmann, Bernardo Silva, Callum Wilson, Denzel Dumfries, Pepe and Reece James.
Just for the record, Grealish has an overall rating of 84 in the game, and also scores 76 for shooting, 83 for passing, 88 for dribbling, 46 for defending and 64 for physicality.
He lags behind the fastest player in the game, Kylian Mbappe whose pace is rated at 97.
Just behind Mbappe are Adama Traore and Alphonso Davies who scored 96 for pace, then Achraf Hakimi, Daniel James and Vinicius Jr all score 95.
Kye Walker is his fastest teammate with a pace rating of 92, next is Joao Cancelo who rates at 85, then Phil Foden on 84.
But that still doesn't answer the question…
How Quick is Jack Grealish?
Establishing the top speed of Premier League players is a little more difficult as OPTA doesn't release the stats for every player, but we do know Jack Grealish's top speed in the Champions League.
According to UEFA statistics his top speed in the 2022/23 Champions League season at the time of writing is 32.10km/h or 19.95mph.
So how does that compare to some of his Manchester City teammates?
Erling Haaland: 34.9 km/h (21.69 mph)
Kyle Walker: 34 km/h (21.13 mph)
Joao Cancelo: 33.72 km/h (20.95 mph)
Julian Alvarez: 32.71 km/h (20.36 mph)
Phil Foden: 32.4 km/h (20.13 mph)
Jack Grealish 32.1 km/h (19.95 mph)
Riyad Mahrez: 31.4km/h (19.51 mph)
And the quickest players in the Champions League overall for the 2022/23 season:
Mykhailo Mudryk (Shakhtar): 36.6 km/h (22.74 mph)
Ousmane Dembélé (Barcelona): 36.6km/h (22.74 mph)
Rafael Leão (AC Milan): 36.5 km/h (22.68 mph)
Federico Valverde (Real Madrid): 36.3km/h (22.56 mph)
Nuno Tavares (Marseille): 36.2 km/h (22.49 mph)
Jack Grealish 32.1 km/h (19.95 mph)
And finally the quickest players in the Premier League so far in the 2022/23 season:
Darwin Nunez (Liverpool): 36.5 km/h (22.68 mph)
Gabriel Martinelli (Arsenal): 35.9 km/h (22.30 mph)
Diogo Dalot (Manchester United): 35.8 km/h (22.25 mph)
Allan Saint-Maximin (Newcastle): 35.7 km/h (22.18 mph)
Jack Stacey (Bournemouth): 35.6 km/h (22.12 mph)
Jack Grealish 32.1 km/h (19.95 mph)
And then finally, how does Jack Grealish compare against the fastest people ever:
Usain Bolt: 37.6 km/h (23.4mph)
Yohan Blake: 37.2 km/h (23.1 mph)
Tyson Gay: 37.2 km/h (23.1 mph)
Asafa Powell: 37.04 km/h (23.01 mph)
Justin Gatlin: 36.96 km/h (22.97 mph)
Jack Grealish 32.1 km/h (19.95 mph)
In the grand scheme of things, in terms of speed, next to the man on the street Jack Grealish will seem like Usain Bolt, but next to Usain Bolt he will seem like the man on the street.
He is reasonably fast for a footballer and definitely faster than average.
His top speed of 19.95 mph equates to an 11.21-second 100m, although you have to remember that 32.1 km/h (19.95 mph) is his top speed and it would take him a few seconds to work up to that.
That said I think we could definitely say his 100m time will be somewhere around the 12-second mark, which makes him quick!
Who Does Grealish Say is the Quickest?
Grealish is in no doubt as to who the quickest player he has ever played with or against is though.
Speaking ahead of the launch of FIFA 2021 he said "I know Mbappé is fast, and one of the top five players in the world, but Adama (Traore) is the fastest person I've ever seen play football in my life. He should be highest."
Both Traore and Mbappe were given a 96-pace rating for FIFA 2021.
Final Thoughts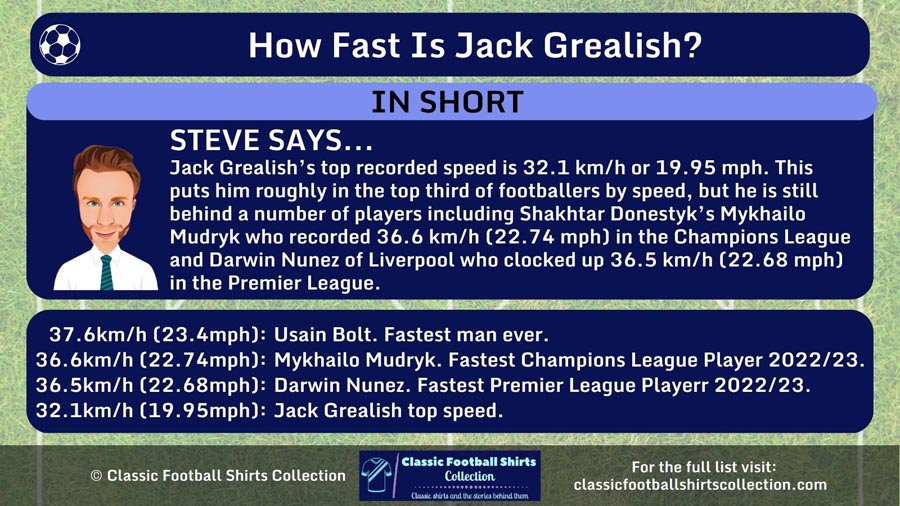 Jack Grealish is pretty fast.
His top speed in the Champions League has been registered at 32.1 km/h or 19.95 mph.
Whilst there are still a number of players faster than him, this probably puts him in the top third or so of players and equates to an around 12-second 100m sprint.
He is still roughly 2.5 mph slower than the fastest players in the game and 3.5 mph than the quickest man ever, Usain Bolt, but if you are asking is Jack Grealish fast, then I think we can safely say he is!
---