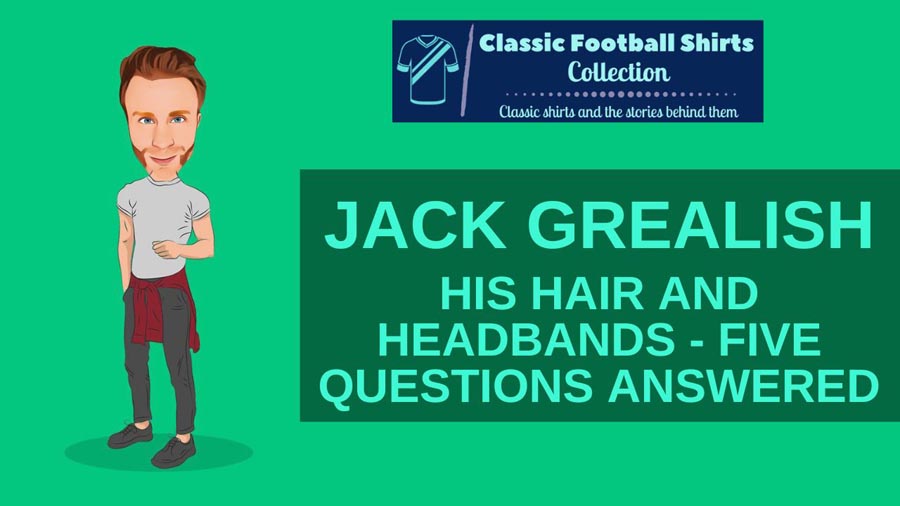 There was a time when footballers were just footballers.
Now they seem to be influencers, politicians, moral compasses and fashion icons!
Definitely fitting into that last category is Manchester City and England's Jack Grealish.
He became a 'brand ambassador' for Gucci in 2022 and is instantly recognisable for his haircut and his headbands.
And it is that which we are going to focus on today.
So let's dive in…
Jack Grealish – His Hair and Headbands in Short
We believe Jack Grealish wears Nike Swoosh or Nike Skinny headbands, and they are kept on because they are very tight-fitting. Jack Grealish gets his hair cut at A Star barbers in Chessington, barber to the stars, they are also responsible for cutting the hair of Paul Pogba, John Terry, Declan Rice and many others.

What Headband Does Jack Grealish Wear?
It is actually difficult to pinpoint the exact headband that Jack Grealish wears and the closest he has come to revealing it is to simply say he gets his headbands from Amazon.
Judging by their appearance, and the fact Grealish is sponsored by Nike and wears Nike boots, we suspect they are Nike Swoosh headbands or Nike Skinny headbands.
Both are billed as tennis headbands, but can obviously be worn for other sports!
How Does Jack Grealish Keep His Headband On?
There has been a fair bit of debate about this, with many hairdressers weighing in to suggest the way he styles his hair is partly responsible for keeping his headband on.
Others have said that he uses hoops or hair clips hidden at the back of his hair to keep everything in place.
But I would say Stéphane Ferreira, from Live True London hair salon is probably closest to the mark when she says: "Sizing is key to keep the headband in place while he is moving around the football pitch."
If you take a look at closeup photos of Jack Grealish wearing his headband, there certainly don't seem to be any additional hair clips keeping the headband in place.
In fact, the area which the headband goes over at the back of his head is very closely shaven so there is definitely no extra support there. See the images below.
It simply looks like it stays on because it is very tightly fitted and it doesn't move around much.
This is probably aided by the very precise haircare routine that he revealed during a 2021 interview with England's Lions Den YouTube show:
"A little bit of shampoo and conditioner, have it in for a couple of minutes – get the shower gel on and at the end wash it out. When I get out of the shower I dry it, then I put Moroccan oil in it, whack the hairdryer out, get the hairbrush and in front of the mirror, do my trim.

"When my hair is dry I put hair bond in it, like a wax, to style it, then a bit of hairspray at the end to hold it. So three things: I use Moroccan oil, hair bond wax and the hairspray."

Jack Grealish, talking about his hair routine.
So by the time he puts his headband on, his hair is already pretty well styled, the hairband just needs to be tight enough to stay in place.
Why Does Jack Grealish Wear A Headband?
Quite simply to stop his hair from flopping around whilst he plays football!
If you look back through Jack Grealish's Instagram profile you will notice that he doesn't seem to start wearing the headband until the start of the 2019/20 season.
This photo posted on his Instagram page on 13 July 2019 is the first in which he is wearing a headband.
And that basically correlates with the period when he started growing his hair out.
Does Jack Grealish Wear A Wig?
Most definitely not! In fact, for proof of that, read the next section…
Where Does Jack Grealish Get His Haircut?
Jack Grealish gets his haircut at A Star Barbers, famous for cutting the hair of numerous footballers including John Terry, Paul Pogba, Eden Hazard, Declan Rice, N'golo Kante and many more.
The business was started by Ahmed Alsanawi, a self-taught barber who began by cutting the hair of Chelsea youth team players back in 2008.
Noticing the sharp cuts of the younger players, first-team players like John Terry began coming in and now the barbers has a star-studded following.
Grealish has a fair distance to travel as A-Star is based in Chessington, on the borders of Surrey and Greater London.
He was captured there on A Star's Instagram page.
Want to have your hair cut like Jack Grealish?
It might not be as expensive as you imagine, A Star's prices start from just £20.
Final Thoughts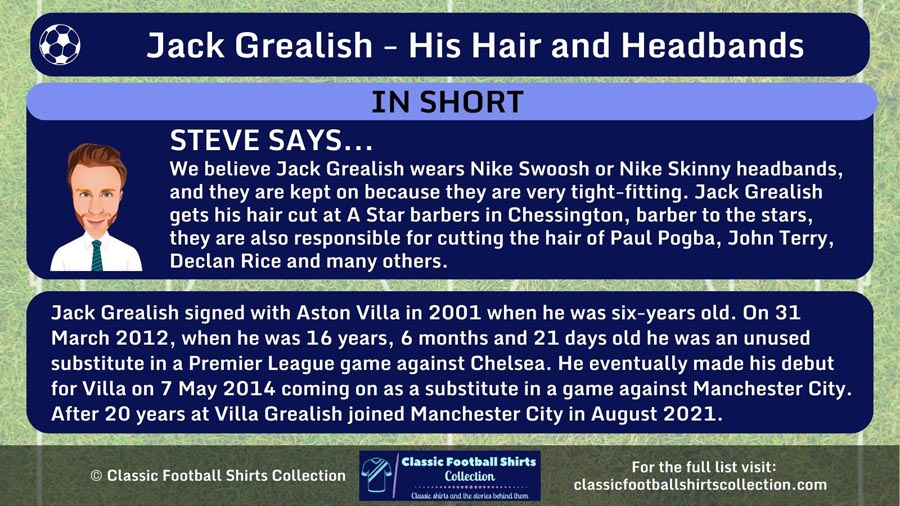 Jack Grealish has become something of a style icon with his seriously coiffured locks and precise beard line.
It is no wonder there are so many questions around his hair and his headband!
And you'd be surprised that neither his haircuts not his headbands are excessively expensive.
We think he wears Nike Swoosh or Nike Skinny headbands which cost between £2 and £3 each and it costs between £20 and £60 to get your haircut at A Star barbers, Jack Grealishs' barbers of choice.
Oh and he most definitely doesn't wear a wig!
---