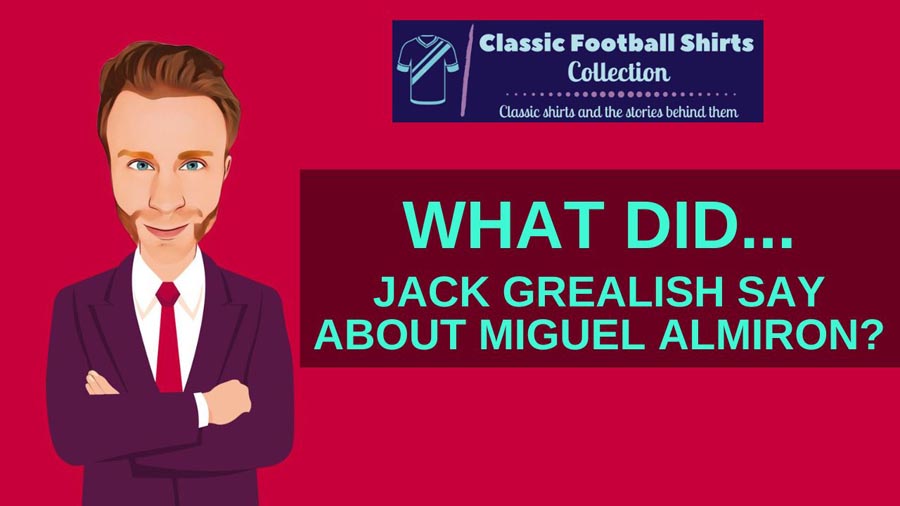 We have all said something we regret when we are drunk.
And for 99.9% of us that isn't a problem, as there isn't someone with a smartphone videoing it!
But when you play for one of the biggest clubs in the country, you have just won the league and you make a flippant remark about a fellow pro when you are under the influence of alcohol you really don't want someone to capture it on camera.
Unfortunately, someone did for Jack Grealish!
So what did Jack Grealish say about Miguel Almiron?
Let's find out…
What Did Jack Grealish Say About Miguel Almiron?
As Manchester City celebrated their title win in May 2022, a drunk Jack Grealish said that Riyad Mahrez had to be substituted in the club's dramatic last-day-of-the-season win, as he had been playing like Almiron. Grealish has since apologised for the remark and Miguel Almiron is having the season of his life in 2022/23!

What Grealish Said…
During Manchester City's trophy parade in May 2022, Jack Grealish said something that has come back to bite him quite severely.
His teammate Bernardo Silva asked him on camera, what was the secret behind Manchester City's amazing final-day comeback against Aston Villa that saw them win the title.
In the video, Grealish says it was down to two things.
The second was Silva, of whom Grealish said "he's been so good this season, get him off the pitch."
The first though, was the thing that he regrets saying now. Grealish said:
"Riyad [Mahrez], take him off the pitch, as soon as possible. He played like [Miguel] Almiron."
There was some truth in what he said.
In the 56th minute against Villa, Manchester City were 1-0 down when Riyad Mahrez was substituted.
In the 68th minute, with City still 1-0 down, Silva was also substituted.
They then went 2-0 down in the 69th minute before storming back to win 3-2 courtesy of two goals from substitute Ilkay Gundogan and assists from two other substitutes, Oleg Zinchenko and Raheem Sterling.
RELATED ===> Revealed: The Best Retro Manchester City Shirts
How Do Their Stats Compare?
It was the mention of Almiron though that caused controversy.
But was it justified?
Well let's look at Almiron's Premier League stats before and after Grealish's comment:
Miguel Almiron Premier League stats pre-Jack Grealish's comment:
Played: 110 games / 7,953 minutes
Goals: 9
Assists: 3
Minutes per goal: 883.67
Minutes per assist: 2,651
Miguel Almiron Premier League stats post-Jack Grealish's comment:
Played: 18 games / 1,499 minutes
Goals: 9
Assists: 1
Minutes per goal: 166.56
Minutes per assist: 1,499
Maybe Grealish was right to pinpoint Almiron as an unproductive attacking player at the time.
However, Almiron has been electric this season and was named Premier League Player of the Month for October 2022.
So how does Jack Grealish compare to Miguel Almiron in terms of Premier League statistics:
| | | |
| --- | --- | --- |
| | Grealish | Almiron |
| Played | 133 games / 9,722 minutes | 128 games / 9,452 minutes |
| Goals | 19 | 18 |
| Assists | 25 | 4 |
| Minutes per goal | 511.68 | 525.11 |
| Minutes per assist | 388.88 | 2,363 |
*All statistics correct up until 6 January 2023.
So Grealish fares better than Almiron on all fronts overall, but if Almiron carries on with this season's form it looks likely he will soon catch and exceed Grealish on the goals tally at least.
A Happy Ending
The story has a happy ending at least though, thanks in main to Almiron's response to Grealish's jibe.
The Paraguyan said:
"Would I shake his hand the next time we line up to play Man City? Yes. Yes, I would. Of course, I'd shake hands with him. Like I have said and as I keep on insisting to people, Jack Grealish is a great player and I just wish him all the best."
Which lead to Grealish saying to the Evening Standard:
"Sometimes I do stupid stuff, that was one. I regret that. I swear, I'm actually buzzing the way he's reacted. He said something about me in the interview the other day, he wished me the best. I thought, 'what a guy man' because if that was me and somebody had said that about me, I'd have probably been the other way.

"I messaged Matt Targett (Almiron's Newcastle teammate) because I'm close with him from Villa and I said to him 'can you message him for me and say to him that I apologise, I obviously didn't mean it'. When I look back on that, that was just one thing that was stupid of me to say it. I shouldn't have said it."
Final Thoughts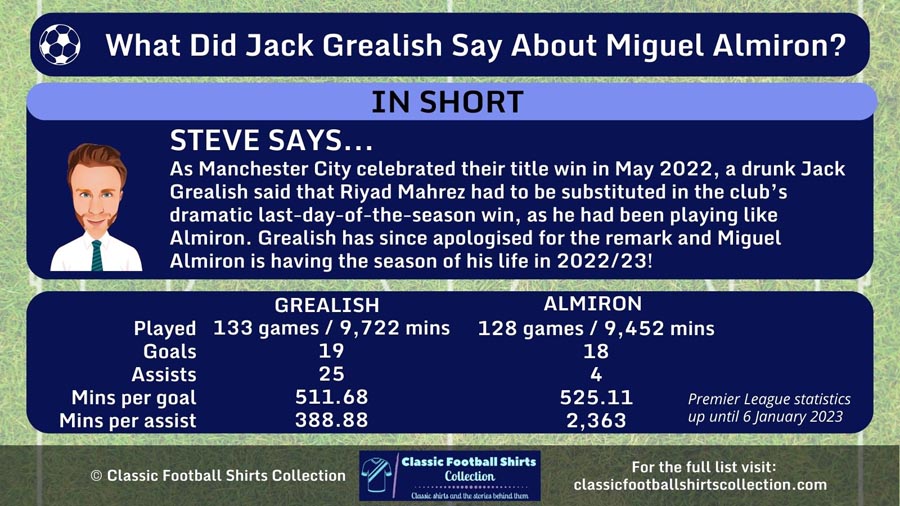 So there we have it, I think we can assume that a sober Jack Grealish wouldn't have made those comments about Miguel Almiron.
Either way it seems to have worked out for the best as Almiron brushed the comments off, and has been in the form of his life this season.
He has scored as many goals this season as he did in his previous three and a half seasons in the Premier League combined.
And he has helped propelled Newcastle right to the very top of the Premier League, where they currently sit just behind Grealish's Manchester City.
---