Jack Grealish is considered something of a style icon.
His neatly coiffured hair and sharp dress sense have seen him become a Gucci ambassador.
But his style on the pitch has also created waves as well, and of all things, it is his socks and shinpads (and calves!) that get discussed a lot!
So why does Jack Grealish wear his socks so low? And does he even wear shin pads?
We take a closer look.
Why Does Jack Grealish Wear His Socks So Low?
Jack Grealish wears such short socks through superstition. He has revealed he was forced into wearing them when he was 15/16 years old as the socks in training kept shrinking. He played so well at that time he decided he couldn't change them and has worn them ever since. Under the socks, he wears shin pads meant for 7 or 8-year-olds.

Jack Grealish's Short Socks: From the Horses Mouth!
There is no scientific explanation for Grealish's super small socks and it isn't in homage to a footballing hero.
The reason why Jack Grealish wears his socks so low comes down to something rife among footballers.
Superstition.
The Manchester City man has explained the reason behind his socks more than once. In an interview with GQ in June 2021 he said:
"People have suggested a lot of different reasons as to why I wear them like that. It began during one season when I was 15 or 16 and the socks in training kept shrinking. I had to wear them underneath my calves and that season I ended up playing really well. So I ended up keeping them like that and to this day I've still got them."
Then the following year he was interviewed for UEFA's website ahead of Manchester City's quarter-final clash with Athletico Madrid.
"That was just something that I've done since I was a kid, I think I was about 14 or 15 at Villa, and the socks used to shrink in the wash. In training, I couldn't get [them] over my calves because the socks were so small.

"I started wearing them underneath my calves in training and that season I ended up playing really well. It was just something that stuck because I'd had such a good season."
He also dismissed speculation that he wears short socks in tribute to one of the greatest players the world has ever seen:
"A lot of people say that it's because of George Best," he said. "While I love him and admire so much what he did, that isn't the reason."
RELATED ===> Revealed: The Best Retro Manchester City Shirts
Short Socks, Big Impact
Timelines marry up with this, as Grealish was 15/16 around the 2011/12 season.
On 31 March 2012, he was part of an Aston Villa matchday squad for the first time, being named as an unused substitute in a league game against Chelsea. That same season he was called up to the Republic of Ireland's U17 team.
The next season he was part of the Villa youth team that won the 2012/13 NextGen Series, a European football club cup competition for under-19 footballers.
Then at the start of the 2013/14 season, he got his first taste of competitive football when he went on loan to Notts County where he scored five goals and contributed seven assists in 38 games.
After his loan spell ended, he finally made his debut for Villa coming on as a substitute in a Premier League defeat to Manchester City on 7 May 2014.
So it all seemed to snowball from when he started wearing short socks!
Does Jack Grealish Wear Shin Pads?
Sporting such small socks, sometimes it is difficult to even see if Grealish is wearing shin pads.
He is of course, but not men's shinpads. Grealish again elaborated on this in his interview with GQ saying:
"My shin pads are kids size, seven to eight, so that's why they're so small."
If we take this shin guard chart from Nike (who sponsors Grealish) to be accurate, that means Grealish is wearing medium-sized children's shin pads.
They would be 14 cm in length, compared to at least 18.5 cm for men's shin pads.
So they are at around 4cm to 5cm shorter than most players' shin pads.
He has no plans to change them either.
"It's a superstition that I've done all my life and I'm going to keep it that way. A few referees have tried telling me but I've got to keep it like that."
Socks and Shin Pads: The Rules
So what are the rules around socks and shinpads?
Well the rules around socks are pretty simple. Teams in a Premier League game cannot wear the same colour socks.
Obviously Grealish will never breach that rule (unless the Manchester City kitman has a major slip-up!).
When it comes to shinpads, the rules are a little stricter but not much.
Like socks, shinpads are compulsory, with section 4.2 of the laws of the game stating:
"shinguards – these must be made of a suitable material to provide reasonable protection and covered by the socks."
Shin pads have been required in football since 1990 when FIFA declared them mandatory.
Final Thoughts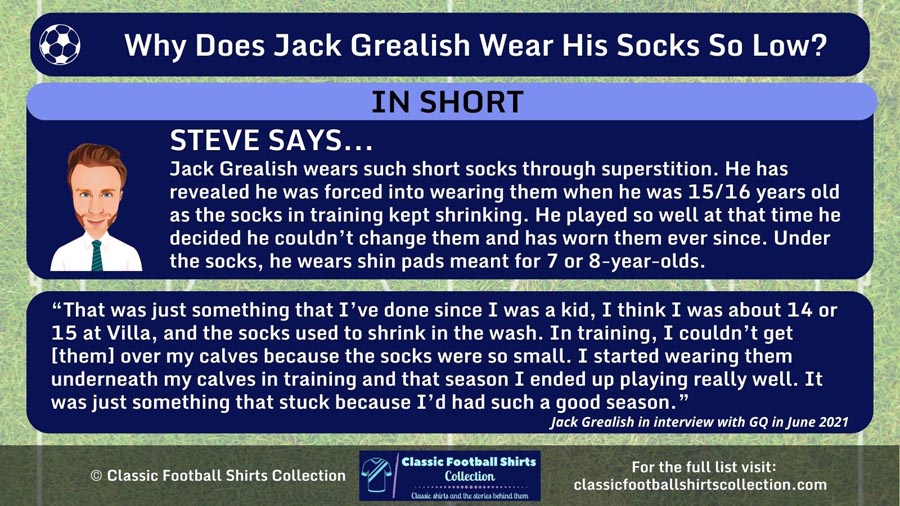 Socks and shin pads go hand in hand.
Small socks equal small shin pads.
Jack Grealish wears short socks out of superstition. He was forced into wearing them when he was a teenager when Aston Villa's socks in training kept shrinking.
Whilst wearing them he started playing really well and has never dispensed with them since!
As a result, he has to wear small shin pads, which he has confirmed are those usually worn by a 7 or 8-year-old.
And he has said he has no intention of ever changing this superstition.
---