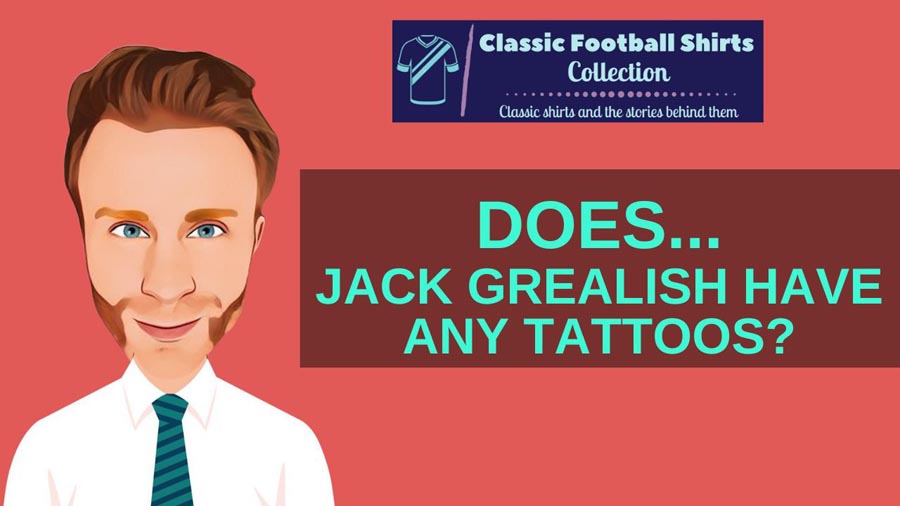 It seems like it is more common to see footballers these days with tattoos rather than without.
It definitely seems to be in vogue.
And with Jack Grealish being somewhat of a fashion icon, surely he has had some part of his body inked?
So does Jack Grealish have tattoos?
That is what we are going to get to the bottom of today.
Does Jack Grealish Have Any Tattoos?
No Jack Grealish does not currently have any tattoos, he has never expressed an opinion on them either way. However many players got their first tattoo directly after the birth of their first child, so when or if Jack Grealish becomes a father then who knows…

Some of the World's Most Tattooed Football Players
Just to reiterate the point made in the introduction, you watch any top game of football today and you will notice that when the players are swapping shirts after the match, there are tattoos everywhere!
In no particular order, some of the world's most tattooed players include:
David Beckham
Back in 1999, a 23-year-old David Beckham got his first tattoo following the birth of his first child, Brooklyn.
Accordingly, the tattoo bore the name of his son.
Since then he has gone on to have more than 60 more tattoos, that cover almost every part of his body barring his face.
These include tattoos devoted to all of his children and his wife Victoria.
Zlatan Ibrahimovic
Zlatan has almost as many tattoos as he does honours and that is saying something.
Although at 6'5 he certainly provides a good canvas for a lot of ink!
In his book 'I Am Zlatan', the Swedish superstar said he soon became addicted to getting tattoos after initially being opposed to them.
He too has a number of tattoos referencing family members and his wife, along with a number of other phrases and images.
He even revealed a removable tattoo with the names of 50 people from around the world suffering hunger, after removing his shirt after scoring a goal for Paris St. Germain against Caen in 2015.
Lionel Messi
Whilst Messi might not be the first player you think of when considering tattooed footballers, he does still have 18 tattoos on his body.
Messi has a very close relationship with his family and this is shown by the fact the first tattoo he got was a portrait of his mother Celia on his left shoulder.
He also has the handprint of his first son Thiago on his calf, whilst on his right arm is a tattoo of his wife, Antonela Roccuzzo's eye. Rocuzzo's lips are also tattooed at the base of his stomach.
Messi's most iconic tattoo is probably the blacked-out sleeve on his calf, with a prominent No. 10 visible.
Sergio Ramos
Sergio Ramos seems to get a new tattoo every time he wins something, and as one of the world's most decorated defenders, it is no surprise he is covered by more than 40 tattoos.
Along with references to his family, Ramos's strict Catholic upbringing and religious background are also well represented.
Then there are the numerous tattoos dedicated to his honours, including the European Cup, World Cup and La Decima he helped Real Madrid win with an injury-time equalizer to take the 2014 European Cup Final against Atletico Madrid to extra-time.
Memphis Depay
Dutch international Memphis' most prominent tattoo is a huge lion that covers his entire back.
He too has a number of tattoos dedicated to his family, including a tribute to his late grandfather on his arm.
On the left-hand side of his torso is a tattoo with the date he scored his first international goal for the Netherlands.
Such is his addiction to tattoos that he even has succesvol (which is Dutch for 'successful') tattooed on the inside of his lip.
Ouch!
So What About Jack Grealish?
So it is rather surprising to learn that Jack Grealish doesn't have any tattoos.
Take a look at his Instagram page and you can see that is the case.
In my research he doesn't seem to have made a statement either way about his future intentions to get a tattoo or not, but the fact he has got to the age of 27 and not felt the need to, indicates his body might remain tattoo free in the future.
But who knows!
That isn't to say he hasn't inspired some tattoos.
Aston Villa fan Adel Hudson admitted she had got Grealish to sign her leg and then had it tattooed over, whilst Marlon Carrington also got a tattoo of his son Carter and Jack Grealish on his thigh to commemorate eight-year-old Carter walking out onto the Villa Park turf as mascot alongside Grealish in 2016.
Final Thoughts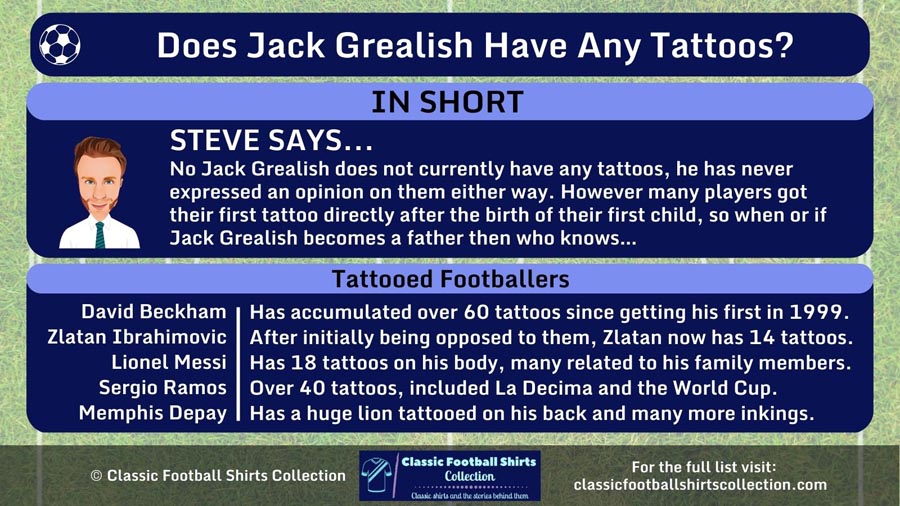 So the short answer is, No, Jack Grealish does not have any tattoos at the time of writing.
We cannot say for definite that he never will as many footballers seem to start their collection with a tattoo of their first child in one way or another.
So when or if Jack Grealish becomes a father for the first time, who knows what will happen.
However I think we can say he will never be on the same level as David Beckham when it comes to tattoos and certainly not the same level as Lucky Diamond Rich.
Lucky Diamond Rich is the world's most tattooed man, a record he has held since 2006 and he actually has 200% tattoo coverage with literally every single part of his body tattooed!
---