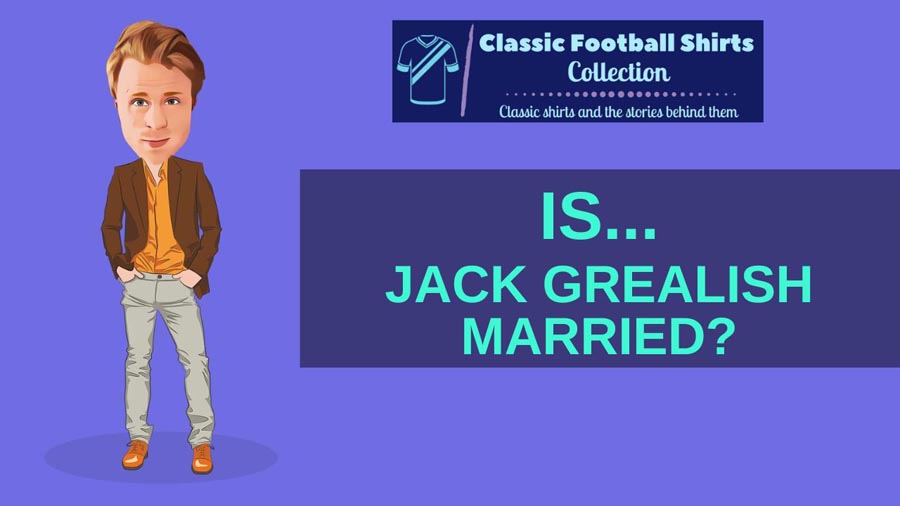 Jack Grealish is undoubtedly a good-looking guy, so it is probably not a surprise that if you type "Is Jack Grealish…" into Google the first suggestion that comes up is…
Is Jack Grealish married?
He probably has his fair share of admirers with his foppish hair, cheeky smile and chunky calves…
So what is the real story behind his love life?
Is he married? Is he single? Does he have a girlfriend?
Let's take a closer look…
Is Jack Grealish Married?
Jack Grealish is not married and neither does he have children, but he is in a relationship with model and influencer Sasha Attwood at the time of writing. The pair met at school when they were 16 and have been dating off and on since then. In a recent interview Grealish did admit he would like to get married in the future.

Jack Grealish's Relationship Status: Married? Single? In a Relationship?
In a previous post we looked at which school Jack Grealish went to.
We found out he went to Our Lady of Compassion Roman Catholic Primary School from the age of 4 to 11, and then St Peter's Roman Secondary School from the age of 11 to 16.
It was whilst at Secondary School that a significant event occurred in the life of a young Jack Grealish.
When he was 16 he met Sasha Attwood and the pair started dating.
And at the time of writing, despite a couple of bumps in the road over the intervening decade, the pair are dating again.
So yes Jack Grealish does have a girlfriend.
Is Jack Grealish Married?
Seeing as they started dating over a decade ago it is quite reasonable to ask if the pair are married.
But they aren't.
There has been some controversy in recent years when it was alleged Grealish had gone on secret dates with the Inbetweeners actress Emily Atack and spent the night partying with TOWIE star Chloe Brockett.
But despite what happened in the past the pair seem to be going stronger than ever right now.
In fact, in 2022 Grealish treated Sasha and her family to a £5,000 a night stay in a Cotswold retreat for Sasha's dad's birthday.
Then shortly after signing an exclusive deal to become a Gucci ambassador, Grealish gave an interview to The Face magazine, where he talked about his views on marriage:
"My mum and dad are married, so of course I want to do that," he said.
"I know it's easy to say, but the goal for me is just to be happy, man. I think that's the most important thing in life."
So no Jack Grealish isn't married now, but watch this space…
Oh and just for good measure, the same answer goes for anyone asking if Jack Grealish has any kids.
Again not right now, but I wouldn't bet against it in the future.
So Who is Sasha Attwood?
As you might have guessed by the fact she met Jack Grealish met at school, Sasha Attwood is also from Solihull.
And, in fact, she was thrust into the spotlight at an earlier age than Jack Grealish.
She was scouted by a modeling agency at the age of 13 when she was spotted out shopping with her mum in Birmingham.
She worked initially with fashion brands like Boohoo and House of Fraser and most recently was signed as the face of the French brand, L'Oreal.
Standing at 5 feet 7 inches tall, Sasha is also a social media influencer and has a big following on both Instagram and YouTube.
At the time of writing her Sasha__Rebecca Instagram page has 167k followers and her YouTube page has 46k subscribers.
Final Thoughts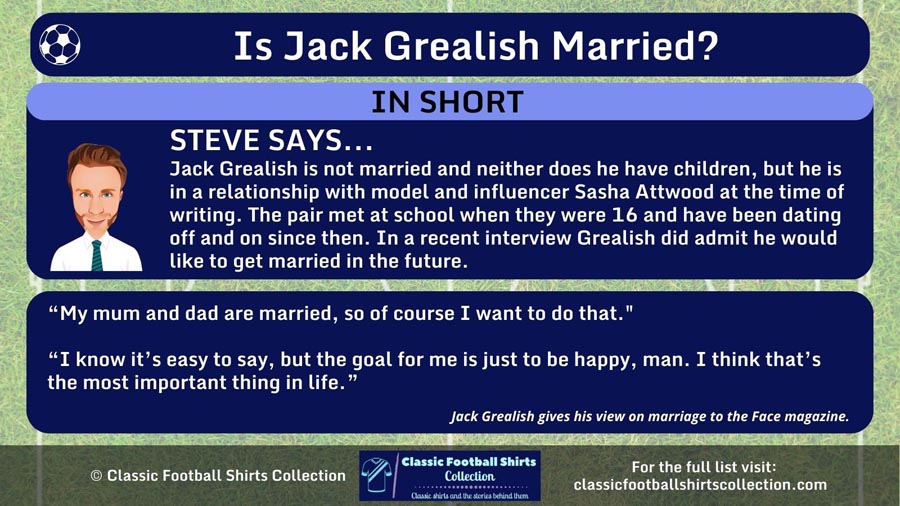 No Jack Grealish is not married, but his relationship with his childhood sweetheart, the model and influencer Sasha Attwood does seem to be going well so maybe it is only a matter of time…
Neither of the pair has children, so again, maybe, just maybe there might be a little Grealish on the horizon sometime in the next couple of years.
But in all honestly who knows?
Maybe you will find this article a few years down the line when Jack Grealish is in a relationship with someone totally different!
---