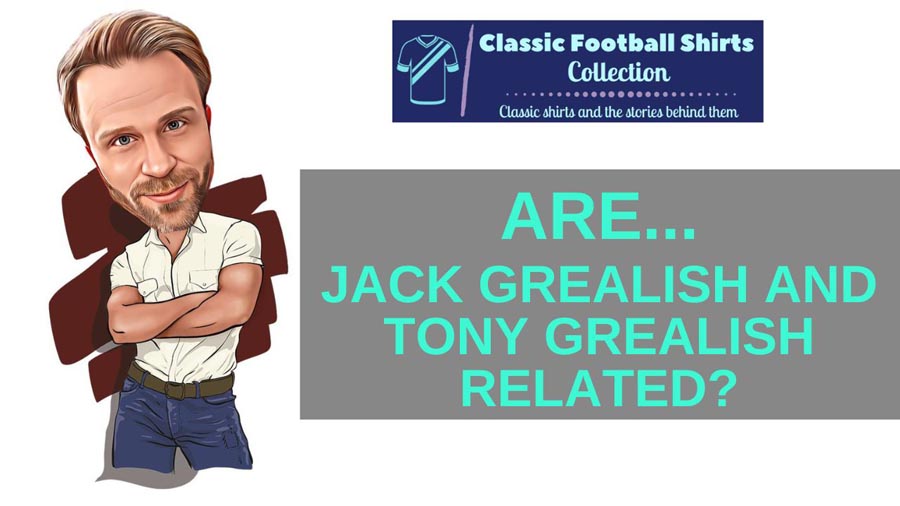 The surname is the same and they both represented the Republic of Ireland at some level, but are Jack Grealish and Tony Grealish related?
It is a natural question to ask.
And that is what we are going to look at today in this blog post.
So without further ado, let's get started…
Are Jack Grealish And Tony Grealish Related?
Jack Grealish and the late Tony Grealish are not related in any way. They just both share the same surname and both have Irish links despite being born in England. Tony Grealish was born in London to Irish parents, Jack Grealish was born in England to English parents, but had three Irish grandparents.

Tony Grealish: In Profile
Of the two names, Tony Grealish is definitely the less well-known.
And that says more about how famous Jack has become, because Tony made over 500 appearances in the Football League and played for the Republic of Ireland almost 50 times.
Like Jack, Tony Grealish was not born in Ireland, he was born in London and grew up in Paddington.
However he qualified to play for the Republic of Ireland as his parents were from Galway and Limerick.
He was born in 1956 and had a very long career spanning from 1974 to 1995.
The first five years of this career were spent playing for Leyton Orient, who he joined right from school.
He wasted no time in establishing a reputation for himself as a combative midfield player and in 1979 he joined Luton Town for a fee of £150,000 decided by a transfer tribunal, one of the first cases of the system being used.
He helped Luton town gain promotion to the top flight of English football, before joining Brighton and Hove Albion in 1981 in an exchange deal involving Brian Horton.
It was at Brighton that Grealish had the highlight of his club career when he skippered the Seagulls in the 1983 Final against Manchester United.
Brighton's usual captain, Steve Foster, was suspended for the Final so Grealish assumed the captaincy and arrived in the middle for the coin toss wearing a black headband, in a show of support for Foster who was well known for wearing a headband.
The game finished in a 2-2 draw, with Brighton losing the replay 4-0 with Foster back in the team.
After three years at Brighton Grealish joined West Bromwich Albion where he scored five goals in 65 games, before a brief spell at Manchester City.
He left City in 1987 at the age of 31 and began working his way down the divisions, appearing more than a hundred times for Rotherham, before seeing out his football league career with 36 appearances for Walsall between 1990 and 1992.
Grealish went on to play for three more years in non-league before retiring completely in 1995 at the age of 39.
Grealishs' international career spanned just under a decade. He made his debut for the Republic of Ireland on 24 March 1976 in a friendly against Norway, when John Giles was manager.
His last appearance came on 13 November 1985 in a World Cup qualifier against Denmark when Eoin Hand was at the helm.
In between, he also skippered the Republic and was dubbed 'Mr. Reliable' by Hand.
Sadly Kevin Grealish died on 23 April 2013 following an 18-month battle with cancer.
Although he may not have been Irish by birth, he represented the country will pride and distinction as Eoin Hand recalled:
"Tony set a great example to everyone. His stand-out quality was passion for the Irish jersey. He was so proud to play for the country, and his pride showed in his performance every time he went out on the pitch."

Eoin Hand, Former Republic of Ireland manager.
Jack Grealish: In Profile
Jack Grealish on the other hand, is one of the most well-known British footballers around right now.
Jack Grealish too was born outside of Ireland, hailing from Solihull.
However he qualified to play for Ireland as he has three Irish grandparents and would go on to play for Ireland 19 times in various age groups before pledging his allegiance to England at full international level in 2015.
Grealish joined Aston Villa at the age of 6 in 2001, and was an unused substitute for a Premier League game against Chelsea in March 2012 when he was just 16.
By this time he had already made his debut for the Republic, starring in a 6-0 win for the under-17s over Liechtenstein on 19 October 2011.
When Grealish did make his club debut it came for Notts County, who he joined on loan in the 2013/14 season.
He made 37 appearances and scored five goals before returning to Aston Villa, and making his Premier League debut on 7 May 2014 as an 88th-minute substitute in a game against Manchester City.
Jack Grealish would go on to become Aston Villa captain and represent the club over 200 times before joining Manchester City in August 2021.
The fee of £100million was (and still is at the time of writing), the most ever paid for a British player and by a British club.
By this time Grealish had made his full England debut after switching his allegiances from the Republic of Ireland.
For more details on that you can read our article detailing how Jack Grealish qualified for Ireland.
Final Thoughts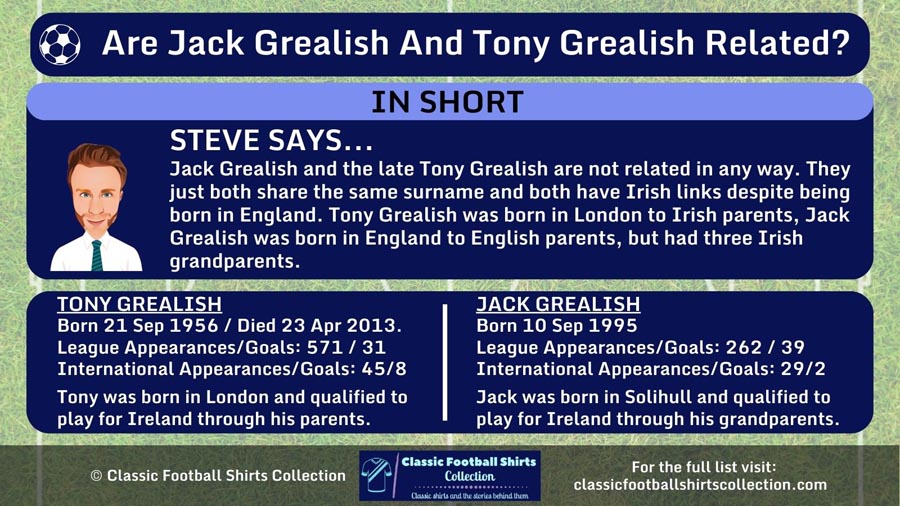 Tony Grealish was born in Paddington London, but both his parents were Irish.
Jack Grealish was born in Solihull, near Birmingham, to parents who are also from Birmingham.
However, both of Jack Grealishs' paternal grandparents were from Ireland, as was his grandfather on his mother's side.
So whilst they both have Irish heritage, the same surname and a talent for football, they are not related in any way.
---