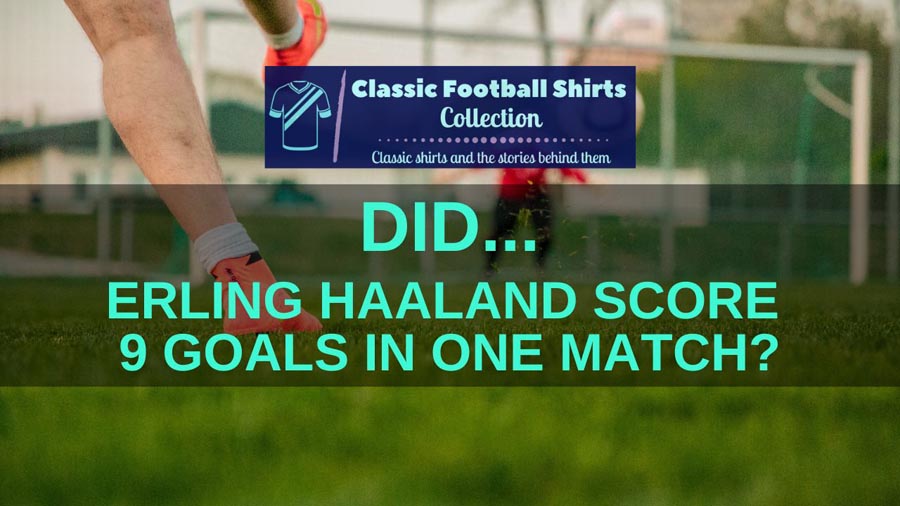 We know by now he is a total goal monster, but, really, did Erling Haaland score 9 goals in one match?!
It is unbelievable even for a player as good as him.
Or maybe it was when he was 9 or 10 years old? Or playing for Byrne's third team or something, right?
The answer might surprise you, so let's find out!
Did Erling Haaland Score 9 Goals in One Match?
Yes! Erling Haaland scored 9 times for Norway when they beat Honduras 12-0 in the FIFA U20 World Cup in Poland in 2019. Despite not scoring in any other game in the competition it was enough for him to score more than double the amount of goals of any other player in the tournament and win the Golden Boot!

Before Kick-Off
Picture the scene. The date is 30 May 2019 and the location is the 15,000-capacity Arena Lublin in Lublin, Poland, not too far from the border with both Ukraine and Belarus.
It is the 2019 FIFA U20 World Cup and the game between Honduras and Norway is a dead rubber, with both teams having lost their first two group games.
Honduras kicked off their tournament with a 5-0 defeat to New Zealand, whilst the same day Norway went down 3-1 to Uruguay.
Three days, on 27 May, later Honduras lost 2-0 to Uruguay, whilst Norway lost by the same score to New Zealand.
That meant there was really nothing to play for except pride when the teams met each other in front of 5,646 fans for their last game of the tournament.
Unfortunately, one team emerged with more pride than the other…
RELATED ===> Does Erling Haaland Hold A Long Jump World Record?
A Record-Breaking Day
When I said there was nothing to play for except pride, that wasn't quite true.
The top two teams from each of the six groups went through to the next round, along with the four best 3rd placed teams.
However with Honduras and Norway having lost all of their four games and only scored one goal between them, conceding 12, it seemed unlikely, but not totally impossible, that one of them could make the list of best third-placed teams.
Norway quickly set about doing everything they could to give themselves the best chance of going through.
And this is how the game went.
7th minute: Jens Hauge lays the ball across the six-yard box for Erling Haaland to slot home.
Norway 1 Honduras 0 (Haaland 7)
8th minute: Haaland wins the ball from a Honduras player 35 yards from goal and is allowed to run unchallenged to the edge of the 18-yard-box and fire into the bottom corner. VAR later disallows the goal for a push by Haaland.
20th minute: Haaland controls a Tobia Borkeeiet through ball and fires through the keeper's legs.
Norway 2 Honduras 0 (Haaland 7, 20)
30th minute: Tobias Christensen crosses and Leo Ostigard heads home.
Norway 3 Honduras 0 (Haaland 7, 20, Ostigard 30)
36th minute: Honduras keeper Jose Garcia brings down Haaland in the penalty box. Haaland converts the penalty for his hat-trick.
Norway 4 Honduras 0 (Haaland 7, 20, 36 Ostigard 30)
43rd minute: Hauge again pulls back and Haaland crashes the ball into the roof of the net from 15 yards out.
Norway 5 Honduras 0 (Haaland 7, 20, 36, 43 Ostigard 30)
46th minute: Kristian Thorstvedt pulls back for Jen Hauge who is running into the 18-yard box to side foot home.
Norway 6 Honduras 0 (Haaland 7, 20, 36, 43 Ostigard 30, Hauge 46)
50th minute: Hauge provides another assist, passing across to Haaland who takes the ball in his stride and passes into the net.
Norway 7 Honduras 0 (Haaland 7, 20, 36, 43, 50 Ostigard 30, Hauge 46)
57th minute: Honduras' Axel Gomez is sent off.
67th minute: Haaland gets his double hat-trick poking home from four yards out after good work by Kristian Thorstvedt
Norway 8 Honduras 0 (Haaland 7, 20, 36, 43, 50, 67 Ostigard 30, Hauge 46)
77th minute: Haaland is left alone just outside the six-yard box to stroke home a Hakon Evjen cross.
Norway 9 Honduras 0 (Haaland 7, 20, 36, 43, 50, 67, 77 Ostigard 30, Hauge 46)
82nd minute: Norway substitute Eman Markovic slides home from the penalty spot after a Tobias Christensen through ball.
Norway 10 Honduras 0 (Haaland 7, 20, 36, 43, 50, 67, 77 Ostigard 30, Hauge 46, Markovic 82)
88th minute: Hakon Evjen gives Haaland the ball just inside the 18-yard box and he drives past two defenders and beats the keeper at his near post.
Norway 11 Honduras 0 (Haaland 7, 20, 36, 43, 50, 67, 77, 88 Ostigard 30, Hauge 46, Markovic 82)
90th minute: Haaland completes an amazing treble hat-trick blasting home from 8 yards out. Jens Hauge provides his fourth assist of the game.
Norway 12 Honduras 0 (Haaland 7, 20, 36, 43, 50, 67, 77, 88, 90, Ostigard 30, Hauge 46, Markovic 82)
92nd minute: Honduras' Everson Lopex is sent off.
FINAL SCORE: Norway 12 Honduras 0 (Haaland 7, 20, 36, 43, 50, 67, 77, 88, 90, Ostigard 30, Hauge 46, Markovic 82)
Unsurprisingly the game created a number of records:
Nine goals in a game by Erling Haaland was a record, beating the six scored by Adailton in Brazil's 10-3 win over the Korean Republic in 1997.
It was Norway's biggest win at U20 level.
It was the biggest win by any team in the history of the tournament.
It was Honduras' heaviest-ever defeat.
On top of that it won Erling Haaland the tournament's golden boot, despite him not scoring in any other game in the competition!
His nine goals put him five ahead of four players tied for second place on 4 goals, so Haaland scored more goals in 50 minutes than any other player did in the entire tournament!
RELATED ===> Does Erling Haaland Hate Roy Keane?
Norway still finished as the worst third-place team in all six groups, so didn't progress any further, but they scored more goals than any other nation in the tournament with 13.
Only eventual winners, Ukraine, managed as many goals.
But the man himself was more annoyed that he missed a chance in the last minute of the game to get a 10th goal, when he sidefooted wide following another Jens Hauge cross.
"It annoys me a little bit that I didn't score with my last kick of the game. I'll have to sit down and think a little bit about it and maybe I'll work out what happened," he told the Norwegian Football Association's website post-match.
What Happened Next?
Before his amazing goalscoring feat, Haaland was already being touted as the next big thing.
He joined Red Bull Salzburg from Molde five months previously after being named the best player in Norway the previous season scoring 16 goals in 30 games for Molde.
He continued his remarkable goalscoring form for Salzburg after returning from this tournament.
He scored his first hat-trick for them on 19 July 2019, got another on 10 August and another on 14 Septemeber. Three days later he made his Champions League debut, and, you guessed it, he scored another hat-trick.
In his first full season for Red Bull Salzburg he scored 28 goals in 22 games.
Shortly after his nine goals exploits for Norway U20s, Haaland was named in the Norway senior squad for the first time, making his debut on 5 September 2019.
And from then on, he has gone from strength to strength!
RELATED ===> How Long Did Erling Haaland Live In England?
Final Thoughts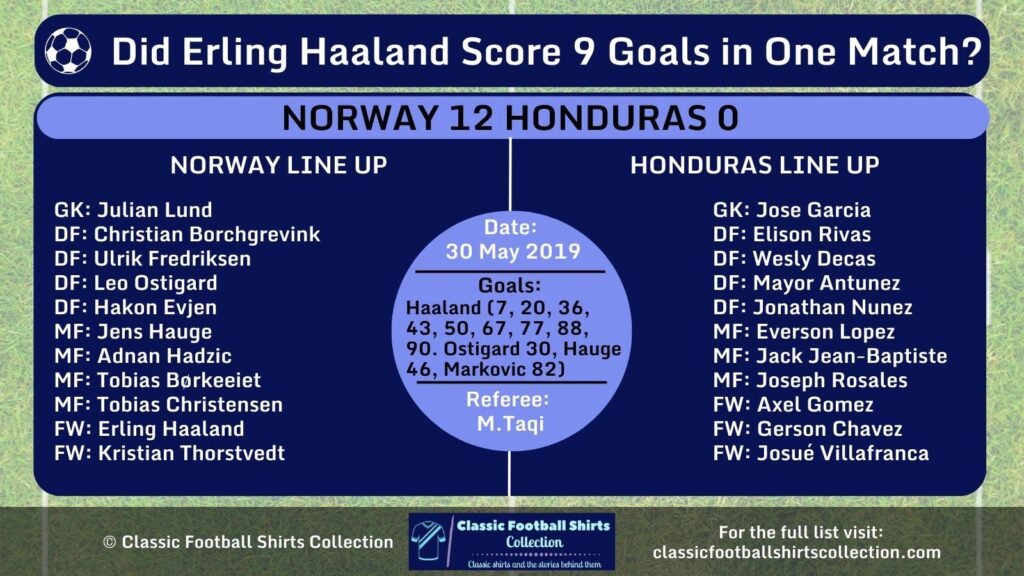 Erling Haaland did indeed score 9 goals in one game!
It was playing for Norway at the FIFA U20 World Cup in 2019, when they beat Honduras 12-0.
The game created all kinds of records and brought Haaland even further into the limelight.
But was Haaland himself happy?
No he was just annoyed he missed an easy chance at the end of the game to make it ten goals for him and 13-0 to Norway!
---