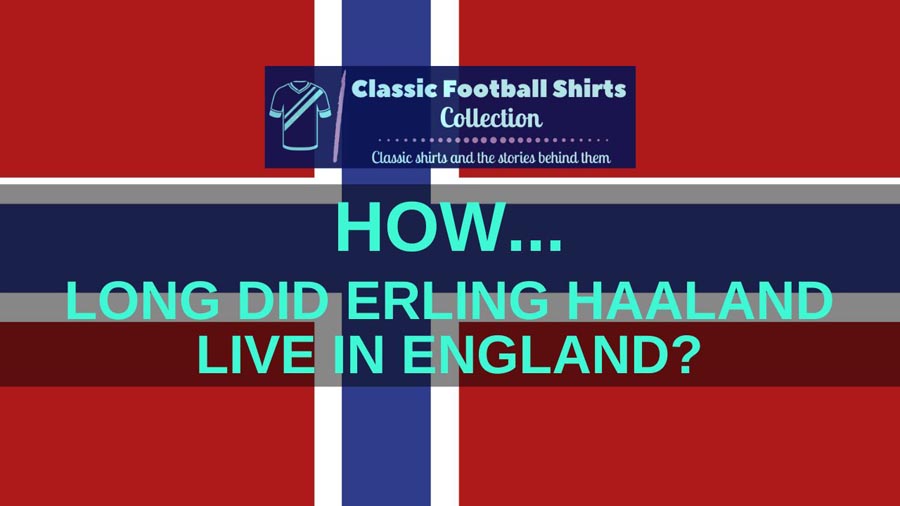 We all know he is banging in goals left right and centre at the moment, but how long did Erling Haaland live in England to begin with?
Because you know he was born here right?
Let's take a closer look at the early days of Erling Braut Haaland and find out if he really could have played for England…
Without further ado, let's get started.
How Long Did Erling Haaland Live In England?
Erling Haaland initially lived in England from his birth in Leeds on 21 July 2000, through to early 2004 when he to Norway, the native country of his parents, after his father retired from football. Haaland is however a British citizen and holds a British passport, but unfortunately cannot now play for England.

Erling's Early Days
Back on Friday 21 July 2000 Ronan Keating's Life is a Rollercoaster was on top of the UK charts, What Lies Beneath was the top movie at the box office, Bill Clinton was President of the United States of America, Tony Blair was Prime Minister of the UK and the Nokia 3210 was the latest technological advancement in the world of mobile phones.
However, in the world of football, something far more important happened.
Way up in Leeds, Alfie Inge Haaland's wife Gry Marita Braut gave birth to their youngest son, Erling Braut Haaland.
Alfie Haaland had been living in England since 1993 when, at the age of 21, he left Norwegian team Bryne FK to sign for Nottingham Forest.
Haaland's energy and no-nonsense style of play made him an instant hit with Nottingham Forest supporters and soon caught the eye of other teams.
At the end of the 1996/97 season he joined Leeds for a fee believed to be in the region of just over £2million, which represented a significant profit on the £400k Nottingham Forest had paid for Haaland.
Haaland spent three highly successful seasons at Leeds, playing an important part in the team finishing 5th, then 4th then 3rd in the Premier League, as well as reaching the UEFA Cup Semi-Finals.
In July 2000, two significant things happened. The first was the birth of Erling and the second saw Alfie sign for Manchester City for £3millon.
Erling was born in Leeds, just after his father had signed for Manchester City.
Alfie would spend the next three seasons at Manchester City, but only saw significant playing time in the first of those three seasons.
He played 43 times in the 2000/01 season before a long-standing knee injury forced him into surgery at the end of the season.
RELATED ===> What Languages Does Erling Haaland Speak?
Contrary to common belief, it wasn't an infamous tackle by Roy Keane that caused the injury. Alfie had stated on his own website that he had been playing with an injury to his left knee for several months (the Keane tackle was on his right knee).
Alfie made four substitute appearances in the 2001/02 season and none in the 2002/03 season, at the end of which he announced his retirement from the game at the age of 28.
It was towards the beginning of 2004, when Erling Haaland was three years old, that he moved with his family back to Byrne, his parent's hometown in Norway as his father sought a new career as a property developer.
Two years later, when he was five years old, Erling Haaland joined the academy of his hometown club in Byrne and began his footballing journey, a journey that now sees him considered one of the best footballers in the world!
So Erling Haaland lived in England initially for just over three years from his birth in July 2000 to early 2004.
Knowing this, there is a natural follow-up question…
Does Erling Haaland Have A British Passport?
In short yes, Erling Haaland has dual nationality for Britain and Norway.
At the time of Erling Haaland's birth in July 2000 it was considered that a child born in the UK to parents with settled status was a UK citizen by birth.
Settled status is deemed for any citizen of an EEA nation (which includes Norway) when one or both of the parents is exercising a right to work in the UK.
At that time his father Alfie was playing professional football, so was clearly exercising this right to work.
So when he was born, Erling Haaland was considered a UK citizen.
Just two months after he was born this ruling was changed. From 2 October 2000 non-citizens had to apply for and receive permanent residency to be deemed settled.
But obviously this was irrelevant as Erling was already born.
So yes Erling Haaland is a British citizen and has a British passport.
RELATED ===> Does Erling Haaland Have Siblings?
Could Erling Haaland Play for England?
Erling Haaland could have played for England, but unfortunately he cannot now.
To know why we need to understand FIFA's international eligibility rules.
Until 2004 footballers were only able to represent national teams they were citizens of.
However, in 2004, this ruling was changed to give a bit more freedom of choice. Players could represent other nations as long as they could demonstrate a 'clear connection' to that country.
This meant having at least one parent or grandparent born in that country, or having been a resident of that country for at least two years. In 2008 this figure was revised to five years after reaching the age of 18.
At this time players were also not allowed to play for a second country if they had represented their original country in a competitive fixture.
In September 2020 this was also changed.
Now a player can switch their allegiances to another nation as long as the following criteria is met:
They held the nationality for the new nation at the time they made their first official appearance for their first national team.
They have played in no more than three competitive senior internationals before the age of 21.
They have not featured in the final stages of any major tournament, ie the World Cup, European Championships, Copa America, etc.
They have not played for their previous national team for at least three years.
So obviously Erling Haaland qualified to play for England as he is a British citizen, however by the time he was 21 he had played in almost 20 senior internationals for Norway!
And that said Erling Haaland has never shown any intention of playing for England.
He made his debut for Norway U15 in 2015 and then represented Norway at every age group until his full international debut on 5 September 2019.
Final Thoughts
So does Erling Haaland have a British passport? Yes.
Is Erling Haaland a British citizen? Yes.
Could Erling Haaland have played for England? Yes.
Despite the answer to all of these questions being yes Erling Haaland only lived in England initially for a little over three years.
This was from his birth in Leeds on 21 July 2000, to early 2004 when he moved back to Norway with his family after his father retired from playing football.
England's loss is definitely Norway's gain!
---