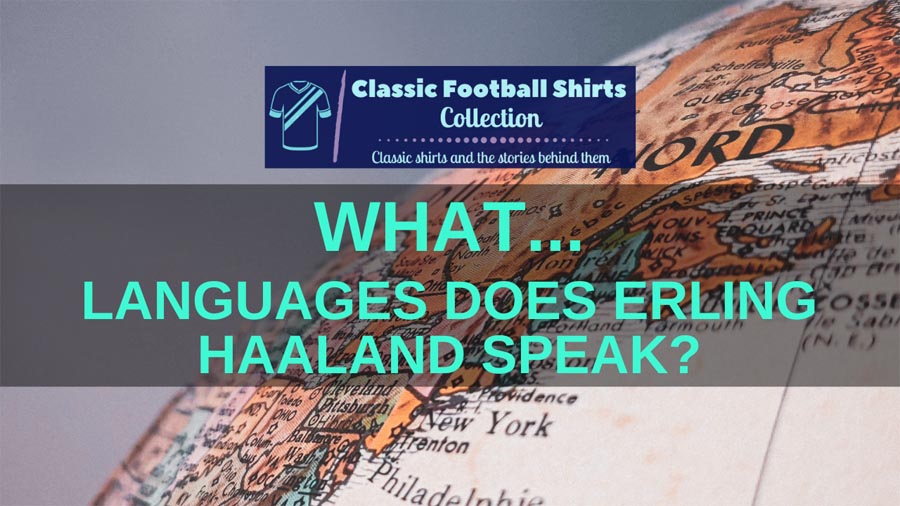 We all know he is fluent in that always popular international vocabulary of goals, but what languages does Erling Haaland speak?
For such a young man, he has lived in a number of countries, but did he learn to speak their languages when he was there?
We take a closer look at the question in this blog.
So without further ado, let's get started…
What Language Does Erling Haaland Speak?
Erling Haaland is fluent in English and Norwegian and can speak German very well from his time at Red Bull Salzburg and Borussia Dortmund, as confirmed by his one-time Borussia Dortmund compatriot Manuel Akanji. There is no concrete evidence he can speak any further languages beyond a few words/sentences.

Can Erling Haaland Speak Norwegian?
Although Erling was born in Leeds, England, where his father was playing football at the time, he moved back to his parent's hometown of Byrne in Norway when he was three.
If you look Byrne up on Google Maps, you will see it is in the South-West of Norway.
Being born to Norwegian parents, and living in Norway from the age of 3 until the age of 18, when he moved to Austria to play for Red Bull Salzburg, I think it is safe to say Erling speaks fluent Norwegian!
If we are being even more specific he most probably speaks the Jærsk dialect which is one of the most common southwestern dialects in Norway and close to the written form of Norwegian called Nynorsk.
And talking of Norway, at the time this article was written Erling Haaland was 22 and had scored 21 goals in 23 internationals for his country.
That already puts him joint 8th on the all-time goalscorers list, and he is only five goals behind Einar Gundersen in second place.
Top scorer Jorgen Juve scored 33 goals, so it is only a matter of time before Haaland surpasses him as well.
Can Erling Haaland Speak English?
RELATED ===> How Long Did Erling Haaland Live In England?
Yes Erling Haaland is also fluent in English, as has already been shown in his after-match interviews since his move to Manchester City.
This isn't uncommon among Norwegian people. A study in 2013 showed that around 4.5million people in Norway were capable of conversing in English to some extent.
That is pretty impressive considering the country has a population of 5.1million.
In fact, that makes Norway the 5th most proficient country in the world for speaking the language when it comes to the EF English Proficiency Index.
To confirm this in 2020 Manuel Akanji, who was playing alongside Haaland at Borussia Dortmund at the time said: "When I'm with Erling Haaland and Jadon Sancho, we talk in English."
Of course Haaland was born in England, and his father Alfie Haaland played football in England for ten years, so he already had a good grounding in the language.
We can conclusively say Erling Haaland can speak English very well!
Can Erling Haaland Speak German?
Another string to Haaland's bow! Yes he can speak German as well.
We are unsure whether he had any grasp of the language before he left Molde to join Red Bull Salzburg in Austria (where German is the official language), but certainly when he left Borussia Dortmund three years later he was fairly proficient in the language.
For instance, in the same piece by Manuel Akanji referred to above, he says: "Erling Haaland, for example, can certainly speak German better than many others, but he prefers to speak English."
And to back that up Borussia Dortmund's official Instagram page shared a video of Haaland speaking German with a teammate back in July 2021, with the comment "Time to throw it back to @erling.haaland speaking better German than actual Germans."
So I think it is fair to say that whilst his grasp of German might not be on the same level as his Norwegian or English, it is still very good.
Can Erling Haaland Speak Spanish?
RELATED ===> Is Erling Haaland Albino?
A video clip released in January 2022 revealed another language Haaland can speak.
Dortmund were entertaining Eintracht Frankfurt in the Bundesliga, and towards the end of the game Haaland reacted angrily to being fouled by Frankfurt's Colombian striker Rafael Santos Borre.
With Bundesliga games still being played behind closed doors at the time due to the Coronavirus pandemic the pitchside microphones picked up Haaland shouting: "¿Qué te pasa, hermano?" in perfect Spanish, which means "What's wrong with you, bro?" in English.
This is of course led to speculation that Haaland had been taking Spanish lessons ahead of a potential move to Real Madrid or Barcelona.
But as fair as I am aware that is the only time he has been caught on camera speaking Spanish (apart from a solitary Buenos Dias).
So we have no concrete evidence to say either way that he can speak Spanish.
Can Erling Haaland Speak Any Other Languages?
Generally, according to the Study in Norway website, Norwegian people can also easily communicate with people in Sweden and Denmark as the languages of the three countries are similar.
So Haaland probably has a good level of those two languages.
In August 2021 Erling Haaland was also recorded as part of a promo for Finnish TV broadcaster V Sport speaking in Finnish.
He said "Jolle here, watch Bundesliga in Elisa Viihde Viaplay."
Whether he can speak Finnish though is highly debatable as Finnish is not related to the other Nordic languages in any way.
Just to back that up, when I was researching this I found the following quote from someone on Quora:
"I'm Norwegian.
I can understand a Swede most of the time, perhaps even all the time, and a Dane much of the time, perhaps even most of the time."
"A Finn? No chance."
RELATED ===> Did Erling Haaland Score 9 Goals in One Match?
Final Thoughts
We can say beyond doubt that Erling Haaland can speak English and Norwegian fluently, and German very well if not quite fluently.
He can most probably communicate in Swedish and Danish to some extent as well as the languages are very similar.
Beyond that, we don't have any firm evidence he can speak any other languages beyond a few words/sentences.
That said, he can speak three languages very well, which is two more than me, and he can find the back of the net in any country it seems!
---