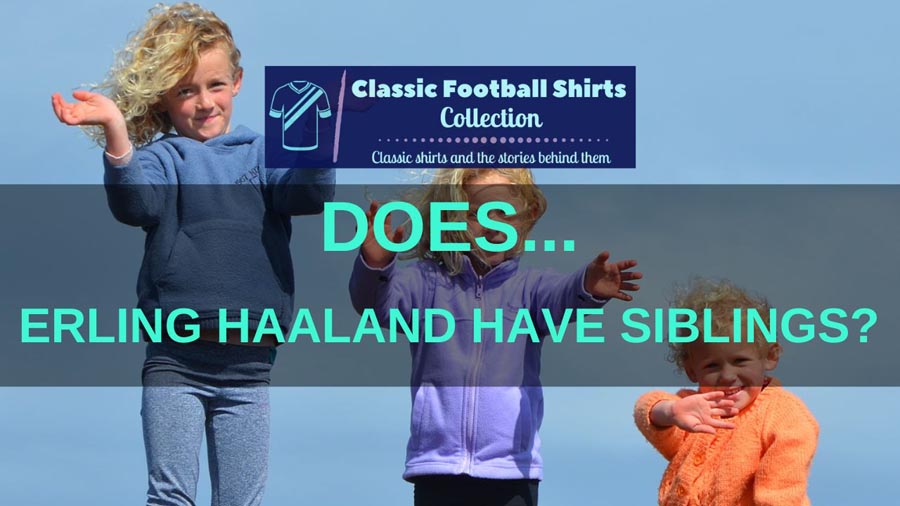 There are quite a few footballers that have famous siblings.
Think Gary and Phil Neville, Yaya and Kolo Toure, Rio and Anton Ferdinand and Reece and Laura James.
But what about one of the game's most deadly goalscorers, does Erling Haaland have siblings?
Let's take a closer look at his family background to find out…
Does Erling Haaland Have Siblings?
Erling Haaland has a brother, Astor, who is five years older and a sister Gabrielle who is two and a half years older. He also has three cousins who are all professional footballers, Jonatan Braut Brunes, Emma Braut Brunes and Albert Tjåland.

It's a Family Affair…
First things first, before we dive into the question of whether Erling Haaland has any brothers or sisters, it should be said that he comes from a very strong sporting heritage.
Most people are aware his father is Alfie Inge Haaland, who was also a professional footballer who played mainly in England for Nottingham Forest, Leeds United and Manchester City as well as making 34 appearances for Norway.
But his mother also has a considerable sporting pedigree. Gry Marita Braut was a national heptathlon champion in Norway during the 1990s.
Does Erling Haaland Have a Brother?
He does! Erling Haaland's brother is Astor and is five years older.
Whilst he might not have the same footballing abilities, he has certainly inherited some of the family characteristics both in looks and height, standing 6 foot 4 inches tall.
Inadvertently Astor played a role in his younger brother's early footballing career.
RELATED ===> Does Erling Haaland Hate Roy Keane?
Whilst it was obvious Erling had enormous talent, pace and technical ability, believe it or not, for a long time when he was coming through the youth ranks at his first club Byrne he was smaller than most of his teammates.
This lack of physicality at that age was one of the few missing parts of his game.
Fortunately, at the time, his brother was well over six feet tall and Alf Ingve Berntsen, the man who gave Haaland his first start for Byrne at the age of 15, knew this.
"In a way, we could predict he was something special because in football you develop your skills in four basics," explains Berntsen. "Tactical, how smart you are and movements; technical, how good you are with the ball; physically, if you have speed, endurance and so on; and mentality.
"When top clubs are scouting, they are looking at if you are really good in two of these four areas or quite good in three or four, but Erling from quite an early age was very good in technical, tactical and mentality.
"But he has a brother [Astor] who is five years older and he is big and strong and fast, so we knew the missing part in Erling's play would maybe become his biggest strength. In a couple of years, we knew he would have four out of four."
And when Erling was around 14 or 15 he had the expected growth spurt and before long was standing at 6 feet 5 inches tall!
Does Erling Haaland Have a Sister?
Yes Erling Haaland also has one sister, Gabrielle. She is two and a half years older than Erling.
Like Erling Haaland's brother Astor she has kept out of the media eye but is known to be married and to have a young son.
And again, there is a very strong family resemblance in the looks department!
RELATED ===> Did Erling Haaland Score 9 Goals in One Match?
Does Erling Haaland Have Any Other Footballing Relations?
Yes, Erling also has three cousins that are all professional footballers.
Jonatan Braut Brunes was born two weeks after Erling Haaland and was at Byrne at the same time as Erling.
In fact when Jonatan took to the field for Byrne in a game against KFUM Oslo on 16 May 2016 at the age of 15 years, 9 months and 9 days he set a record as the youngest player ever to feature for the club.
Whose record did he beat? Yes you guessed it, Erling Haaland who made his debut four days earlier at the age of 15 years, 9 months and 21 days!
Whilst Jonatan's career might not have hit the heights of his more famous cousin, he is still playing professionally for Strømsgodset in the top tier of Norwegian football.
Jonatan's younger sister is Emma Braut Brunes, who plays for Kolbotn, one of the most successful women's teams in Norway.
Unfortunately shortly after signing Emma tore her cruciate ligament, and is currently working her way back to fitness.
Cousin number three, Albert Tjåland, was born in February 2004 and has recently been making waves for his goalscoring record as he has come through the youth ranks at Byrne.
Albert was transferred to Molde in the summer of 2020 and eventually made his professional debut on 25 July 2021, coming on as a substitute in the 83rd minute of a Norwegian Cup match.
And guess what? He scored just a few minutes later! See the video above!
Final Thoughts
Erling Haaland has two older siblings. His brother Astor is five years older, and his sister Gabrielle is two and a half years older.
There is an obvious family resemblance if you ever see photos of the three of them together.
He also has three footballing cousins, Jonatan Braut Brunes, Emma Braut Brunes and Albert Tjåland.
Seeing as his father was a professional footballer and his mother a professional athlete, sporting talent obviously runs rich in the Haaland family!
---