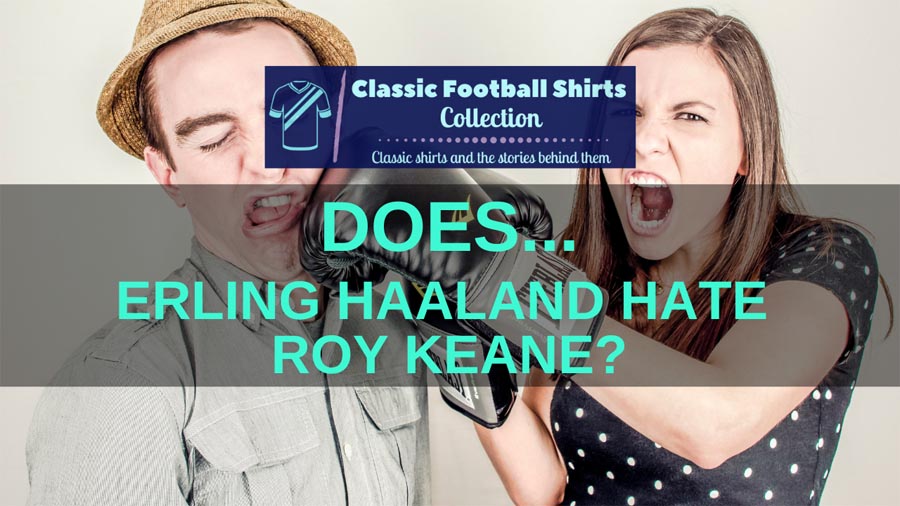 We certainly know there is no love lost between Alfie Haaland and Roy Keane, but what about his son?
Does Erling Haaland hate Roy Keane?
He could justifiably have a reason to, so whether he does or not is worth investigating.
So without further ado, let's get started…
Does Erling Haaland Hate Roy Keane?
Erling Haaland has never spoken publicly about his opinion of Roy Keane, the man accused in some quarters of ending the football career of his father following a shocking tackle in 2001. He has however admitted he has been a Manchester City fan his entire life, so probably is not too keen on United in general!

Haaland vs Keane: Round 1
Just in case you are not aware, there is some significant 'previous' between Erling Haaland's dad Alfie Haaland and ex-Manchester United and Ireland captain Roy Keane.
Alfie Haaland had been brought to England in 1993 at the age of 21. Nottingham Forest paid £400k for his services from the Norwegian club Byrne.
Haaland quickly established a name for himself in England, and also made his debut for the Norwegian national team.
Haaland spent three seasons at Nottingham Forest before he signed for George Graham's emerging Leeds United team for a fee of £2million in 1997.
Haaland had by now built a reputation as a combative and robust midfield player and had locked horns with Keane on a number of occasions.
In fact he had definitely made himself less than popular with the Irishman, who said of Haaland in his 2014 autobiography: "[He] p*ssed me off, shooting his mouth off. He was an absolute pr*ck to play against. Niggling, sneaky."
RELATED ===> Did Erling Haaland Score 9 Goals in One Match?
Keane's opinion of Haaland was no doubt reinforced when in the ninth Premier League game of the 1997-98 season Keane ruptured his cruciate ligament jostling with Haaland for the ball.
As Keane lay prone on the ground, Haaland stood over Keane and shouted something at him.
The exact words of what Haaland said we will never truly know, and as you might imagine each side of the story has a different interpretation of events.
In his 2002 autobiography Keane said Haaland had stood over him "sneering about fake injuries".
Haaland on the other hand said: "He tried to tackle me and I got the free-kick. He was lying on the ground and I just told him to 'get up' as you normally do with players – nothing more than that."
Haaland vs Keane: Round 2
Whatever was said Keane didn't forget it and in April 2001 he exacted his own revenge.
By this time Haaland had moved to Manchester City in a £3million move and the two were facing each in the always tense Manchester derby.
Five minutes from the end of the game Keane hit Haaland with knee-high challenge on his right leg. Referee David Elleray wasted no time in brandishing the red card.
In his 2002 autobiography Keane said about the incident:
"I'd waited long enough. I f***ing hit him hard. The ball was there (I think). Take that you c***… I didn't wait for Mr Elleray to show the red card. I turned and walked to the dressing room."
RELATED ===> Does Erling Haaland Have Down Syndrome?
Following the release of his book the following year, Keane received a further five-game ban and a £150,000 fine from the FA. He had been banned for three games and fined £5,000 at the time of the incident.
That game was to be the last 90 minutes Haaland completed in English football, officially announcing his retirement at the end of the 2002/03 season.
It has been said that Keane was responsible for ending Haaland's career. However it should be noted Haaland completed the last few minutes of that Manchester derby, played for Norway mid-week and then played 68 minutes of City's next Premier League fixture.
Haaland did then have surgery on a long-standing injury to his left leg (the opposite leg to that which bore the full brunt of Keane's tackle).
He made four substitute appearances for City in the 2001/02 season.
After the release of Keane's book in 2002 Haaland and Manchester City threatened legal action, but it was dropped after the club reviewed medical advice.
Keane said the tackle wasn't pre-meditated in his later autobiography released in 2014.
He noted he had played against Haaland three or four times without incident in the period between Keane injuring his cruciate in 1997 and Keane tackling Haaland in 2001:
"I did want to nail him and let him know what was happening. I wanted to hurt him and stand over him and go: 'Take that, you c***.'
"I don't regret that. But I had no wish to injure him. It was action; it was football. It was dog eats dog.
"I've kicked lots of players and I know the difference between hurting somebody and injuring somebody. I didn't go to injure Haaland. When you play sport, you know how to injure somebody." Keane said.
But What About Erling?
In recent years Alfie Haaland's attitude to Keane does seem to have mellowed somewhat.
He said of Keane in an interview with BBC Sport in 2014: "I don't blame him for kicking me in other games or that particular game. What I was concerned and worried about is that he said, in his first book, that he wanted to take revenge. And I don't think that's part and parcel of football.
"I don't blame him. I never actually said he finished my career. It was my last full game in England, so maybe he had something to do with it."
RELATED ===> Does Erling Haaland Hold A Long Jump World Record?
But what about Erling Haaland? Does he hate Roy Keane?
I would suggest not.
In fact in October 2022, Erling Haaland admitted to the Daily Mirror newspaper, he had never actually talked to his father about the incident.
But Haaland has also admitted he is a City fan as a result of his father playing for the club at the time of his birth:
"I was born in England. I have been a City fan my whole life. I know a lot about the club," he said after signing from Borussia Dortmund.
He was also quick to point out which game he is most looking forward to this season, when he was officially unveiled as a Manchester City player:
"I don't want to say the words, but… Manchester United."
So whilst he most likely doesn't hate Roy Keane, he definitely appreciates the rivalry between the Manchester clubs.
Final Thoughts
No Erling Haaland almost certainly doesn't hate Roy Keane, and it seems even his father has softened his opinion of the man who injured him in the 2001 Manchester derby.
Erling Haaland has never talked publicly to date about his opinion of Roy Keane, but he has talked up the rivalry between City and United.
For the most part though the big Norwegian lets his goals do the talking.
---