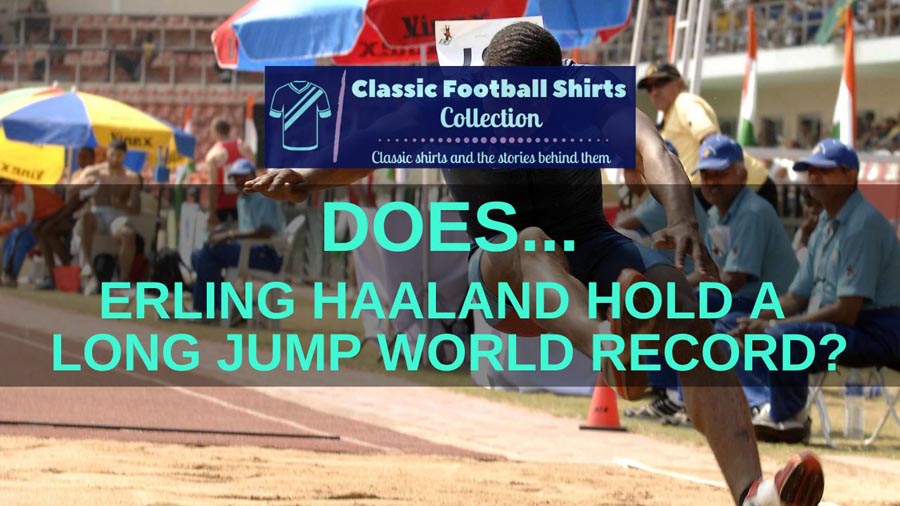 If you type 'Erling Haaland long jump' into Google you get some unexpected results.
In fact maybe it was typing this that brought you to my (website.
Or maybe you are looking to clarify something rather unusual you have heard about the Norwegian maestro?
Whatever it was, we are going to clear it up in this blog post… I hope!
So let's get started.
Does Erling Haaland Hold A Long Jump World Record?
Yes! On 22 January 2006, when he was just five years old, Erling Haaland set a world record in the standing long jump for his age category. It still stands to this very day (as of November 2022).

Erling Haaland – Record Holder!
Erling Haaland has broken all kinds of records in his short life. Here are just a few:
He was the first teenager to score in five consecutive Champions League games.
He is the youngest Bundesliga player to reach 50 goals.
He is the youngest player to score 25 Champions League goals.
He has the record for the fewest Champions League games to score 10, 15 and 20 goals.
He reached three Premier League hat-tricks in the quickest time.
He became the first player in Premier League history to score three successive hat-tricks in home games.
He scored nine goals in one game at the FIFA U20 World Cup.
He holds the world record for the under-5s standing long jump.
Erm, what?!
Yes that is right, among all those football-related records, the very first record Erling Haaland set came way back on 22 January 2006 when he was five years old.
And it was nothing to do with football!
RELATED ===> Did Erling Haaland Score 9 Goals in One Match?
How Far Can Erling Haaland Jump?!
Back in January 2006, he leapt 1.63m (5ft 4.25in) from a standing start in Byrne, Norway to claim his place in the International Age Record books!
That record was equaled by Roope Tyynismaa of Finland on 23 March 2010, but the pair are still joint record holders to this day, check this International Age Records list for proof.
Just as an aside, here are some other remarkable records held by five-year-old boys:
100m: 15.93 seconds by Kai Sapp on 8 June 2019.
400m: 78 seconds by Grant Reynolds on 13 June 2015.
800m: 2 mins 54 seconds by Tamrat Gavenas on 15 June 2013.
1500m: 5 mins 46 seconds by Tamrat Gavenas on 15 June 2013.
5000m: 24 mins 20 seconds by Kevin Strain in 1973.
10000m: 52 mins 45 seconds by Kevin Strain in 1973.
Marathon: 5 hours 25 minutes 9 seconds by Bucky Cox on 4 July 1978.
High Jump: 0.81m (2ft 8in) by John Carnes on 21 July 1972.
Pole Vault: 1.70m (5ft 7in) by Doug Fraley on 1 March 1972.
Standing High Jump: 0.7m (2ft 3.5in) by Brage Aarskog on 13 December 2018.
Shot Put: 4.64m (15ft 2.75in) by Jooa Pitkämäki on 12 July 2022.
Discus: 5.76m (18ft 11in) by Werneri Nordberg on 1 October 2022.
Javelin: 16.32m (53ft 7in) by Jooa Pitkämäki on 10 July 2022.
But anyway back to young Erling's record, for comparison, the distance he jumped from a standing start is more than a normal-sized artificial Christmas tree, a park bench, a regular broom or (the width of) a Queen size bed.
How does his record of 1.63m (5ft 4.25in) at the age of five compare with the men's world record?
The standing long jump was actually an Olympic event until 1912. The king of the event at this time was America's Roy Ewry who won three successive goal medals and set the world record for the event of 3.47m (11ft 4.5in) in 1904.
Ewry's record was still standing when the event was discontinued completely in the 1930s.
In 2015 American Football player Byron Jones set an unofficial record of 3.73m (12ft 2.75in) at the NFL Combine on 23 February 2015.
How High Can Erling Haaland Jump?
We don't have recorded proof of how high Erling Haaland can jump, it doesn't seem to be something he took part in at an International Age Records meet, but…
When Manchester City met Haaland's former club Borussia Dortmund in the Champions League on 14 September 2022, he demonstrated his athleticism to the full.
When he converted a Joao Cancelo cross, it is estimated his left leg was approximately 1.8m (6ft) off of the ground!
RELATED ===> Is Erling Haaland A Viking?
How Fast Can Erling Haaland Run?
In a 2020 Champions League game for Borussia Dortmund against Paris St. Germain Haaland was clocked by a TV station sprinting 60m in 6.64seconds.
To put it into context, the 60m world record by US athlete Christian Coleman stands at 6.34 seconds.
Now yes we have to take into consideration Haaland's time was with a rolling start, but it is still pretty quick.
Final Thoughts
Erling Haaland most certainly does hold a long jump world record!
Albeit he set it way back in 2006, when he was five years old, but it is still pretty impressive and just goes to show he isn't just a footballing record breaker!
It goes some way to explaining how Haaland has gone on to develop the explosive pace he is well known for today.
Speed, strength, acceleration and a true eye for goal mean the Norwegian will undoubtedly go on to break many records in the years to come.
---