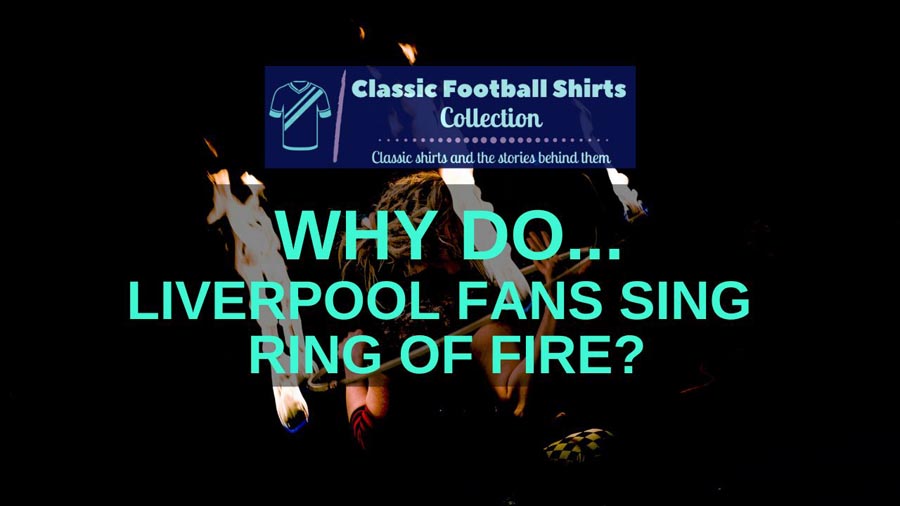 Liverpool supporters have a vast repertoire of songs.
But there is one that catches the mood and is sung with more energy than most.
So why do Liverpool fans sing Ring of Fire?
We take a closer look in this blog post.
So let's get started…
Why Do Liverpool Fans Sing Ring Of Fire?
Liverpool fans adopted the popular Johnny Cash song Ring of Fire during their historic 2005 Champions League winning campaign. It began being sung by one set of fans on a coach to an away game that season, then it quickly spread to more coaches, and before long it was being heard all around Anfield and then being sung by Jamie Carragher and Steven Gerrard after the Champions League win.

If ever a song was a true definition of an earworm, then Johnny Cash's Ring of Fire is just that.
When you have heard it once it is likely it will be going around your head for the rest of your day.
And you will be sitting at your desk, humming it subconsciously to yourself.
I know because that is exactly what happened to me when I prepared for this blog by watching Johnny perform it on YouTube.
The mariachi horns, the chugga-chug bass, the harmonious backing vocals, the driving energy, it all combines to make one unforgettable tune.
Recorded back in 1963, the song was one of Cash's biggest hits. It was at number one in the country charts in America for seven weeks and in 2010 it was certified gold.
Somewhere along the line it also became a staple song for Liverpool fans, but how?
RELATED ===> Revealed: The Best Retro Liverpool Shirts
It Started on the Road to Istanbul
It all started during Liverpool's run to the 2005 Champions League Final in Istanbul.
But who better to explain exactly how it happened than Liverpool legend, and a man who took part in that remarkable Final, Jamie Carragher.
"'Ring of Fire' started on the fans' coach that my dad and his mates get to the away games," Carragher said.
"Someone put a Johnny Cash tape on and my dad and everyone started singing it on the bus. It caught on at Anfield, then it became a favourite at the European away games."
Owing to the catchy nature of the tune, it isn't difficult to see how it caught on amongst fans and spread like wildfire (pun slightly intended).
Carragher and Steven Gerrard were even caught on camera singing the tune on the pitch with the Champions League trophy in their hands after the climax of the remarkable Final.
The following year, Liverpool's official FA Cup song for their 2006 final against West Ham, was a version of Ring of Fire by the Boot Room All-Stars.
The song had a strong local collection with Echo and the Bunnymen frontman Ian McCulloch taking lead vocals and Apollo 4440 member Howard Gray singing backing vocals and playing guitar.
Liverpool's very own Kop was even featured in the recording, singing the song at a home game against Aston Villa that season.
Despite this being way back in 2005 and 2006, the timeless nature of the song means that it still remains part of the supporters' songbook until this very day.
Passionate supporters + catchy song = fan anthem that will endure!
RELATED ===> Do Liverpool Fans Sing Fields of Athenry?
The Original Ring of Fire
The original version of Ring of Fire was released by Johnny Cash in April 1963.
Officially it was written by Merle Kilgore and Johnny Cash's future wife June Carter.
However several sources since have confirmed that it was Cash himself that co-wrote it on a camping trip with Kilgore and gave the co-writing credit to June, as he didn't want his wife at the time to get any royalties from it in the case of a divorce.
In fact, Vivian later recounted in her autobiography
"One day in early 1963, while gardening in the yard, Johnny told me about a song he had just written with Merle Kilgore and Curly while out fishing on Lake Casitas. 'I'm gonna give June half credit on a song I just wrote,' Johnny said. 'It's called "Ring of Fire."' 'Why?' I asked, wiping dirt from my hands. The mere mention of her name annoyed me. I was sick of hearing about her. 'She needs the money,' he said, avoiding my stare. 'And I feel sorry for her.'
Vivian and Johnny Cash would later divorce in 1966, and cash would marry June Carter less than two years later.
It is said the song was about Johnny and June's affair, and both of them having to go home to their spouses when they were madly in love with each other.
Over the years the song has been covered by everyone from Tom Jones and Ray Charles to Frank Zappa and Elvis Costello.
The Champions League Final 2005
As for the Champions League Final of 2005, then I am sure you won't really need to be told what happened in this remarkable game, but just in case you have been living under a rock…
AC Milan were the punter's pick going into the game, with Liverpool having finished 5th in the league that season.
And their status as favorites quickly looked justified, as Milan took the lead inside the first minute of the game.
It was captain Paolo Maldini who scored, making him the oldest scorer in the history of the competition, just shy of his 37th birthday.
The first half was full of incidents with Milan having a goal disallowed and a header cleared off of the line.
But then Hernan Crespo scored twice in the final six minutes of the half to see Milan going in 3-0 up at half-time and seemingly with one hand and four fingers on the trophy.
RELATED ===> Why Do Liverpool Fans Sing One Kiss?
But they weren't banking on a Steven Gerrard-inspired seven-minute spell at the start of the second-half.
In the 54th minute Gerrard headed home to make it 3-1, in the 56th minute Vladimir Smicer fired in from long range to make it 3-2, then in the 61st minute Liverpool were awarded a penalty after Gerrard was fouled.
Xabi Alonso's initial spot-kick was saved, but he scored the rebound, and despite both teams having chances to win, the game had no more goals in normal time or extra-time.
When Vladimir Smicer scored his spot-kick in the penalty shootout, it meant Andriy Shevchenko stepped up knowing he had to score or Liverpool would take home the trophy.
Jerzy Dudek saved, Liverpool won 3-2 on penalties and the miracle of Istanbul was complete…
Final Thoughts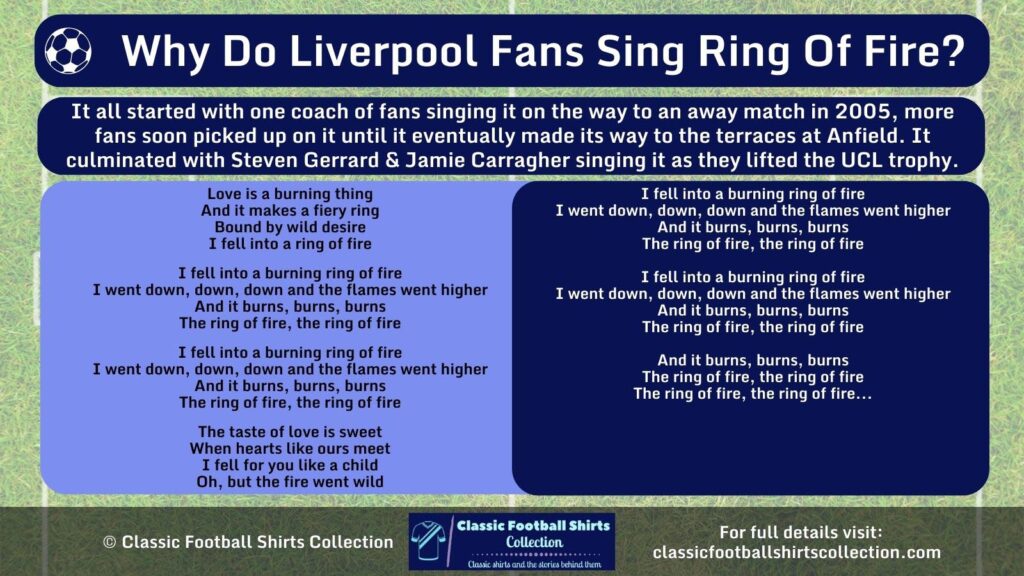 I hope this explains why Liverpool fans sing Ring of Fire. It all started being sung on one fans coach on the way to a game in 2005, and it just spread like fire (sorry!).
Soon more fans coaches blasted out the tune on the way to games, and then it spread into Anfield and eventually it carried the team all the way to the 2005 Champions League Final.
It was even released as Liverpool's official FA Cup Final song in 2006, and is still heard reverberating around Anfield to this very day…
---