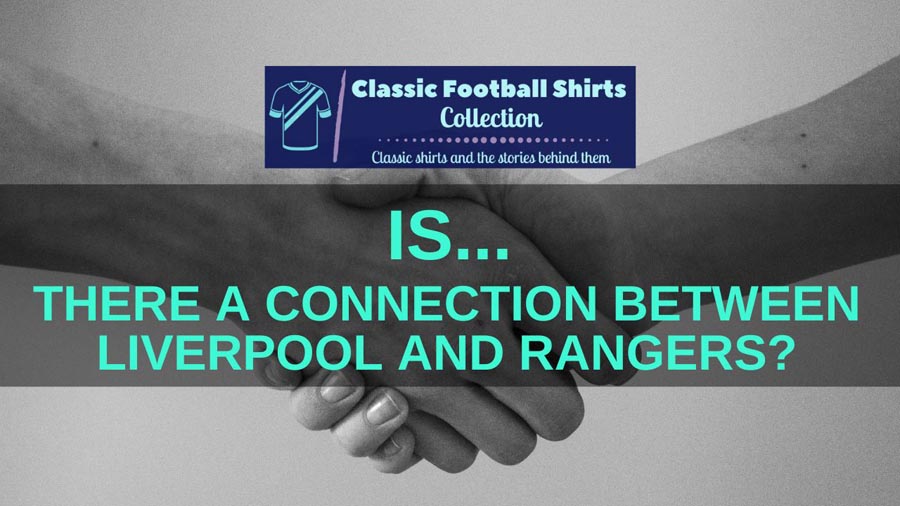 So the other day, whilst watching highlights of the Liverpool v Rangers Champions League game, the camera cut to a fan in the crowd holding up a half-and-half Rangers and Liverpool scarf.
And I thought, what?!
Is there a connection between Liverpool and Rangers?
Because if there is, I certainly never knew about it.
So that meant only one thing, I had the subject for my next blog post!
Is There a Liverpool Rangers Connection?
No there is not a real connection between the two clubs. They have some similarities, and undoubtedly there are some Rangers fans whose English team is Liverpool and vice-versa, in the same way there are also some Rangers fans who dislike Liverpool and vice-versa! But there is not an underlying bond between the two clubs.

There is a Bond From Tragedy
One area these two clubs do have a connection in comes in unfortunate circumstances.
In 1971, Rangers hosted Celtic in the Old Firm derby in front of 80,000 fans.
An uneventful game suddenly sparked to life right at the end.
In the 90th minute, Jimmy Johnstone gave Celtic the lead. Rangers fans began to leave the stadium assuming the game was over.
However, a couple of minutes later Rangers grabbed an injury-time equaliser via Colin Stein.
At almost the same time it is thought one or two fans leaving the stadium via Stairway 13 tripped and fell.
In many circumstances this would not have been an issue, but Stairway 13 had already been noted back in 1963 as potentially dangerous as the stairway was narrow and provided very little freedom of movement.
Just two years previously, in 1969, 26 spectators had been injured in an accident on Stairway 13.
Two years before that, eight fans had been injured leaving the stadium, and in 1961 two fans were killed in a crush on the stairway.
But nothing had been done to alleviate concerns that had been raised.
With the huge numbers of supporters funnelling into the narrow stairway to leave the stadium, fans further behind couldn't see the temporary hold-up caused by the fallen supporters.
There was, in effect, a massive pile-up.
In total 66 people died, in a massive crush in the stairway.
RELATED ===> Revealed: The Best Retro Liverpool Shirts
Most of the deaths were registered as being due to compressive asphyxia. Basically the crush was so bad it prevented supporters from breathing.
The youngest victim was nine-year-old Nigel Pickup from Liverpool.
An inquiry held the following month put the blame on the club for not dealing with the obvious problems with Stairway 13. Rangers did not dispute the findings of the inquiry.
It was the worst British football disaster until the Hillsborough disaster in 1989.
When Liverpool came to Ibrox in March 1998 for Walter Smith's testimonial game, their fans draped a flag from the stand remembering the 96 Hillsborough victims and 66 Ibrox victims.
It is a sad bond, but one that cannot be broken.
Is There a Connection Because of Religion?
In Glasgow, Rangers supporters are traditionally Protestant and Celtic supporters are traditionally Catholic.
Back in 1989 there was huge controversy when Rangers signed their first openly Catholic player.
In the aftermath, several Rangers fans returned their season tickets and were pictured burning their Rangers shirts.
Of course it didn't help that the player in question was Mo Johnston. Not only a Catholic but also an ex-Celtic player.
RELATED ===> Liverpool Celtic Connection – Is There One?
Some fans say that correspondingly Liverpool are viewed as the Protestant club on Merseyside, and that means there is a connection between Rangers and Liverpool.
But it is fair to say this isn't true.
Liverpool are neither a Protestant or Catholic team. Certainly not anymore. In fact, it was Everton who were founded from a Methodist church back in 1878.
Very few Liverpool fans place any bond linking their club to a particular religion.
Glasgow and Liverpool are Similar Cities
Putting football aside from one minute, there are definitely similarities between the cities of Liverpool and Glasgow.
In fact I have seen it said that culturally and demographically, Liverpool is the English city most like Glasgow.
Historically both cities have large Irish and Catholic demographics. Both are seaports, both have largely working-class populations with strong accents and equally strong senses of humour.
And both of course are home to two big football teams.
There is a history of shared players and managers between the two clubs.
Most recently ex Liverpool legend Steven Gerrard managed Rangers, but, of course, before that Graeme Souness was a Rangers player and manager, and in 1991, left Rangers to manage Liverpool.
Then there are the players that have played for both teams, such as Charlie Adam, Avi Cohen, Jon Flanagan, Ryan Kent, Kevin MacDonald, El Hadji Diouf, Mark Walters and Nigel Spackman,
But is There Really a Connection Between Liverpool and Rangers?
Whilst I was researching this article, I spent a lot of time visiting numerous Rangers forums (and some Liverpool forums).
I think it is fair to say, from the posts on the subject on the forums, that most Rangers fans don't really think there is a connection between the two clubs.
Obviously the shared bond due to the Ibrox and Hillsborough tragedies is a very real, and very sad one.
When it comes to religion, certainly from the Liverpool side of things I think most Liverpool fans don't consider the club Catholic or Protestant per se, and most Rangers fans seem to acknowledge that too, so there is no real connection there.
RELATED ===> Revealed: The Best Retro Rangers Shirts
It can undoubtedly be said that the cities share a number of similarities, but it can't be said they pertain specifically to one club or the other.
And yes Liverpool and Rangers have shared some managers and players over the years, but that is inevitable with two big clubs. You could probably make the same argument for that with Liverpool and any number of clubs.
In fact, Rangers and Everton have more shared players it would seem, ie Gary Stevens, Trever Steven, Paul Gascoigne, Duncan Ferguson, Stuart McCall, Mikael Arteta, David Weir, Andrei Kanchelskis, Nikita Jelavic, Nathan Patterson, etc, etc…
Final Thoughts
It is hard to make a case for there being a true connection between Liverpool and Rangers.
Two big teams, with two big histories, but no real connection. Even Rangers and Liverpool fans admit that if you google the question and browse their forums.
Do Liverpool hate Rangers or vice versa?
No not for the most part.
I mean as with any set of supporters you will find some that hold a grudge against another team for whatever reason.
And in the same way, you will find some that favour another team for whatever reason.
There doesn't seem to be a real love or a real hatred between the two clubs.
They are just two sets of passionate football fans.
---