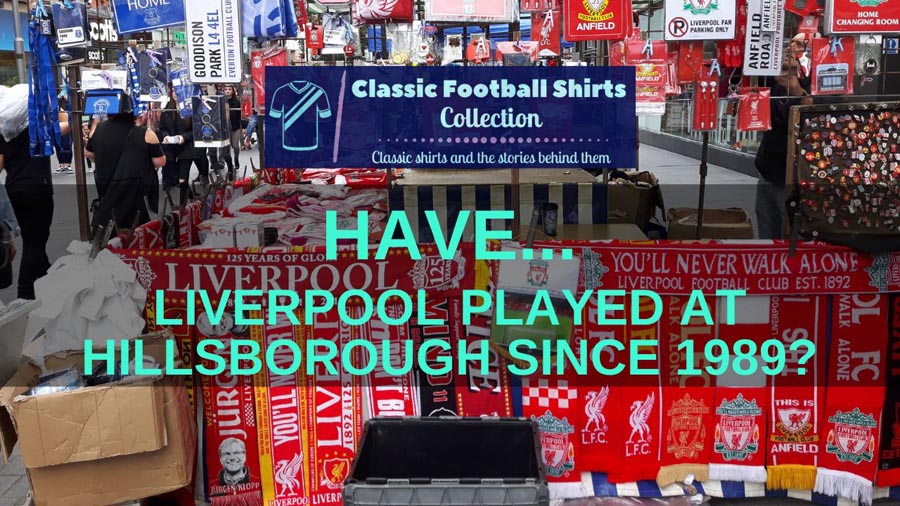 On 15 April 1989 one of the most tragic events to befall English football took place.
Ninety-four people died in a crush at the 1989 FA Semi-Final between Liverpool and Nottingham Forest.
That number would increase to 97, with three more fans passing away over the proceeding days and years.
But have Liverpool played at Hillsborough since 1989?
Let's find out.
Have Liverpool Played At Hillsborough Since 1989?
Liverpool have played ten games at Hillsborough since the Hillsborough tragedy in 1989*. Every game has been a league meeting with Sheffield Wednesday, of which Liverpool have won 2, drawn 5 and lost 3. They have not played there since August 1999. *Details correct as of October 2022.

GAME #1: 29 November 1989 – 1st Division: Sheffield Wednesday 2 Liverpool 0.
Liverpool's first game back at Hillsborough came seven months after the tragedy.
Their lineup saw eight players taking to the field that had started the FA Cup Semi-Final: Grobbelaar; Staunton, Mølby, Ablett, Gillespie; Whelan, Beardsley, Houghton, McMahon; Rush, Barnes.
Gillespite, Mølby and Rush came in for Venison, Nicol and Aldridge.
The game saw Liverpool occupying top spot and Sheffield Wednesday rooted to the bottom, so the resulting 2-0 win for Sheffield Wednesday was an unexpected one.
The Leppings Lane terracing, the area impacted by the fatal crush months earlier, was still closed and before the game there was a minute's silence, with both clubs laying wreaths on the steps of the empty terracing.
David Hirst scored the first after 54 minutes and Dalian Atkinson scored the second in the last minute with a fine individual run and left-foot shot.
The result saw Sheffield Wednesday jump from 20th and bottom of the league to 17th, with 20th to 13th place separated by just two points.
The top was equally close, was Liverpool, Arsenal, Aston Villa and Chelsea all on 27 points after the game and Liverpool top on goal difference.
Liverpool ended up winning the First Division fairly comfortably that season, finishing nine points clear of Aston Villa.
Sheffield Wednesday on the other hand finished 18th and were agonisingly relegated on goal difference after Luton Town complete a Houdini-eque escape, winning their last three games of the season.
GAME #2: 2 May 1992 – 1st Division: Sheffield Wednesday 0 Liverpool 0.
Sheffield Wednesday's subsequent relegation meant it was another two and half years before Liverpool visited Hillsborough again.
It was the very last game of the season and a lot had changed in a couple of years however.
The 0-0 draw meant Liverpool finished 6th and Sheffield Wednesday finished 11 points ahead of them in 3rd.
This capped an impressive return to the top flight for the Owls who had been promoted from the Second Division after finishing 3rd in that league the previous season.
Liverpool at least had the consolation of the FA Cup Final the following week, where they would beat Sunderland 2-0.
The Liverpool lineup included Steve Nicol, Ronnie Whelan and Ray Houghton who had been in the starting 11 for the game against Nottingham Forest in April 1989.
RELATED ===> Revealed: The Best Retro Liverpool Shirts
GAME #3: 27 February 1993 – Premier League: Sheffield Wednesday 1 Liverpool 1.
Sheffield Wednesday went into this game on the back of seven successive league victories, knowing that one more victory would create a new club record eight league victories in a row.
In fact, in all competitions, between 28 December 1992 and 27 February 1993 the South Yorkshire club had played 13 games and won 12 and drawn 1.
Converted centre-forward Paul Warhurst was also in a hot vein of form, he had scored nine goals in that time.
As it was the game ended 1-1 with Viv Anderson scoring a late equaliser for ten-man Wednesday who had had Nigel Worthington sent off in the 63rd minute.
Liverpool finished one place above Sheffield Wednesday in 6th place this season, by virtue of having slightly better goal difference.
The Owls had the consolation of reaching the finals of both the FA Cup and League Cup, but lost to Arsenal on both occasions.
Steve Nicol and John Barnes were the only two players who had been set to start the 1989 FA Cup Semi-Final that started this game.
GAME #4: 4 December 1993 – Premier League: Sheffield Wednesday 3 Liverpool 1.
Liverpool still hadn't won at Hillsborough since the Hillsborough tragedy with this game ending in a 3-1 win to Wednesday.
The game was nothing short of a disaster as Sheffield Wednesday made it 12 games unbeaten thanks to own goals from Mark Wright and Neil Ruddock and a Mark Bright strike.
Liverpool's only moment of brightness came from young striker Robbie Fowler who scored his 12th goal and in 13 games.
Graeme Souness resigned as Liverpool manager the following month after Liverpool lost in the FA Cup to Bristol City.
Sheffield Wednesday finished one place and four points ahead of Liverpool in the league.
Steve Nicol and John Barnes also started this game.
RELATED ===> How Many Times Have Liverpool Been Relegated?
GAME #5: 25 February 1995 – Premier League: Sheffield Wednesday 1 Liverpool 2.
Liverpool finally recorded their first win in a game at Hillsborough since the tragedy.
Goals from John Barnes and Steve McManaman saw them come from behind to beat Wednesday 2-1, after the Owls took the lead via a Chris Bart-Williams goal.
The season was to be a better one for Liverpool as they finished 4th, thanks to the goals of Robbie Fowler, and won the League Cup.
Sheffield Wednesday finished 13th, just six points above relegation.
Just a month before this game Liverpool suffered the loss of 19-year-old Ian Frodsham from a rare form of spine cancer.
He was a player so good that Robbie Fowler, who was just a year older than him said:
"Right the way through you could tell that Froddy was going to make it. He had everything. He was a fantastic player. He was the next in line. It was heartbreaking."
This excellent article in The Athletic, is well worth a read.
John Barnes was the only surviving member of the starting 11 from 1989 to play in this game.
GAME #6: 13 January 1996 – Premier League: Sheffield Wednesday 1 Liverpool 1.
An 87th-minute equaliser by Ian Rush cancelled out Darko Kovacevic's 7th-minute goal as Liverpool salvaged a point at Hillsborough in this game.
Liverpool improved one place on the previous season, finishing 3rd, seven points adrift of runners-up Newcastle but eight points ahead of 4th place Aston Villa.
Sheffield Wednesday struggled all season and eventually finished 15th, just two points above the relegation zone.
Both Steve Nicol and John Barnes took to the field for this game with Nicol having signed for Sheffield Wednesday from Notts County two months previously.
GAME #7: 11 May 1997 – Premier League: Sheffield Wednesday 1 Liverpool 1.
The final game of the season was notable for Roy Evans giving 17-year-old Michael Owen his full Liverpool debut after he had scored as a substitute the week before.
A Jamie Redknapp free-kick in the 83rd minute cancelled out an O'Neill Donaldson goal eight minutes earlier.
The link with the Hillborough disaster was retained with John Barnes appearing as a second-half substitute.
Sheffield Wednesday finished 7th that season whilst Liverpool finished as one of three teams on 68 points.
Unfortunately the other two, Arsenal and Newcastle, both had better goal differences which meant Liverpool finished 4th.
RELATED ===> Liverpool's First FA Cup Win: In Focus
GAME #8: 14 February 1998 – Premier League: Sheffield Wednesday 3 Liverpool 3.
Undoubtedly the most entertaining game since the Hillsborough disaster this was responsible for another piece of Michael Owen history.
Owen scored his first senior hat-trick as Liverpool came from 3-1 down to draw 3-3 with Wednesday, a result that left them in 2nd place.
Despite a forward line consisting of Owen and Fowler, Liverpool finished in 3rd, 12 points behind Manchester United and 13 points behind Arsenal.
Sheffield Wednesday were at the opposite end of the table, finishing in 16th, four points above relegation.
With John Barnes now having left Liverpool, this was the first game for Liverpool at Hillsborough with no survivors of the starting 11 for the game that fateful day in 1989.
GAME #9: 8 May 1999 – Premier League: Sheffield Wednesday 1 Liverpool 0.
Another end-of-season game and another defeat for Liverpool.
Richard Cresswell's 87th-minute goal was his first for the club after arriving as a deadline-day signing from York. It was against the team he supported as a boy too.
On the morning of the game, a memorial at Hillsborough was unveiled to the then 96 supporters who had died there.
It came as a disappointing season for Liverpool drew to a close. They eventually finished 7th despite Michael Owen and Robbie Fowler contributing 41 goals between them.
Sheffield Wednesday finished in 12th place.
GAME #10: 7 August 1999 – Premier League: Sheffield Wednesday 1 Liverpool 2.
The last encounter to date at Hillsborough opened the 1999-2000 season.
All the excitement came in the last 15 minutes with Robbie Fowler in the 75th minute and Titi Camara in the 84th minute putting Liverpool into a 2-0 lead before Benito Carbone pulled one back with two minutes to go.
Whilst Liverpool's season was a mild improvement, they were actually in 2nd place with four games to go before finishing 4th, the same cannot be said for Sheffield Wednesday.
The Owls were in the bottom three for the entire season and eventually were relegated in 19th place.
Wednesday have not as yet returned to the Premier League, and the two teams have not played each other in any competition since December 1999 (as of October 2022).
Final Thoughts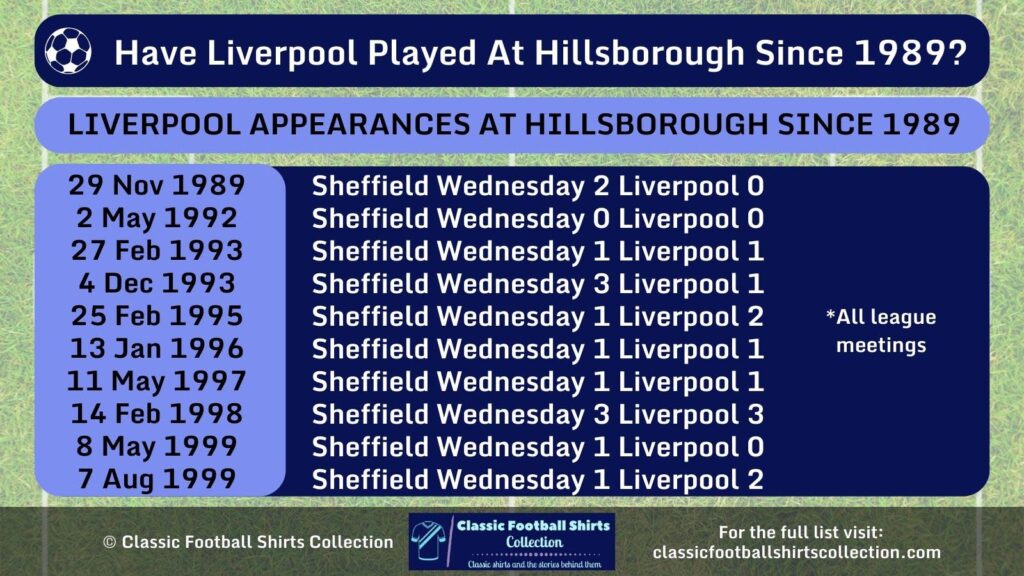 So yes Liverpool have played at Hillsborough ten times since the tragic events of April 1989.
Their record in those ten games reads P9, W2, D5, L3, GF11, GA14.
Every meeting has been in the league but with Sheffield Wednesday currently in League One who knows how long we might have to wait for the next one…
---