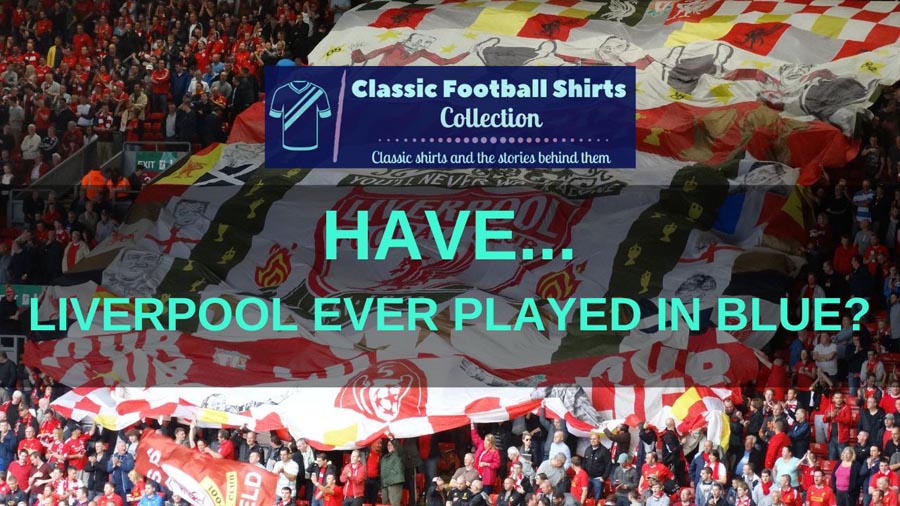 It seems almost unfathomable doesn't it?
That Liverpool could wear anything other than the famous red and white we have always associated with them, let alone the colours of their city rivals.
But have Liverpool ever played in blue?
The answer might surprise you.
So let's find out…
Have Liverpool Ever Played In Blue?
Liverpool's first ever kit was blue, they inherited it from Everton who had been previous tenants at Anfield and wore blue and white halved shirts, blue shorts and blue socks from 1892 to 1896. In 1896 they changed to wearing the famous red and white we now associate with Liverpool.

Liverpool FC: The Boys in Blue
When Liverpool ran out for the first-ever game back on 1 September 1892, they were wearing blue and white halved shirts, long blue shorts and blue socks. This would be their kit for four years.
Do those colours sound slightly familiar?
If it does, it is because it was the kit of their rivals, Everton.
Liverpool were actually formed as a result of a dispute between Everton and John Houlding, the man who owned Anfield and who was, at the time, Everton's Club President.
At the time Everton were actually tenants at Anfield and won their first league title in 1891 playing there.
The problem was that Houlding wanted to sell the ground to the club, whereas the Everton Committee wanted to rent it long-term.
With neither party able to find a satisfactory resolution, Everton left Anfield to make a new home at Goodison.
John Houlding was left with an empty stadium, so decided to set about building a team of his own.
In their haste to move across Stanley Park to Goodison, Everton had left behind their old kit.
Houlding (or someone else linked to the club, we can't be sure) found Everton's old blue and white shirts, and it became Liverpool's kit for their first four seasons in existence.
Four Seasons in Blue
So when Liverpool took to the field for their first ever match on 1 September 1892, a pre-season friendly against Rotherham, they did so in the blue and white shirts, blue shorts and blue socks.
That game ended in a 7-1 win for Liverpool and it proved a sign of things to come for the team that first season.
Liverpool were refused permission by the Football Association to join the Football League, and instead their first season, 1892/93, saw them competing in the Lancashire League.
The club's first competitive game in their blue and white shirts resulted in another big score, with Liverpool winning 8-0 against Higher Walton.
Their good form continued and Liverpool had a successful inaugural season, narrowly beating Blackpool and Bury to win the Lancashire League and winning the Liverpool District Cup against Everton.
RELATED ===> Revealed: The Best Retro Liverpool Shirts
Liverpool's second application to join the Football League was successful and they competed in the Second Division in the 1893/94 season, still wearing blue.
This time they went unbeaten the entire season and won Division Two.
There was no automatic promotion to the First Division, and instead, Liverpool took on Newton Heath (later to be renamed Manchester United), in a winner-takes-all Test Match.
A 2-0 win for Liverpool meant they would replace Newton Heath in the First Division for the 1894/95 season.
Still donning their blue and white shirts, this season proved to be a disappointment after the club's two previous league-winning seasons.
Liverpool finished bottom of the First Division and this time had to fight for their place in the top division, facing off against Bury, the winners of the Second Division in another test match.
Despite the Bury goalkeeper getting sent off early on Liverpool lost 1-0 and were relegated back to the Second Division.
The 1895/96 season was Liverpool's fourth and final season wearing their blue and white kit.
They won their first five games to be top of the table at the start of October and despite a stutter in November, that is where they would finish.
They won the league with a record 106 goals in 30 games. The run saw them score ten against Rotherham, seven against Newton Heath, Burton and Crewe, six against Crewe, Lincoln and Burton and five against Newcastle, Burslem Port Vale and Rotherham.
When Did Liverpool Change From Blue to Red?
The 'red dawn' began on 1 September 1896, when the Liverpool Daily Post reported Liverpool were wearing red shirts and white shorts for the first time.
But how did Liverpool go from wearing blue and white at the end of the 1895/96 season to red and white by the start of the next season?
RELATED ===> Liverpool Rangers Connection – Is There One?
It was down to new manager Tom Watson, who decided to usher in his era at the club with a change of kit.
Liverpool had gone to great lengths to appoint Watson as manager.
His yearly salary of £300 made him the highest paid manager in England, something he was able to justify by the fact he had won the League title three times in the previous four seasons for Sunderland.
John Houlding purchased a set of 20 red shirts for the club, and soon it became obvious the new colours were something of a masterstroke.
Red and white were also the municipal colours of Liverpool.
The honour of being the first Liverpool player to ever score a goal in their now famous red and white kit went to George Allan who got both goals in a 2-1 over The Wednesday.
Liverpool's first game at Anfield in the kit ended in a 2-0 defeat to Bolton Wanderers on Monday 7 September 1896, but the next Saturday they were at home against Derby County and won 2-0.
The man who scored the first goal at Anfield in the new kit was Thomas Bradshaw.
Liverpool went on to enjoy a successful first season in the red and white outfit, finishing fifth in the league and reaching the semi-finals of the FA Cup.
It was to be the first of many fruitful seasons in the red and white kit, but unfortunately the two pioneering goalscorers mentioned previously enjoy less fortune.
George Allan scored 41 goals in 49 games for Liverpool, before returning to his native Scotland to enjoy similar success playing for Celtic.
In April 1898 he returned to Liverpool but just 18 months later, at the age of 26, he contracted tuberculosis and died on 17 October 1899.
Thomas Bradshaw scored 43 goals in 118 games for Liverpool before signing for Tottenham Hotspur in May 1898 and then Thames Ironworks a season later.
He played his final game on 9 December 1899, captaining Ironworks and scoring their only goal in a 2-1 FA Cup defeat to Millwall.
A kick in the leg forced him to rest for three weeks, so on Christmas Day 1899, rather than playing, he decided to watch Tottenham play Portsmouth.
After returning home from the game he started vomiting and complained of pains in his head and chest.
That same day, Christmas Day 1899, Bradshaw had a fit and died, he too was 26.
A post-mortem later revealed his death was caused by a ruptured blood vessel in the brain.
RELATED ===> Do Liverpool Fans Support England?
Have Liverpool Ever Worn Blue Again?
Between 1896 and 1999 Liverpool only ever wore blue as part of their kit once, that was during the 1950 FA Cup Final against Arsenal.
Liverpool had intended to wear their red and white socks for the game, but the FA insisted they change them, so Liverpool took to the field wearing white shirts, black shorts and blue and white hooped socks.
The next time a Liverpool player was seen in a blue kit was in 1999 when the club released an away kit with green shirts and navy blue shorts.
The navy blue would remain part of the away kit for the following three seasons, and has been part of various Liverpool away kits on a few occasions since, always subtly though!
Final Thoughts
So have Liverpool ever played in blue? Yes!
In fact, as you see, blue was the first colour Liverpool ever played in, as they used some old kit left at Anfield by the stadium's former tenants, Everton.
So on their foundation in 1892, Liverpool wore a blue and white kit, before changing to the red and white kit we now all associated with them in 1896.
That proved to be an inspired move as it meant the club had both the name of the city it played in and the municipal colours of that city.
As a sidenote of point Liverpool were also the first English club to include sponsors on the front of the shirt.
Their red shirts were adorned with the Hitachi logo from 1979 to 1982 after they agreed a deal with the Japanese electronic company.
---