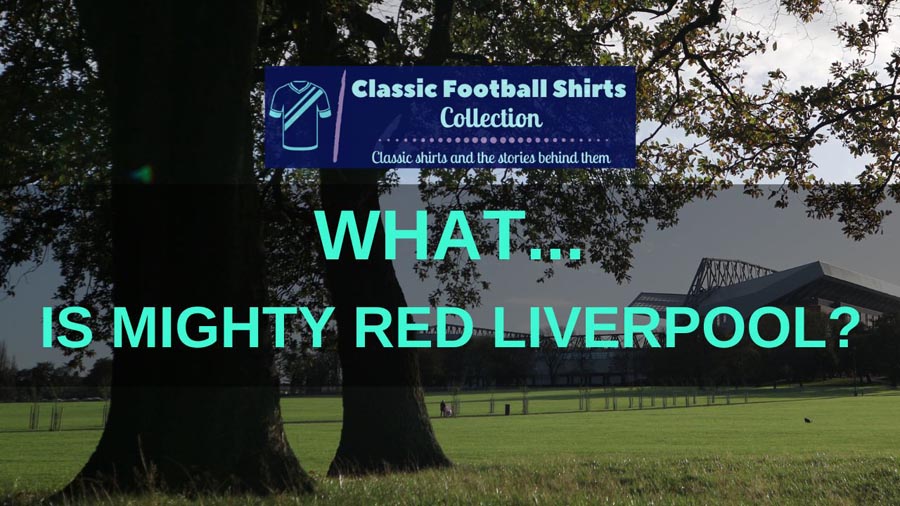 So you are here because you are asking what is Mighty Red Liverpool?
Well I think we all know what and where Liverpool is, so that one is fairly straightforward, but what about Mighty Red?
Let's find out all…
What Is Mighty Red Liverpool?
Introduced in 2012, Mighty Red is the Liverpool FC mascot. The introduction of Mighty Red marked the first time the club had had a mascot in its history. Mighty Red is a Liver bird, the mythical creature that is the official symbol of Liverpool.

Mighty Red: Liverpool FC Mascot
A club with a strong tradition, Liverpool have gone against the groove in many instances of football and one was the use of a club mascot.
For 120 years the club never had a mascot.
That all changed in 2012 when Mighty Red was announced as the club's first-ever mascot.
Mighty Red is a Liver bird, a mythical creature that is the official symbol of the city.
In fact, if you are ever in Liverpool keep your eyes peeled as there are over 100 Liver birds spread throughout the city.
The most famous two are on top of the Royal Liver building on the Liverpool Waterfront.
Mighty Red made its first appearance in July 2012 at a children's party, and was initially set to be used solely in the club's community work and have no involvement on match days.
However, this changed in 2014-15 when Mighty Red was handed some extra responsibilities which included helping out with the club's young mascots on game days.
So now Mighty Red has a small match-day role escorting the mascots on and off of the pitch.
But still, the main remit of its work is in the local community.
And if you take a look at Mighty Red's official Facebook page or official Twitter page, you will see it (he or she? I am not sure…) spends a lot of time with young people at schools, college and various clubs.
RELATED ===> Revealed: The Best Retro Liverpool Shirts
Other Premier League Mascots
Every Premier League club, with the exception of Liverpool's city neighbours Everton, has a mascot.
They are:
Arsenal: Gunnersaurus (Dinosaur)
Aston Villa: Hercules (Lion)
Bournemouth: Cherry Bear (Bear)
Brentford: Buzz (Bee)
Brighton: Gully (Seagull)
Chelsea: Stamford and Bridget (Lions)
Crystal Palace: Pete (Eagle)
Fulham: Billy (Badger)
Leeds: Kop Cat (Snow Leopard)
Leicester: Filbert (Fox)
Liverpool: Mighty Red (Bird)
Man City: Moonchester (Alien)
Man Utd: Fred the Red (Human'ish)
Newcastle: Monty (Magpie)
Nottm Forest: Robin Hood (Human)
Southampton: Sammy Saint (Dog)
Tottenham: Chirpy (Cockerel)
West Ham: Hammerhead (Robot)
Wolves: Wolfie and Wendy (Wolves)
As you can see, the vast majority are animals, nearly all based around the associated club's nickname.
This is because, way back at start of the 20th century, many clubs did have actual animals as mascots.
RELATED ===> Does Liverpool Have A Firm?
For example, Manchester United's first three mascots running from the 1890s to 1910 were Michael the Bank Street Canary, Major the Saint Bernard Dog and Billy the Goat.
As late as the 1980s Tottenham would sometimes bring a cockerel out on the pitch pre-match, in the 1950s Brighton's club mascot was Tiddles a big ginger cat, Barnsley paraded their mascot Amos the Donkey outside the Clarence Hotel in Barnsley before their appearance in the 1910 FA Cup Final and Hereford would sometimes have to clear up certain pre-match 'deposits' left by their mascot Billy, a large Herefordshire bull.
For the most part mascots are now glorified marketing tools, but they have always had a slightly mischievous nature.
However I think Kettering's mascot takes the award for most badly behaved mascot.
In 1969 Cyril Wilson, who was dressed as the club's mascot Friar Tuck, actually got sent off by referee Roy Sheppard for swearing at the Swansea goalkeeper Tony Millington!
Kettering lost the FA Cup First Round tie 2-0 to the Swans
Final Thoughts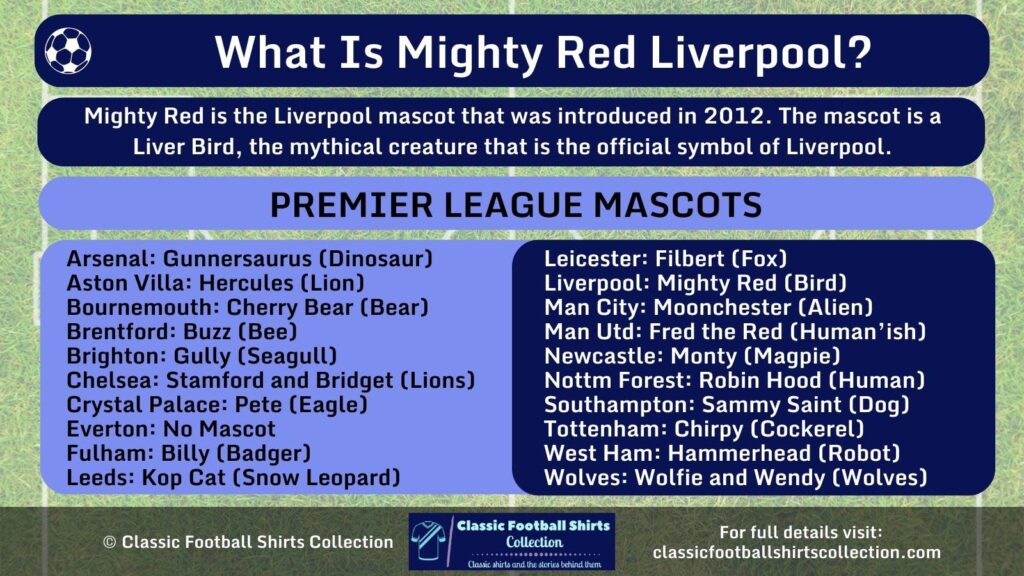 Mighty Red is the Liverpool mascot.
It takes the form of a Liver Bird, the official city of the symbol, which can also be found on the club's badge.
The mascot was introduced in 2012, prior to that the club had never had a mascot.
Initially, Mighty Red was just involved in the club's work in the community, but now it has a small matchday role as well.
It also helps that a mascot provides extended merchandise opportunities for the club too!
---