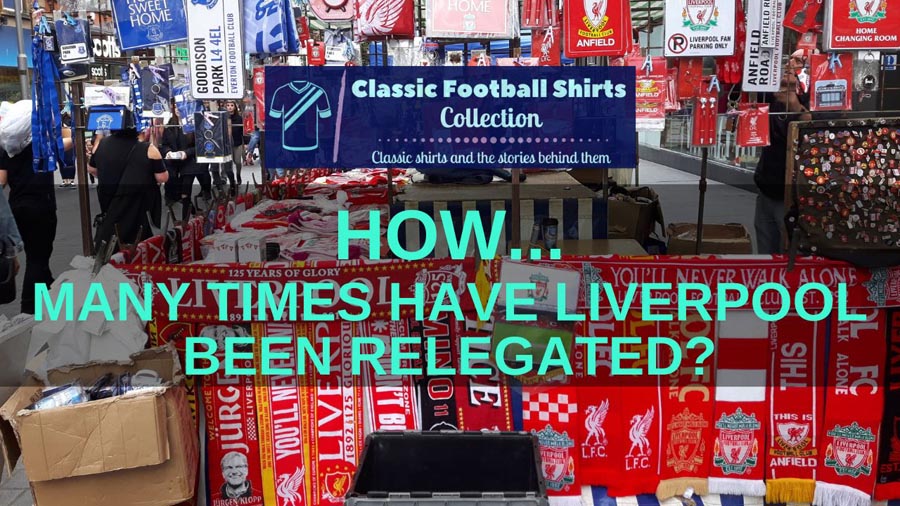 Alongside Manchester United, Liverpool have been the most successful team in domestic football by far.
In fact generations of fans know of nothing other than Liverpool being in England's top division.
But it hasn't always been like that.
We take a look at how many times Liverpool have been relegated.
So let's get started…
How Many Times Have Liverpool Been Relegated?
Liverpool have been relegated three times and spent a total of ten seasons outside the top division of the English football league. After suffering relegation in 1894/95 and 1903/04, Liverpool gained immediate promotion back to the First Division. However after they were relegated in 1954 they were in the Second Division for eight seasons until Bill Shankly lead them back to the First Division in 1962.

Relegation #1: 1894/95 Season
Liverpool's first relegation came in just the club's third season in existence.
They had been founded in 1892 after a dispute between Everton and John Houlding, who was actually Everton's president and their landlord.
Houlding owned the ground that Everton had been playing on for eight years, that ground was Anfield.
After a disagreement over rent levels, Houlding and Everton went their separate ways and Houlding was left with an empty ground.
To fill the void left by Everton he formed his own team, Liverpool FC.
At this time the English Football League was made up of two divisions. The First Division and the newly formed Second Division.
Houlding applied for his new team to go straight into the First Division. The Football League were less than impressed and rejected the application.
Liverpool's first season, the 1892/93 season was thus spent in the Lancashire League, which they won, pipping Blackpool to the title.
Their second season, 1893/94, saw them enter the Second Division of the Football League. They again claimed the league title, winning 22 and drawing 6 of their 28 games.
That meant Liverpool were competing in the First Division for the 1894/95 season.
RELATED ===> Revealed: The Best Retro Liverpool Shirts
However after becoming accustomed to winning games, Liverpool had won 39 of their 50 games over the past two seasons, they suddenly found things more difficult.
They didn't win any of their first nine league games, with a 2-0 victory over Stoke on 20 October 1894 being their first-ever top-flight win.
Their next win came eight games later on 15 December 1894.
With two wins in their opening 18 games survival was going to be tough. Despite a good run of five wins in seven games, they had left it too late.
Liverpool finished bottom of the table and had to take on Second Division champions Bury in the League's test match system.
Despite Bury playing most of the game with ten men after having their goalkeeper sent off, Liverpool lost 1-0 and were relegated back to the Second Division.
Relegation #2: 1903/04 Season
After suffering their first relegation Liverpool were not out of the top division for long.
They immediately won the Second Division and were promoted once again. That meant the club's first three seasons had seen them win the league three times and finish bottom on the other occasion.
The club performed much better on promotion this time around and finished 5th. Two seasons later they were runners-up in the league and in 1900/01 they won their first league title.
Liverpool owed a great deal of their success at this time to Tom Watson.
Watson had been appointed manager in 1896, having won three League titles in four years with Sunderland.
He was paid a yearly salary of £300, making him the highest-paid manager in England.
But the blot on his copybook during his time at Liverpool was the 1903/04 season. Liverpool finished second bottom of the league and were relegated.
RELATED ===> Have Liverpool Ever Won The League Without A Scotsman?
Once again however they were only out of the top flight for one season. They won the Second Division at the first time of asking and then won the First Division the very next season.
Watson would remain Liverpool's manager until 1915. He unfortunately died of pneumonia on 6 May 1915 shortly after his 56th birthday.
He is still the longest-serving manager in Liverpool's history, having led them for 19 years.
Relegation #3: 1953/54 Season
Liverpool's next relegation came 50 years later.
In the intervening period, they had won four more league titles and the Kop had been developed into the biggest football stand in the country, capable of holding 30,000 spectators.
This made it bigger than the entire capacity of some grounds.
Liverpool actually won the league immediately after the resumption of football following the Second World War but by the end of the 1940s and early 1950s they were a club in decline
In 1951 Liverpool manager George Kay stepped down due to ill health and the club appointed Brighton manager Don Welsh.
Welsh's managerial record was far from impressive, in his first season in charge of Brighton they had finished bottom of the Third Division (South), before finishing 6th and 8th.
In his first season as Liverpool manager, the 1952/53 season, the club finished two points above the relegation zone.
In fact it was only a scrappy last-day of-the-season win over Chelsea that guaranteed their safety.
The next season was even worse, with Liverpool finishing in bottom place
The club won just nine of their 42 league games, with four of those victories coming in the last six games when relegation was almost a certainty.
Unlike the previous two relegations, this time Liverpool didn't immediately get promoted again.
In fact they spent the following eight seasons in the Second Division.
The first of these in 1954/55 saw the club's lowest-ever league finish. They came 11th in the Second Division and also suffered the indignancy of losing 9-1 to Birmingham City, Liverpool's biggest ever league defeat.
Phil Taylor was appointed as manager in 1956, and their performances did improve, but they still couldn't quite secure promotion from the Second Division finishing 3rd, 4th, 4th and 3rd.
Eventually, Taylor resigned and on 14 December 1959 Liverpool appointed a new manager.
RELATED ===> Why Do Liverpool Have Two Badges?
In his first full season in charge, Liverpool finished 3rd, then in the 1961/62 season they won the Second Division and were promoted to the First Division.
That manager was Bill Shankly and an era of Liverpool domination had been started.
Liverpool won the First Division in 1963/64 and 1965/66. They won it again in 1972/73 before Shankly announced he was retiring in 1974.
Bob Paisley took up the reins and Liverpool's dominance of English football grew even stronger.
From 1972 to 1991 Liverpool won the league or were runners-up for 18 of 19 seasons.
They also won 3 FA Cups, 4 League Cups, 2 UEFA Cups and 4 European Cups!
Since Liverpool's promotion back to the top flight in 1962, the club has never finished lower than 8th in England's top league.
Final Thoughts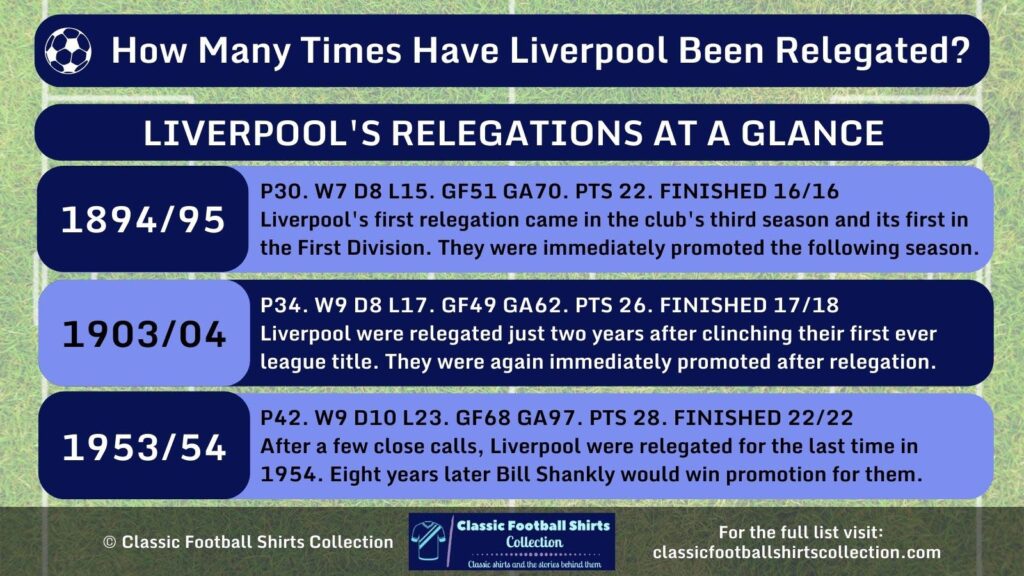 Liverpool have been relegated three times, and the last time Liverpool got relegated was in 1954.
The club has spent a total of ten seasons outside the top division of English football since entering the football league in 1893.
It was Bill Shankly who took them back to the top division in 1962 and set about creating an era of almost unparalleled dominance in the 1960s, 70s and 80s.
As a brief summary:
1894/95: Relegated to Division Two (spent one season there)
1903/04: Relegated to Division Two (spent one season there)
1953/54: Relegated to Division Two (spent eight seasons there)
---